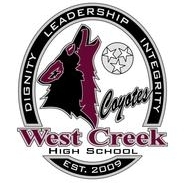 Clarksville, TN – West Creek High School had nearly 50 wrestlers make their way to the Queen City Saturday, July 27th, as the Coyotes hosted the inaugural Clarksville Open Wrestling Tournament.
Wrestlers from as far away as Franklin, TN and Memphis, TN took to the mats, with the tournament having a middle school, high school and open division.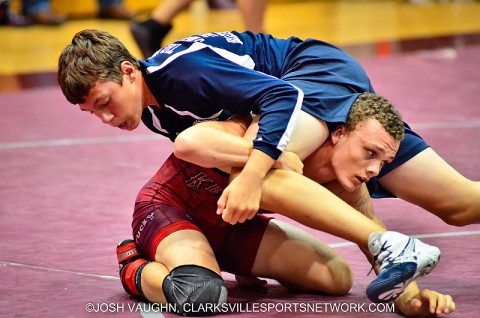 "The main thing we were looking for today was to spend some time on the mats, have some fun and have these guys get a little practice in," West Creek coach Zach Suggs said. "I think I've got a good up and coming group, with a lot of young talent that I inherited last year.
"We've worked hard in the weight room, gone to camps and this tournament is really the last thing we do before school starts. This helps build camaraderie and teamwork with these guys getting to spend some time together and getting some mat time will help us as school starts."
The recurring theme of getting mat time was echoed by the winner of the high school 135 to 140 pound division Drew Welch – who will be a senior this year at Centennial High School in Franklin, TN.
"It was worth it (to come to the tournament)," Welch said. "I just wanted to get as many matches in during the preseason as I can, that is where you improve everything."
"Getting mat time is crucial, while it also builds your confidence as you get ready to start the season." stated Welch.
Another wrestler going to use the experience of this tournament is senior Logan Reid of St. Benedict at Auburndale (Memphis) – who won the 180-195 pound high school division in the open – and looks to improve on his 2-2 mark at last year's state tournament.
"I felt pretty good about the way I wrestled today," Reid said. "It's all about getting as much experience as you can. I only started wrestling least year so I still have to improve on everything, but we have some really good coaches that do a great job to teaching and I still have a lot to learn."
A longtime familiar face on the wrestling seen took the top spot in the open division, as Northwest High School head coach Jason Maples proved that he still had it – even as he turns 43 years old this year.
"I hard for me to wrestle some of these guys, because I've watched them wrestle since they were five- or six-years old and now there in the open division with me," Maples said. "Wrestling in Clarksville is as tough as anywhere in the state. I've had the opportunity to wrestle in Kentucky as a wrestler and coach in Kentucky and Tennessee and this area is a hotbed for the sport."
"The thing about this tournament is we coach kids, no matter if they're your kids or wrestle for some other team. Summertime we're all her to wrestle. When wrestling season comes along we try to beat each other up then, but now is about the kids and having fun. I just love it," stated Maples.