Clarksville, TN – Shooting a final-round three-under 68, Brian Balthrop broke a three-way tie heading into the round September 15th to run away and take the 34th Mayor's Golf Classic by a six shot margin.
The victory was the second of the season for Balthrop (71-68—139), who also won the Clarksville City Amateur back in August.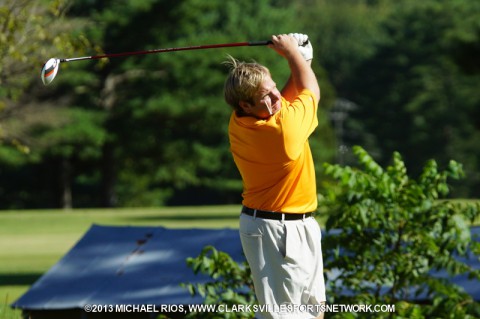 "Today got off to a good start," Balthrop said. "I had to get off to a good start and put some pressure on being that there were three of us tied for the lead. I was able to birdie (holes) one and two to kind of set the mood for the shootout for the day.
"The front nine I scored really well, I didn't hit as many good shots as I could, but to shoot 32 on the front you can never be upset."
Tyler Guy (71-74—145) and Hunter Richardson (75-70—145) tied for second place, with Jamie Webb (75-71—146) taking fourth and Tyler Phillips (71-76—147) fifth place.
In the Senior Division Championship Flight, Greg Guinn posted the only under-par round, coming in at one-under, to rally from five shots back to take the top spot with a two-round total of 142 (72-70), one shot better than runner-up Rick Richardson (70-73—143).
"It was a little shocking to me, because I thought I would need a round of 67 or 68 to have a chance," Guinn said. "I was just fortunate today that everyone else had a little problem and I was able to get it around ok."
There was a tie for third and fifth places, with Steve Blackwell (71-73—144) and Jimmy Mashburn (73-71—144) taking third, while Bill Wilkinson (72-75—147) and Barker Seay (73-74—147) tying for fifth.
In the Open Division First Flight, Graham Sleigh topped the division with a two-round total of 151 (79-72), one stroke better than Eric Jinnette (78-74—152).
Payton Williams took third place (79-75—154), Ron Eldridge fourth (78-78—156), while Corey Cornell (78-80—158) and Grant Moffett (79-79—158).
In the Open Division Second Flight, where was a three-way tie for first place between Mike Dye (84-78—162), Joey Samuels (84-78—162) and Jammie Holland (85-77—162), with Bill Sites (84-83—167) and Nicholas Lee (91-76—167) tying for fourth place.
In the Senior Division First Flight, Jim Duttweiler (76-73—149) and Ronnie Seay (77-72—149) tied for the top spot, with Mark O. Black a shot back in third place (78-72—150).
Mike Welker was fourth (76-75—151) and Ed Lewis (77-75—152) finished in fifth place.
In the Senior Division Second Flight, John Harris took first place with a two-round total of 163 (84-79), three shots better than runner-up George Brown (85-81—166).
John Blackman (90-77—167) finished third, Bob Vail (88-80—168) fourth and Dicky Seay (86-84—170) in fifth place.
This was the final qualifying tournament for golfers to get in the respective Tournament of Champions fields, which are now set.
In the Sept. 21st and 22nd Tournament of Champions, the field will consist of Balthrop, Richardson, Webb, Phillips, Sleigh, Cornell, Korey Smith and Justin Burney.
Alternates are Guy, Drew Miller and Todd Greene.
In the September 28th and 29th Senior Tournament of Champions, the field is made up of Guinn, Richardson, Blackwell, Duttweiler, Mashburn, Brad van Kirk, Joey Long and Marcus Sartain.
Alternates are Welker, Bobby Yingling and Ronnie Seay.
The Super Senior Tournament of Champions will run in conjunction with the Senior TOC on September 28h and 29th, with a field made up of Wilkinson, Harold Hensley, Tommy Shearon and Bob Bracey. The alternate is Jeff Campeau.
All of the Tournament of Champions events will be held at Swan Lake Golf Course.
34th Annual Mayor's Golf Classic
Swan Lake Golf Course
Final Scores
Open Division
Championship Flight
Brian Balthrop 71 68 139
Hunter Richardson 75 70 145
Tyler Guy 71 74 145
Jamie Webb 75 71 146
Tyler Phillips 71 76 147
David Saldana 73 76 149
Jamie Schacht 77 76 153
Chuck Wallace 76 78 154
Aaron King 74 85 159
Justin Burney 76 84 160
Sam Davis 76 91 167
First Flight
Graham Sleigh 79 72 151
Eric Jinnette 78 74 152
Payton Williams 79 75 154
Ron Eldridge 78 78 156
Grant Moffett 79 79 158
Corey Cornell 78 80 158
Weston Sartain 79 83 162
Christian Moore 82 89 171
Tavis Hanley 83 90 173
Second Flight
Joshua Black 84 70 154
Mike Dye 84 78 162
Jammie Holland 85 77 162
Joey Samuels 84 78 162
Nicholas Lee 91 76 167
Bill Sites 84 83 167
Charlie Koon 84 84 168
Nathan Clark 89 82 171
JT Ferrell 84 94 178
Trevor Mace 91 91 182
Alex McClure 95 89 184
Nick Emerson 100 90 190
Jim Sumrell 108 101 209
Austin Luntz 114 104 218
Senior Division
Championship Flight

Greg Guinn 72 70
142

Rick Richardson 70 73
143

Jimmy Mashburn 73 71
144

Steve Blackwell 71 73
144

Barker Seay 73 74
147

Bill Wilkinson 72 75
147

Tommy Shearon 73 76
149

Bruce Walker 72 77
149

Dick Blackston 67 82
149

Marcus Sartain 71 78
149

Mark T. Black 73 77
150

Terry Trificano 74 77
151

Mickey Phillips 74 77
151

Ralph Duke 73 79
152
FIRST FLIGHT
Ronnie Seay 77 72 149
Jim Duttweiler 76 73 149
Mark O. Black 78 72 150
Mike Welker 76 75 151
Ed Lewis 77 75 152
Jeff Whitlow 79 74 153
Tye Wyatt 76 77 153
Dennis Kolb 76 77 153
Ted Crozier, Jr. 79 77 156
Harold Hensley 82 76 158
Mike Bell 80 79 159
Larry Mattingly 81 78 159
Freddy Wyatt 79 81 160
Gene Jackson 82 80 162
Jeff Campeau 76 86 162
James Walker 80 85 165
Doug McNamee 82 87 169
Alfred Byard 81 88 169
SECOND FLIGHT
John Harris 84 79 163
George Brown 85 81 166
John Blackman 90 77 167
Bob Vail 88 80 168
Dicky Seay 86 84 170
Willis Bryant 88 83 171
Tom Clouser 88 84 172
Morris Van Why 86 87 173
Roger Gardner 89 85 174
Samuel Maxwell 85 89 174
Harold Gabhart 83 92 175
Don Bradley 88 88 176
Ernie Briggs 90 87 177
Wayne Sinks 94 85 179
Terry Griffin 90 90 180