Memphis, TN – Austin Peay State University's volleyball team concludes the pre-conference portion of its schedule with a three-match stay at the Tiger Invitational, Friday, September 20th and Saturday, September 21st at Elma Roane Fieldhouse.

Austin Peay (2-10) will open the tournament with a 10:00am, Friday contest against UALR. The Lady Govs then face La Salle in a 4:00pm Friday outing. Austin Peay closes the tournament with a noon, Saturday matchup with host Memphis.

The Lady Govs continue their search for consistency, particularly on defense. Austin Peay saw its defense neutralized last weekend at the Lady Vol Classic in Knoxville, TN.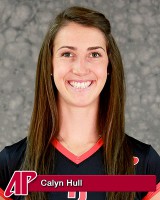 The Lady Govs front row was held to less than a block per set after averaging 1.23 blocks per set entering the weekend. The back row also suffered through anther sub-par weekend, with just 11.77 digs per set – well below its 14.83 season average prior to the weekend.
"After last weekend we discussed the need for our defense to improve," said Lady Govs head coach Taylor Mott. "Our block has to be far more effective – not just stopping the attack, but slowing it down to give our back row time to get in position. Our offense doesn't have a chance to be effective if we don't solidify our defense."
Senior outside hitter Calyn Hull again led the Lady Govs offense at Tennessee, recording 39 kills (3.00 per set) in the weekend's four matches. Senior middle blocker Lauren Henderson showed improvement in her third weekend, recording 23 kills (1.77 per set) and leading the team with eight service aces and eight blocks.
"It was a tough weekend for our offense at Tennessee," said Mott. "However, I felt that we did a good job of running the offense when we were able to get into our system. I believe Cami (Fields) had a good weekend for us, both on offense and defense. Her decision-making gave us a chance throughout the tournament."
Three Questions with Lauren Henderson
Scouting the Field
UALR (5-4) brings a three-match win streak into this weekend's action. The Trojans went 3-0 at the New Mexico State tournament last weekend with victories against Northern Illinois, New Mexico State and Southern Utah. UALR opened the 2013 campaign with a five-set loss to Southeast Missouri and was 2-4 before last weekend's romp. Junior outside hitter Edina Begic leads UALR with 198 kills, an impressive 5.35 kills per set that ranks third among the nation's hitters.

La Salle (1-12) opened the season with a victory against Fairleigh Dickinson but has since lost 12 consecutive matches. The Explorers return to action this weekend after dropping a three-set match at Morgan State, Tuesday. Sophomore outside hitter Kelly Perillo leads La Salle with 117 kills (3.09 per set), accounting for slightly more than one-quarter of the team's 10.23 kills per set this season.

Memphis (6-3) has posted a 2-1 record in each of its previous three tournament outings. Last weekend, the Lady Tigers traveled to Evansville where they defeated Valparaiso and SIU Edwardsville, falling only to host Evansville in five sets. Senior outside hitter Viktorija Teivane and freshman outside hitter Catlin Lilly have formed a one-two punch up front for Memphis, each recording 108 kills (3.09 per set) in the first three weekends.

Series histories… Austin Peay and UALR will meet for the seventh time in a series UALR leads 4-2. However, the last three meetings have gone five sets, APSU winning two of the three affairs… Austin Peay and La Salle will meet for the first time, but it is the second consecutive week the Lady Govs have met a member of the Atlantic 10 conference after they faced VCU last weekend… The Lady Govs will face Memphis for the 13th time, both of APSU's wins have come in the last four meetings – one in a 1996 outing and one in last season's visit to Memphis.

On the web… Memphis Athletics will provide live video of each match through its pay-per-view website www.GoTigersGo.com/AllAccess… Live Statistics also will available at www.GoTigersGo.com.



Sections
Sports
Topics
APSU, APSU Athletics, APSU Sports, APSU Volleyball, APSU Women's Volleyball, Austin Peay State University, Calyn Hull, Cami Fields, Clarksville TN, Elma Roane Fieldhouse, GoTigersGo.com, Knoxville TN, La Salle, Lady Govs, Lady Vol Classic, Lauren Henderson, Memphis, memphis tn, Ohio Valley Conference, OVC, Sept. 20th, Sept. 21st, Taylor Mott, Tiger Invitational, UALR, university of arkansas little rock