Tennessee Titans (1-1) vs. San Diego Chargers (1-1)
Sunday, September 22nd, 2013 | Noon CDT
LP Field | Nashville, TN | TV: CBS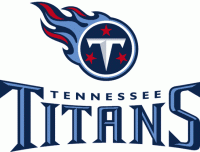 Nashville, TN – The Tennessee Titans (1-1) play their first of three consecutive home games this week, welcoming the San Diego Chargers (1-1) to LP Field (capacity 69,143). Kickoff is scheduled for noon CDT on Sunday, September 22nd.
This week's game will be televised regionally on CBS, including Nashville affiliate WTVF News-Channel 5. Ian Eagle will handle play-by-play duties while Dan Fouts provides analysis.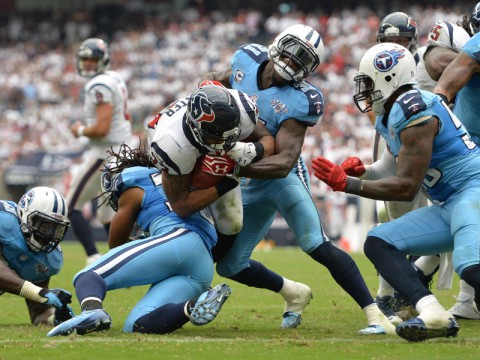 The Titans Radio Network, including Nashville flagship 104.5 The Zone, will broadcast the game across the Mid-South with the "Voice of the Titans" Mike Keith, analyst Frank Wycheck, sideline reporter Cody Allison and game day host Larry Stone.
Last Week At Houston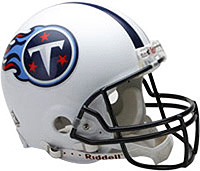 Following a Week 1 win at the Pittsburgh Steelers, the Titans were on the road last week for the second straight game. In a dramatic, back-and-forth affair, the Houston Texans prevailed in overtime by a final margin of 30-24.
The Texans knotted the score late in the fourth quarter on a one-yard rushing touchdown and subsequent two-point conversion by Arian Foster, and on the first possession of overtime, Matt Schaub completed a three-yard touchdown pass to wide receiver DeAndre Hopkins to seal the Titans' fate.
Titans quarterback Jake Locker led two long scoring drives in the game and capped each of them with a touchdown pass. His six-yard touchdown connection with Kendall Wright in the first quarter completed an 80-yard drive, and in the fourth quarter, he directed a 99-yard march that ended with a 10-yard touchdown pass to tight end Delanie Walker.
Cornerback Alterraun Verner scored Tennessee's third and final touchdown on a 23-yard interception return. The play highlighted a two-sack, two-takeaway performance by a defense that also limited the Texans to 35 percent on third down (six of 17).
Additionally against the Texans, running back Chris Johnson became the third player in franchise history to reach 7,000 career rushing yards. The sixth-year veteran joined Eddie George (10,009) and Earl Campbell (8,574) as the only Titans/Oilers to do so. Johnson finished the game at Houston with 96 yards on 25 carries, marking his second consecutive week with 25 rushing attempts.
The Chargers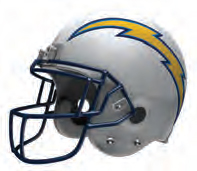 A new era is underway in San Diego with this year's hiring of Chargers general manager Tom Telesco and head coach Mike McCoy. Telesco spent the last 15 seasons with the Indianapolis Colts, serving in a variety of capacities, including vice president of football operations in 2012. McCoy was hired to lead the Chargers after spending the last three seasons as offensive coordinator for the Denver Broncos.
The Chargers maintained their stability at quarterback, however, with Philip Rivers returning for his 10th NFL season. A native of Athens, AL, Rivers has been named to four Pro Bowls and has a current streak of five seasons with at least 3,500 passing yards and 25 touchdown passes. He entered the 2013 season ranked sixth in NFL history in passer rating (94.5).
One of Rivers' primary targets, tight end Antonio Gates, is in 11th NFL season and is in search of his ninth Pro Bowl selection.
The Chargers also kept defensive coordinator John Pagano in place after he led the unit to a ninth-overall ranking in 2012 and a ranking against the run of sixth in the league. Then, during the 2013 off season, they made one of the off season's premier acquisitions when they signed seven-time Pro Bowl outside linebacker Dwight Freeney from the Indianapolis Colts.
The Chargers lost to the Texans in Week 1, but last week they evened their record with a 33-30 road victory over the Philadelphia Eagles. Nick Novak's 46-yard field goal with seven seconds remaining in the fourth quarter provided the difference in a game in which Rivers completed three touchdown passes to Eddie Royal and the Chargers offense accumulated 539 total yards.
Drive For Domestic Violence Shelter
Fans attending the game are encouraged to participate in the charitable drive benefiting the YWCA Weaver Domestic Violence Shelter. The YWCA and the Titans are asking fans to provide much-needed new women's and children's undergarments for shelter residents, including all sizes of underwear, pajamas, bras and socks.
Volunteers will be stationed at several drop sites outside of LP Field to collect donations from 10:00am–12:15pm.
Titans-Chargers Series At A Glance
Overall series (regular & postseason): Chargers lead 26-16-1
Regular Season Series: Chargers lead 25-13-1
Postseason Series: Titans lead series 3-1
Total Points: Titans 904, Chargers 1,058
Current streak: Nine wins by Chargers
Titans at home vs. Chargers: 11-9
Titans on the road vs. Chargers: 5-17-1
Longest Winning Streak by Titans: 4 (1961-62, 1987-92)
Longest Losing Streak by Titans: 9 (1993-present)
Titans vs. Chargers at LP Field: 0-2
Last Time at LP Field: Chargers 42 at Titans 17 (12/25/09)
Titans vs. Chargers at Qualcomm Stadium: 3-12-1
Last Time at Qualcomm Stadium: Titans 10 at Chargers 38 (9/16/12)
First Time: L.A. Chargers 28 at Houston Oilers 38 (9/18/60)
Mike Munchak's Record vs. Chargers: 0-1
Mike McCoy's Record vs. Titans: 0-0
Mike Munchak's Record vs. Mike McCoy: 0-0
A Titans Victory Would
Improve the Titans' record to 9-6 in regular-season home openers at LP Field.
Give the Titans an all-time record of 70-43 in regular-season games at LP Field.
Improve Mike Munchak's career record as a head coach to 17-18.
Give Jake Locker a 6-8 career record as a starting quarterback.
What To Look For This Week
RB Chris Johnson can record the 34th 100-yard rushing game of his career.
RB Chris Johnson can record 25 or more carries for the third consecutive week. It would mark the third time in his career to do so and the first time since 2009.
RB Chris Johnson needs two touchdowns to become the fourth player in franchise history with 50 touchdowns, joining Eddie George (74), Earl Campbell (73) and Charlie Hennigan (51).
QB Jake Locker needs nine passing yards to reach 3,000 for his career.
WR Nate Washington can extend his streak of consecutive games with at least one reception to 81 (67 games with the Titans).
Titans-Chargers Series History
The Titans and Chargers share a long and storied history. The two teams, founding members of the American Football League who originally existed as the Houston Oilers and Los Angeles Chargers, have met 43 times since 1960. The Chargers lead the series 26-16-1.
On September 18th, 1960, the two clubs met for the Oilers' inaugural home game at Houston's Jeppesen Stadium. The Oilers won that match-up 38-28. In November of that same year, the Chargers won the rematch in Los Angeles, 24-21. The AFL's top two teams would meet once more that season—a rubber match for the first-ever AFL Championship. The Oilers were victorious at home, rejoicing in a 24-16 win that earned each member of the team an extra $1,016.42.
The following season, they met again for the AFL crown, and the Oilers again were the victors in a 10-3 final. They would clash twice more in the playoffs, first in a 17-14 Oilers win in a 1979 Divisional contest. Following the 2007 season, the Chargers hosted the Titans in a Wild Card matchup and earned their first victory in the postseason series, winning 17-6. It was part of the Chargers' current eight-game winning streak against the Titans, dating back to 1993.
The Chargers and Oilers marked another significant day on September 13th, 1998, when the then-Tennessee Oilers, who played their home games in Memphis in 1997, hosted their first regular season home game in Nashville in front of 41,089 fans at Vanderbilt Stadium. To their dismay, the Chargers spoiled the festivities by handing the Oilers a 13-7 defeat.
The Titans and Chargers last met at LP Field on Christmas 2009. The Titans' slim playoff hopes were dashed when the Chargers won 42-17 after putting up 425 yards of offense and collecting three Titans turnovers. Chargers running backs LaDainian Tomlinson and Darren Sproles each recorded two rushing touchdowns, and Sproles also caught one of
Philip Rivers' two touchdown passes.
Titans-Chargers: The Last Meeting
Tennessee Titans 10 at San Diego Chargers 38
Sunday, September 16th, 2012
Qualcomm Stadium, Nashville, Tennessee
| | | | | | |
| --- | --- | --- | --- | --- | --- |
| | 1 | 2 | 3 | 4 | Final |
| Tennessee Titans | 0 | 3 | 7 | 0 | 10 |
| San Diego Chargers | 14 | 3 | 7 | 14 | 38 |
At Qualcomm Stadium in Week 2 of the 2012 season, the Titans were unable to overcome costly mistakes and an early onslaught from the San Diego Chargers, who won by a final score of 38-10.
The Chargers scored the game's first 17 points and its final 14. A pair of Chargers backups, in the lineup in place of injured first-stringers, accounted for all five of San Diego's touchdowns. Tight end Dante Rosario, seeing extensive action due to Antonio Gates' injury, caught three touchdown passes from Philip Rivers, and with starting running back Ryan Mathews inactive for the game, reserve Jackie Battle scored twice on one-yard runs.
The Chargers netted 416 yards on offense and controlled the ball for more than 43 minutes. They converted 10 of 17 third-down attempts (59 percent), while the Titans managed one conversion on nine third downs (11 percent).
The Chargers took an early lead and never looked back. They began their first drive of the game at their own 29-yard line and converted three third downs, the last of which went for an 11-yard touchdown pass from Rivers to Rosario.
Two plays into Tennessee's first possession, quarterback Jake Locker was pressured and threw an interception to Chargers safety Eric Weddle on a pass intended for tight end Jared Cook.
The Chargers made the Titans pay for the mistake, capping a 31-yard drive with another Rivers-to-Rosario touchdown, this time a four-yarder.
Early in the second quarter, the Chargers extended their lead to 17-0 at the end of a nine-play, 50-yard drive with Nate Kaeding's 26-yard field goal.
The Titans finally got on the scoreboard late in the second quarter. They marched 81 yards on 10 plays, including a 20-yard run by Locker to convert a third down. However, the drive stalled at the five-yard line, and they were forced to settle for a 23-yard field goal by Rob Bironas that made the score 17-3.
The Titans briefly kept the momentum with a takeaway on the ensuing possession. On third-and-10, a pass from Rivers to Malcom Floyd was intercepted by cornerback Alterraun Verner. However, the Titans were were forced to punt after a three-and-out.
In the third quarter, the teams exchanged touchdowns. First, the Chargers went 88 yards on eight plays before Rivers and Rosario struck one final time on a 15-yard score. On the kickoff that followed, Lavelle Hawkins recorded a 71-yard return. Three plays later, Locker completed a 15-yard touchdown strike to wide receiver Kendall Wright to make the score 24-10.
Trailing by 14 points and needing a stop, the Titans defense could not slow Rivers, who engineered an 11-play, 80-yard drive that ended with Battle's first touchdown four minutes into the fourth quarter. San Diego's next series, which took more than eight minutes, ended the same way. Battle reached the end zone on the 12th rushing play of the drive.
Rivers finished the game with 24 completions and 284 yards on 32 attempts, while Locker, making his second career start for the Titans, was 15-of-30 for 174 yards.