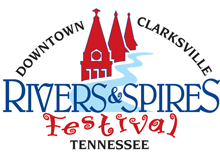 Clarksville, TN – The 2013 Rivers & Spires Festival walked away from the 58th Annual International Festivals & Events Association (IFEA) Convention with five more awards to add to its already impressive, and ever-growing, collection.
The 2013 IFEA/Haas & Wilkerson Pinnacle Awards were announced on September 16th at the IFEA Convention & Expo in Pittsburgh, PA. Theresa Harrington, Executive Director of the Convention and Visitors Bureau (CVB), Doug Barber, Special Events Manager, and Jessica Goldberg, Director of Tourism, were all in attendance to accept the awards.
"Winning awards at the IFEA conference is a great honor, especially since there are over 250 festivals in the running for less than 60 awards. It is also a great way to see what other leaders in the special event industry are doing," said Harrington.
Festivals from countries such as Korea, Australia, Germany and Brazil were part of this year's awards competition. Other events represented at the conference include the Kentucky Derby Festival, Cherry Blossom Festival and Indy 500 Festival.
This year the Rivers & Spires Festival won the following awards in the $250,000 to $750,000 budget category; Gold Award for the Best Radio Promotion, sponsored by 5 Star Radio Group; Gold Award for Best Children's Programming; Silver Award for Best Media Relations Campaign; Silver Award for Best Website, designed by Thrive Creative Group
with coding support and web application development by Adam Groves; Silver Award for Best Event Within an Event, Military Appreciation Area sponsored by USAA.
"As creative director & founder of Thrive Creative Group, my team and I are proud to have been involved with the creation & development of the winning website for Rivers & Spires. Working with the inspirational CVB team made the process even more creative! Partnering with their association and years of tremendous festival success, combined with our creative team is what truly made this website award winning," said Lorilee Rager, owner of Thrive Creative Group.
Each year, the Festival enters specific competition categories based off of how they saw an area of the event, or specific campaigns, perform.
This news come on the heels of the Rivers & Spires Festival being named a top 100 Event in North America for 2014 by the American Bus Association.
These awards are proof of the importance of the relationship between the Rivers & Spires Festival, its sponsors and the community. You can learn more about IFEA at www.ifea.com.
About the Rivers and Spires Festival
The 12th annual Rivers & Spires Festival will be held April 24th-26th, 2014 in Historic Downtown Clarksville. This event has five stages of entertainment with over 100 entertainers performing all three days. From children's activities, arts & crafts, car shows, military exhibits, shopping and so much more, this is truly an event for the whole family.
Admission to the Festival is free including all concerts and many games and activities. Become a fan on Facebook, follow us on Twitter, visit us at www.riversandspires.com, and join our text club by texting 'SPIRES' to 68255.