Jacksonville, AL – Austin Peay State University's volleyball team saw its top offensive threat return but could not overcome an error-prone outing in a five set (25-19, 23-25, 8-25, 26-24, 13-15) Ohio Valley Conference loss to Jacksonville State, Friday, at Pete Mathews Coliseum.
Austin Peay (3-13, 0-1 OVC) saw junior Jada Stotts return to action for the first time since September 6th and she recorded a match-best 21 kills in her return. However, the effects of her injury continued to linger as she also posted an uncharacteristic 18 attack errors.
Stotts led the Lady Govs to an auspicious start in Friday's match, recording five kills and three blocks and committing only one error en route to a 25-19 first set win. Junior Liz Landon, senior Lauren Henderson and freshman Sammie Ebright each chipped in three kills in the opening frame.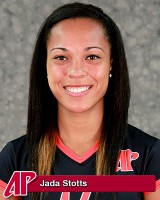 Jacksonville State (8-8, 1-0 OVC) climbed back into the match with come-from-behind 25-23 victory in the second set. Austin Peay controlled the early action and led 14-9 after a kill by senior Calyn Hull. The Gamecocks leveled the set at 17-17 courtesy back-to-back Lady Govs attack errors. Another pair of Austin Peay errors gave Jacksonville State a 21-19 lead they would not relinquish.
The third set was a wire-to-wire Gamecocks victory as the Lady Govs offense could not gain any traction. Jacksonville State opened the set with a 14-3 run and did not look back en route to a 25-8 victory. Austin Peay's offense was held to five kills and committed 11 errors (-.188 attack percentage) with only one of its five hitters posting a positive attack percentage.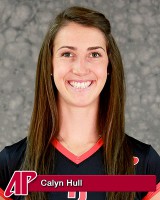 Austin Peay bounced back with a hard-fought 26-24 victory in the fourth set. The Lady Govs surrendered a 21-18 lead and faced match point when Jacksonville claimed a 24-23 lead courtesy a back-to-back APSU attack errors. Austin Peay rallied with kills by Landon and Henderson to gain a set point and Jacksonville State surrendered the set on an attack error.
The fifth set was a nip-and-tuck affair with 11 ties and five lead changes in the first-to-15 points set. With the set tied 11-11, Austin Peay surrendered points on back-to-back attack errors and trailed 13-11. Austin Peay would stave off Jacksonville State's first set point courtesy an Ebright kill, but another APSU attack error would cost it the match.
Austin Peay's offense outperformed host Jacksonville State by a 63-51 edge, but the Lady Govs surrendered that edge with 41 attack errors while the Gamecocks posted 22 attack errors.
"We committed too many errors to win tonight," said Lady Govs head coach Taylor Mott. "I felt we did a better job and even gave ourselves a chance to win the match because of our effort blocking and defending. However, we committed errors at critical moments and that ultimately cost us tonight."
Stotts' 21-kill performance dominated the outing. She was helped by Landon's career-best 14-kill outing and team-best .290 attack percentage. Henderson and Ebright each chipped in 10 kills.
Nicole Merget led Jacksonville State with a 17-kill effort. Kacy Clinkenbeard added 15 kills while Emily Rutherford posted 13 kills.
Austin Peay will wrap up its season-opening 17-match road trip with a 2:00pm, Saturday contest at Tennessee Tech.
Box Score
Austin Peay vs Jacksonville State
(September 27th, 2013 at Jacksonville, AL)
Austin Peay
ATTACK
SET
SERVE
SRV
DEF
BLOCK
GEN
##
Player
SP
K
E
TA
PCT
A
SA
SE
RE
DIG
BS
BA
BE
BHE
Points

1

FIELDS, Cami

5

1

0

5

.200

54

0

0

0

15

0

1

0

0

1.5

2

HULL, Calyn

5

7

8

26

-.038

0

0

0

0

2

1

0

1

0

8.0

8

LANDON, Liz

5

14

5

31

.290

3

1

0

0

4

0

0

1

0

15.0

12

HENDERSON, Lauren

5

10

6

25

.160

3

1

3

0

3

1

6

1

0

15.0

13

LITCHFIELD, Syd

5

0

0

0

.000

0

1

0

1

14

0

0

0

0

1.0

14

STOTTS, Jada

5

21

18

72

.042

1

1

2

0

18

1

3

0

0

24.5

3

ADAMS, April

5

0

0

0

.000

0

0

0

0

23

0

0

0

0

0.0

4

EBRIGHT, Sammie

5

10

4

33

.182

0

0

0

0

1

1

2

0

0

12.0

5

BALES, Lizzy

5

0

0

0

.000

2

1

2

3

12

0

0

0

0

1.0

7

MARSELLIS, Aubrey

2

0

0

2

.000

0

0

0

0

0

0

0

0

0

0.0

10

STROTHER, Samantha

1

0

0

0

.000

0

0

0

0

0

0

0

0

0

0.0

TEAM

1

Totals

5

63

41

194

.113

63

5

7

5

92

4

12

3

0

78.0

TOTAL TEAM BLOCKS: 10.0
TEAM ATTACK BY SET
Set
K
E
TA
Pct
Sideout
Pct

1

16

9

51

.137

15-20

75%

2

16

8

40

.200

13-24

54%

3

5

11

32

-.188

6-25

23%

4

18

9

44

.205

14-24

58%

5

8

4

27

.148

11-15

73%

59-108

54%

SET SCORES
1
2
3
4
5
TEAM RECORDS

Austin Peay

(2)

25

23

8

26

13

3-12, 0-0 OVC

Jacksonville State

(3)

19

25

25

24

15

7-8, 0-0 OVC
Jacksonville State
ATTACK
SET
SERVE
SRV
DEF
BLOCK
GEN
##
Player
SP
K
E
TA
PCT
A
SA
SE
RE
DIG
BS
BA
BE
BHE
Points

1

RUTHERFORD, Emily

5

13

6

61

.115

0

1

1

1

13

1

1

0

0

15.5

5

ZELHART, Kaitlyn

4

2

4

10

-.200

0

0

0

0

3

0

1

0

0

2.5

9

MERGET, Nicole

5

17

6

42

.262

0

0

0

0

2

2

5

1

0

21.5

10

HEREDIA, Abbey

5

2

1

7

.143

42

0

0

0

13

0

3

0

0

3.5

11

AGAMY, Alina

5

2

2

12

.000

4

1

1

0

11

2

2

0

0

6.0

22

CLINKENBEARD, Kacy

5

15

3

43

.279

0

0

0

2

4

0

1

0

0

15.5

2

BOHNE, Samantha

5

0

0

0

.000

0

3

2

1

16

0

0

0

0

3.0

4

PFLUGRADT, Liza

3

0

0

2

.000

0

0

0

0

0

0

0

0

0

0.0

6

COLE, Kelly

5

0

0

0

.000

0

0

0

0

11

0

0

0

0

0.0

8

ANBOUBA, Grace

4

0

0

0

.000

0

0

0

1

2

0

0

0

0

0.0

13

AIKEN, Molly Jo

3

0

0

0

.000

0

0

0

0

0

0

0

0

0

0.0

18

LONG, Taylor

2

0

0

1

.000

0

0

0

0

0

0

1

0

0

0.5

Totals

5

51

22

178

.163

46

5

4

5

75

5

14

1

0

68.0

TOTAL TEAM BLOCKS: 12.0
TEAM ATTACK BY SET
Set
K
E
TA
Pct
Sideout
Pct

1

9

7

45

.044

14-24

58%

2

12

3

41

.220

14-24

58%

3

10

1

24

.375

6-8

75%

4

10

8

43

.047

14-26

53%

5

10

3

25

.280

11-13

84%

59-95

62%

Site: Jacksonville, Ala. (Pete Mathews Col.)
Date: Sep 27, 2013 Attend: Time:
Referees: Mindy Leftwich, Geoffrey Sharpe


| | | | | | | |
| --- | --- | --- | --- | --- | --- | --- |
| | 1 | 2 | 3 | 4 | 5 | Total |
| Tie scores | 2 | 8 | 0 | 10 | 11 | 31 |
| Lead changes | 0 | 4 | 0 | 4 | 5 | 13 |