Clarksville, TN – Austin Peay State University's women's soccer team kicked off the Ohio Valley Conference part of its 2013 schedule, September 27th at Morgan Brothers Field, with a huge win over defending OVC champion and preseason favorite Tennessee Martin, 2-1.

The win also marks the first time since the 2010 season that the Lady Govs (6-1-0, 1-0-0 OVC) opened conference play with a victory.

"I was all for breaking that streak," said Austin Peay coach Kelley Guth about opening conference play with losses the past two years. "It's a great place for us to start and we deserved to win tonight.

"(Tennessee) Martin played their hearts out, and I give them a lot of credit as well, but I wouldn't be surprised if see them again (in the tournament)."

The Lady Govs jumped out to an early 1-0 lead 17:45 into the match, as Austin Peay's leading scorer Tatiana Ariza found the back of the net following an assist from Courtney Sheppard.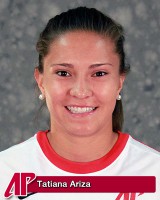 The goal was the seventh of the year for Ariza.
"It was real exciting to get the win and score against a good team like Tennessee Martin," Ariza said. "I thought we played a good game and it set the tone for the match with we were able to score first.
"We dominated the first half, but they came out and played much better in the second half — especially the last 15 or 20 minutes when they really put some pressure on us – but we defended really well and got the win and that's the most important part."
The score would remain 1-0 the 62nd minute, when Frankie Carbajal added an insurance goal for the Lady Govs, off an assist by Claire Putz.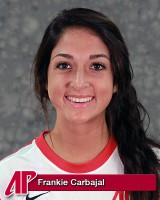 "I have no doubt our team can score," Guth said. "We can score goals and we can give up goals, the game is that way, but to be able to come out and do that against that team who has had our number the past couple of years."

But the Skyhawks (2-7-1, 0-1-0 OVC) wouldn't go down without a fight, as they moved everyone up the last 15 or so minutes of the game and put on a relentless attack on the Lady Govs defense; finally getting on the board with eight minutes left on a goal by Ellie Myrick off an assist by Hannah McGowen to cut the Lady Govs lead to one, 2-1.

"We had to weather a storm," Guth said. "They pressed us and it got really, really tight. They got that goal and it gave them that little if of hope that they could get back into it, but we defended as well as we could and I'm proud of the girls for fighting right to the end."

Overall, Tennessee Martin outshot the Lady Govs 11-8, but both teams ended the night with five shots on goal. The Skyhawks also attempted six corner kicks to Austin Peay's one.

In goal, Nikki Filippone and Haylee Shoaff combined for the win for Austin Peay, with Shoaff recording three saves and Filippone one. Mariah Klenke had three saves for Tennessee Martin.

The Lady Govs return to action September 29th, 2:00pm, as they host Southeast Missouri, who defeated Murray State 1-0 on September 27th.

"It's going to be a challenge for us, but we talked to the girls in our closing about not forgetting about what we're here to do," Guth said. "We have to take care of business and not negate what just happened by coming out and getting beat on Sunday."



About Chris Austin
Chris Austin is a graduate of Clarksville High School and Austin Peay State University.

Chris is a former Head Softball Coach for APSU, and assistant basketball coach for CHS.

Chris has worked at the Leaf-Chronicle, and WJZM News/Talk/Sports radio. Has also worked at the Sports Information Department at APSU, and has covered championship events for the Ohio Valley Conference and NCAA.

Chris is an avid sports fan and can be found at most Austin Peay State University sports events.

Web Site: http://www.clarksvillesportsnetwork.com
Email:
Sections
Sports
Topics
APSU, APSU Athletics, APSU Soccer, APSU Sports, APSU Women's Soccer, Austin Peay, Austin Peay State University, Clarksville TN, Courtney Sheppard, Frankie Carbajal, Haylee Shoaff, Kelley Guth, Lady Govs, Mariah Klenke, Morgan Brothers Field, Murray State, NCAA, Nikki Filippone, Ohio Valley Conference, OVC, SEMO, Skyhawks, Southeast Missouri State University, Tatiana Ariza, Tennessee-Martin, UTM