Clarksville, TN – Austin Peay State University's volleyball team steps out of conference play for a matchup against one of the nation's four remaining unbeaten squads when it travels to Missouri for a 6:30pm, Tuesday contest.
Austin Peay (6-13, 2-0 Ohio Valley Conference) has shown a return to form in the past two weeks and brings a season-best three-match win streak into the Tuesday affair.
The Lady Govs showed off a more balanced attack in home victories against Murray State and Eastern Kentucky last week.
No one player accounted for more than a quarter of the offense in either win with the triumvirate of juniors Jada Stotts and Liz Landon and freshman Sammie Ebright combining to do the bulk of the damage in each win.
"Last week we showed a glimpse of our potential," said Lady Govs head coach Taylor Mott. "There were flashes in the Murray State match but I believe the Eastern Kentucky match was our best effort from start to finish this season. We have talked all season about getting better each time we take the floor and last week I felt like was two big steps forward for this team."
The trip to Missouri will be a homecoming of sorts for senior middle blocker Lauren Henderson, who is a Fredericktown, Mo., native. Henderson enters the midweek outing with 17 kills (2.83 per set) and eight blocks (1.33 per set) in the Lady Govs last two matches.
"Lauren is one of our best defenders at the net," said Mott. "She has refocused her effort last week and I believe it showed. This contest at Missouri will be a big test for her, but I suspect she will rise to the occasion."
Landon Named OVC Offensive Player of the Week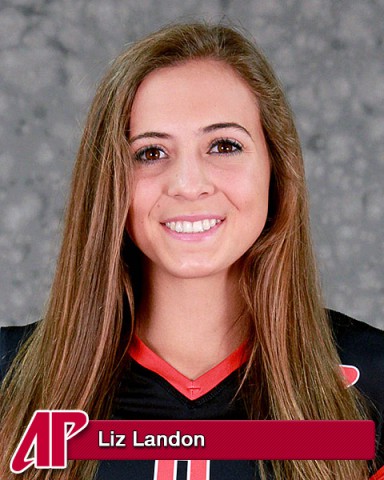 Junior Liz Landon posted a nearly perfect outing last week and was named the Ohio Valley Conference's Offensive Player of the Week, Monday. Landon was charged with just one attack error in the Lady Govs victories against Murray State and Eastern Kentucky, finishing with 26 kills and a .610 attack percentage.
Landon began the week with an errorless outing against Murray State, posting a career-high 15 kills and a .625 attack percentage. She also had five blocks and six assists in the Lady Govs five-set win. Four days later, she added 11 kills and had her lone attack error in APSU's three-set win against Eastern Kentucky, posting a .588 attack percentage.
"It's always a pleasure to see a player receive recognition for their hard work and Liz is one of our hardest workers," said Mott. "She has been a pleasant surprise with her consistency and effectiveness. Liz has given us a third option at middle blocker and that has allowed us to make adjustments within a match that have been critical to our success."
The OVC honor caps an impressive five-match stretch for the Northridge, Calif., native who has posted 66 kills in five matches – an average of 3.14 kills per set. She has posted a .441 attack percentage in those five matches with just 10 attack errors in 21 sets.
Scouting the Opponent
Missouri (18-0, 3-0 Southeastern Conference) is one of four teams nationally that remain unbeaten after the season's first six weeks. The Tigers have nearly been perfect in 2013, dropping just three sets in its 18 matches this season (94.7 set win percentage). Senior setter Molly Kreklow has had a big hand in the Tigers hot start, leading the nation with 12.57 assists per set and helping the Missouri offense to a .389 attack percentage that leads the country.
Junior middle blocker Whitney Little leads the nation with a .565 attack percentage, but each of Missouri six offensive regulars are hitting better than .300 this season.
Series History
Tuesday's meeting will be the first between Austin Peay and Missouri. It is the second time Austin Peay has faced a Southeastern Conference foe this season, falling in three sets at Tennessee earlier this season.
On the Web
Tuesday's match can be seen on national ipTV courtesy the pay-per-view www.MizzouNetwork.com. In addition, live statistics will be available via mizzou.statbroadcast.com.