Hebron, KY – Golf course familiarity played huge dividends for Austin Peay State University men's golf team Monday. The Govs shot a 3-under 285 in the first round of the Bearcat Invitational to sit in second place, one shot off the in action being played at the Traditions Golf Club.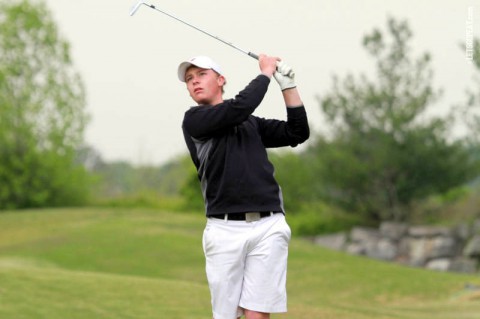 The tourney's second round, Monday, was suspended because of darkness. The second round will be completed along with the third, Tuesday, on the par-72, 7,100-yard layout.
Tennessee Tech led the Govs by one shot after the first round, shooting a 284. Marshall was in third at 287, followed by Cincinnati (288).
Other Ohio Valley Conference foes Belmont (297/7th), SIU Edwardsville (298/8th), Eastern Kentucky (300/11th) and Morehead State (306/14th) also are in the 15-team field.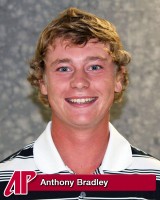 Four inches of rain prevented Sunday's practice round from being played. In fact, it delayed Monday's start until late in the morning. However, it didn't deter the Govs, who are two-time tourney defending champions.
Senior Anthony Bradley is tied for second at 3-under 69 while fellow senior Marco Iten and sophomore Austin Kramer are tied for sixth at 1-under 71. The Govs' other counter was senior Trey Tarpley, who shot a 2-over 74 while sophomore Chris Baker struggled to a 5-over 77.
"The guys are off to a great start," APSU coach Kirk Kayden said. "They are comfortable on this course and it showed. Through nine holes in the second round we have four guys (Bradley, Iten, Kramer and Baker) who are 1-under and we have one (Tarpley) that is 1-over.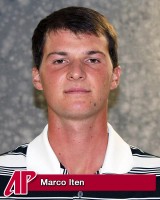 "Anthony said today his ball striking was the best it had been all fall long—he hits lots of greens and fairways—and that reflects in his score. He had two bogeys in 27 holes and one of those was a three-putt."
The Govs, who have 16 straight Top 5 finishes dating back to 2012, plan to keep that streak alive Tuesday.
"If we can stay relaxed and stay focused we have a chance to have strong finish," Kayden said. "We have to focus on not getting too high or too low, just play one shot and one hole at a time."