Martin, TN – The 2013 season came to a close for Austin Peay State University in the semifinals of the Ohio Valley Conference. A valiant second-half comeback by the Lady Govs went for naught, as second-seeded Morehead State staged a comeback of its own for a 4-2 victory at Skyhawk Field.
It marks the conclusion of another successful season for Austin Peay (11-6-2), which reached at least the OVC Tournament semifinals for the third time in the last four seasons. Morehead State (9-10-1) advances to Sunday's championship match against host UT Martin.
The Eagles, who rallied back from a 2-0 deficit in the Oct. 19 match against the Lady Govs, got on the board first in this edition of the rivalry. Jade Flory, the OVC's Offensive Player of the Year, was fouled in the box and converted the ensuing penalty kick to give Morehead State a lead in the 23rd minute.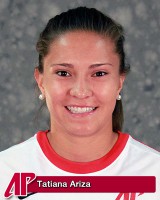 Austin Peay's offense, normally a dynamic force, was held quiet in the first half. The Lady Govs attempted just two shots, putting just one on net.
The Lady Govs would rally however, scoring twice to take the lead. Austin Peay's first goal came in the 67th minute on an Ariza-to-Ariza connection; Natalia's cross was headed in by Tatiana through heavy traffic for the equalizer. The goal was Tatiana's 15th in 2013, and Natalia's assist was the 13th in her career, surpassing Adonia Bivins (2003-06) for third all-time.
Junior Shelby Olszewski would but the Lady Govs ahead three minutes later, corralling a loose ball in the box and firing it in for the unassisted tally, her season's sixth and her second in as many days after scoring the game-winner in Thursday night's first-round win against Southeast Missouri.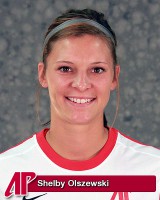 After a quiet first half, the Lady Govs offense came alive in the second period, outshooting Morehead State, 8-7, and forcing one save from Morehead State keeper Elizabeth Floyd.
But the Eagles would answer back in the 75th minute, with Macy Cobb putting in a goal after a Kelsey Gomez free kick led to a mad scramble in the box.
OVC Freshman of the Year Angela Black scored the final two goals for the Eagles. She scored the go-ahead goal in the 83rd minute and tacked on an insurance goal on a breakaway in the 85th minute to put the game out of reach.
This game concludes the Austin Peay career of eight seniors – both Ariza's, Andy Quiceno, Joceline Quiceno, Emily Kink, Corey Osborn, Haylee Shoaff and Morgan Zigelsky – who led the Lady Govs to three tournament appearances and a 47-28-5 record.