Martin, TN – Austin Peay State University's volleyball team surrendered a two-set lead in its Ohio Valley Conference match against UT Martin, but held on to win in five sets (26-24, 25-23, 16-25, 16-25, 15-12), Friday night, at Skyhawk Fieldhouse.
Austin Peay (11-19, 8-5 OVC) won the first two sets, but neither was a comfortable victory. Neither team led by more than three points in the opening set, the Lady Govs needing to fend off a set point at 24-23. Junior Hillary Plybon posted two kills in the final four points and junior Jada Stotts finished the set with a service ace.
The Lady Govs rallied from a 12-7 deficit in the second set, scoring six consecutive points to take a brief 13-12 lead. Austin Peay would get to set point first, 24-20, but saw the Skyhawks stave off three set-point opportunities, but a service error handed Austin Peay the 25-23 victory.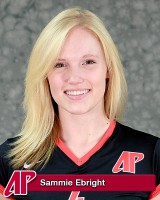 UT Martin (9-20, 3-10 OVC) dominated the third and fourth sets. The Skyhawks grabbed a 7-3 lead in the third frame and extended that advantage to eight points and never looked back in the 25-16 victory. Austin Peay scored the fourth sets first three points, but UTM quickly countered with the next six points. The Lady Govs forced a 7-7 tie on a kill by senior Lauren Henderson, but the Skyhawks scored six of the next nine points and never looked back posting another 25-16 win to tie the match.
The fifth set was a back-and-forth affair. Austin Peay built an 8-5 lead only to watch UT Martin reel it back in with a 6-3 run to force an 11-11 tie. Freshman Sammie Ebright broke the tie with a kill on the next rally and Henderson pushed APSU's lead to two points with a kill. The Skyhawks gave Austin Peay match point with an attack error, which APSU immediately capitalized on thanks to sophomore Aubrey Marsellis' kill to win the match with a 15-12 decision.
Plybon posted a team-leading 13-kill performance in the win, adding three service aces and four blocks. Henderson chipped in 10 kills and six blocks, while sophomore Samantha Strother led the bench with an eight-kill outing.
Austin Peay had frustrating night at the net, while it posted 10 blocks it also was whistled for an incomprehensible 14 blocking errors. Those errors nearly wrecked the Lady Govs outing, particularly with four errors in the fourth set.
"It was a tough night for everyone," said Lady Govs head coach Taylor Mott. "The best thing I can say about our effort is we found a way to win despite all of the obstacles, including self-inflicted ones. Our blocking paved the way for us to win the first two sets and we really brought our errors under control in the fifth set."
Julia Devinney and Allie Whimpey each had 15 kills to pace the Skyhawks attack. Devinney posted a .393 attack percentage while Whimpey finished with a .379 mark off the bench.
Austin Peay, which secured a spot in the OVC Volleyball Tournament with the win and Jacksonville State's loss Friday, continues its regular-season ending four-match road trip with a 5:00pm, Saturday contest at Southeast Missouri.
Box Score
Austin Peay vs UT Martin
(November 8th, 2013 at Martin, TN)
Austin Peay
ATTACK
SET
SERVE
SRV
DEF
BLOCK
GEN
##
Player
SP
K
E
TA
PCT
A
SA
SE
RE
DIG
BS
BA
BE
BHE
Points

3

ADAMS, April

5

0

0

0

.000

0

0

2

1

13

0

0

0

0

0.0

4

EBRIGHT, Sammie

5

6

7

26

-.038

0

0

0

0

1

0

3

1

0

7.5

7

MARSELLIS, Aubrey

5

6

4

14

.143

24

0

2

0

10

0

2

2

1

7.0

12

HENDERSON, Lauren

5

10

3

21

.333

1

1

2

0

3

0

6

6

0

14.0

14

STOTTS, Jada

5

9

6

42

.071

0

2

1

2

9

0

3

3

0

12.5

15

PLYBON, Hillary

5

13

5

25

.320

1

3

0

0

8

1

3

1

0

18.5

1

FIELDS, Cami

5

0

0

1

.000

21

2

0

0

4

0

0

1

2

2.0

8

LANDON, Liz

5

0

0

0

.000

0

0

0

0

10

0

0

0

0

0.0

10

STROTHER, Samantha

5

8

3

21

.238

0

0

0

2

1

0

1

0

0

8.5

Totals

5

52

28

150

.160

47

8

7

5

59

1

18

14

3

70.0

TOTAL TEAM BLOCKS: 10.0
TEAM ATTACK BY SET
Set
K
E
TA
Pct
Sideout
Pct

1

11

6

34

.147

15-25

60%

2

14

5

37

.243

14-23

60%

3

8

4

29

.138

11-25

43%

4

10

11

33

-.030

10-24

41%

5

9

2

17

.412

8-12

66%

58-109

53%

SET SCORES
1
2
3
4
5
TEAM RECORDS

Austin Peay

(3)

26

25

16

16

15

11-19 (8-5 OVC)

UT Martin

(2)

24

23

25

25

12

9-20 (3-10 OVC)
UT Martin
ATTACK
SET
SERVE
SRV
DEF
BLOCK
GEN
##
Player
SP
K
E
TA
PCT
A
SA
SE
RE
DIG
BS
BA
BE
BHE
Points

1

HAZELWOOD, Lynsey

5

10

8

42

.048

4

0

3

2

16

1

2

1

0

12.0

2

LARSON, Colleen

5

0

0

0

.000

0

0

0

1

7

0

0

0

0

0.0

3

KEATON, Emily

5

3

3

9

.000

2

2

2

2

10

0

0

0

0

5.0

5

ERVES, Alisha

5

7

2

17

.294

0

0

0

0

0

0

4

0

0

9.0

9

DEVINNEY, Julia

5

15

4

28

.393

1

0

0

1

1

0

2

0

0

16.0

14

CRASK, Amanda

5

6

3

16

.188

52

2

4

0

14

0

0

0

1

8.0

4

BOWLES, Chelsea

5

0

0

0

.000

4

0

0

1

13

0

0

0

0

0.0

11

WHIMPEY, Allie

5

15

4

29

.379

0

1

2

0

2

0

4

0

0

18.0

18

McLAUGHLIN, Michelle

5

0

0

0

.000

0

0

0

0

3

0

0

0

0

0.0

35

WESSLING, Madison

3

10

2

22

.364

0

0

0

1

1

0

0

0

0

10.0

Totals

5

66

26

163

.245

63

5

11

8

67

1

12

1

1

78.0

TOTAL TEAM BLOCKS: 7.0
TEAM ATTACK BY SET
Set
K
E
TA
Pct
Sideout
Pct

1

13

7

37

.162

14-25

56%

2

15

8

41

.171

14-25

56%

3

17

3

36

.389

11-16

68%

4

12

5

30

.233

11-17

64%

5

9

3

19

.316

8-15

53%

58-98

59%

Site: Martin, Tenn. (Skyhawk Fieldhouse)
Date: Nov 08, 2013 Attend: 209 Time: 2:01
Referees: Rick Bolton, Joseph O'Neal


| | | | | | | |
| --- | --- | --- | --- | --- | --- | --- |
| | 1 | 2 | 3 | 4 | 5 | Total |
| Tie scores | 12 | 4 | 2 | 3 | 3 | 24 |
| Lead changes | 6 | 3 | 0 | 1 | 1 | 11 |