Mount Pleasant, MI – Central Michigan opened the second half on a 21-10 run and never looked back as it defeated Austin Peay State University, 90-75, Thursday night in the opening round of the Central Michigan Tournament at McGuirk Arena.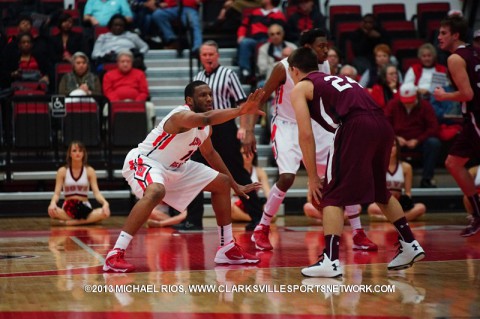 The loss dropped the Govs to 2-2 on the season while Central Michigan improved to the same mark.
After shooting only 26.8 percent (10 of 38) from the field in the first half but still leading 39-33 because of 17-of-17 free-throw shooting, Central Michigan connected on 8 of its first 11 second-half shots, including five three pointers. It was a barrage from which the Govs would never recover. APSU would never get closer than 12 points the game's remainder.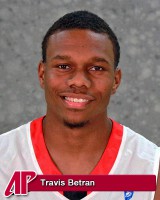 It was a game that saw the Govs commit 18 turnovers, 12 in the first half. Those first-half miscues prevented APSU from gaining any traction as did 11 first-half fouls that constantly put the home team on the free-throw line. Central Michigan led 39-33 at intermission. The Govs were able to stay in it largely because sophomore guard Cory Arentsen hit a trio of three pointers.
And if it wasn't the free-throw line or the Chippewas second-half three-point shooting that undercut the Govs, it was the offensive glass. Half of Central Michigan's 36 rebounds were on the offensive glass, resulting in 19 second-chance points.
Central Michigan also received a superb bench effort. Point guard Braylon Rayson scored 16 of his 18 points in the second half while reserve guard Rayshawn Simmons snared 12 rebounds, eight on the offensive glass.
Travis Betran, after a three-point first half—the game's first score—led the Govs with 16 points while Will Triggs added 12 points and Zavion Williams 10. The Govs shot 66.7 percent in the second half—52.6 percent overall—but the turnover troubles and second-half defensive breakdown prevented APSU from getting back into the contest.
The Governors will have little time to get over the disappointing performance. They will face Cal State Northridge 3:30pm, Friday, in the tourney's second round.
Box Score
Austin Peay Governors vs Central Michigan
November 21st, 2013 | 7:15pm
Mount Pleasant, MI | McGuirk Arena
Austin Peay 75
Total
3-point
Rebounds
##
Player
p
fgm-fga
fgm-fga
ftm-fta
off-def
tot
pf
tp
a
to
blk
stl
min

10

TRIGGS, Will

f

5-7

0-0

2-2

1-6

7

2

12

0

2

0

0

30

24

DYSON, Ed

f

1-4

1-2

0-0

0-1

1

1

3

1

2

0

2

22

05

HORTON, Chris

c

4-5

0-0

0-0

3-4

7

1

8

2

1

2

1

26

02

WILLIAMS, Zavion

g

4-10

0-3

2-3

1-2

3

4

10

3

3

0

1

17

04

BETRAN, Travis

g

5-13

3-8

3-4

0-0

0

1

16

2

3

0

0

34

01

GARMON, Fred

–

0-1

0-1

0-0

0-1

1

1

0

0

2

0

1

11

11

GREER, Thomas

–

0-0

0-0

0-0

0-0

0

0

0

0

1

0

0

3

15

FREEMAN, Chris

–

3-4

0-0

0-0

2-5

7

1

6

1

1

3

0

14

20

ARENTSEN, Cory

–

3-5

3-4

0-0

0-3

3

1

9

0

1

1

0

16

21

HERRING, Preston

–

0-0

0-0

0-0

0-0

0

0

0

0

0

0

0

1

22

SMITH, Damarius

–

4-6

0-0

1-1

1-0

1

3

9

3

1

0

0

17

23

MBOUP, Serigne

–

1-2

0-0

0-1

1-0

1

4

2

0

1

2

0

9

TM

TEAM

–

–

–

–

1-1

2

–

–

–

–

–

–

–

Totals…………..

–

30-57

7-18

8-11

10-23

33

19

75

12

18

8

5

200

52.6%

38.9%

72.7%

Team summary:
FG
3FG
FT
1st Half:

12-30

5-11

4-5

40.0%

45.5%

80.0%

2nd Half:

18-27

2-7

4-6

66.7%

28.6%

66.7%
Central Michigan 90
Total
3-point
Rebounds
##
Player
p
fgm-fga
fgm-fga
ftm-fta
off-def
tot
pf
tp
a
to
blk
stl
min

32

HIBBITTS, Blake

f

5-10

3-7

6-6

1-3

4

1

19

1

1

0

1

31

34

SIMONS, John

f

5-13

1-6

1-1

3-1

4

1

12

3

2

0

1

34

10

STEWART, Austin

g

0-2

0-1

0-0

0-5

5

2

0

2

1

0

2

22

15

FOWLER, Chris

g

2-6

0-0

7-7

1-1

2

4

11

4

1

0

1

20

30

KEEL, Austin

g

3-9

1-5

0-0

0-1

1

0

7

0

0

0

1

21

00

RAYSON, Braylon

–

7-10

2-3

2-2

2-0

2

0

18

1

2

0

0

13

01

KRANNITZ, Spencer

–

0-0

0-0

0-0

0-0

0

0

0

0

0

0

0

1

02

BUCKLEY, DeAndray

–

2-2

0-0

4-6

0-2

2

2

8

0

0

1

0

8

03

RICHARDSON JR, Derri

–

1-3

0-1

2-2

2-0

2

2

4

0

0

0

0

7

04

SIMMONS, Rayshawn

–

1-7

0-0

2-2

8-4

12

1

4

7

1

0

2

28

05

LOWMAN, Sheldon

–

0-0

0-0

0-0

0-0

0

0

0

0

0

0

0

1

12

KOZINSKI, Josh

–

1-3

1-3

0-0

0-1

1

0

3

1

0

1

0

7

35

CARLOS, Nick

–

2-4

0-1

0-0

0-0

0

1

4

0

0

0

0

6

41

SAYLOR, Zach

–

0-0

0-0

0-0

0-0

0

0

0

0

0

0

0

1

TM

Team

–

–

–

–

1-0

1

–

–

–

–

–

–

–

Totals…………..

–

29-69

8-27

24-26

18-18

36

14

90

19

8

2

8

200

42.0%

29.6%

92.3%

Team summary:
FG
3FG
FT
1st Half:

10-38

2-18

17-17

26.3%

11.1%

100 %

2nd Half:

19-31

6-9

7-9

61.3%

66.7%

77.8%
| | | | | |
| --- | --- | --- | --- | --- |
| Score by Periods | 1st | 2nd | Total | |
| Austin Peay | 33 | 42 | 75 | Record: (2-2) |
| Central Michigan | 39 | 51 | 90 | Record: (2-2) |
Officials: Dave Cronin, Kelly Pfeifer, Frank SpencerTechnical fouls: Austin Peay-FREEMAN, Chris. Central Michigan-None.

Attendance: 1252