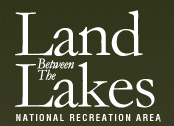 Golden Pond, KY – Bundle up in your favorite sweater, come outdoors, and experience the enchanting sights on a bald eagle viewing trip, presented again at Land Between The Lakes (LBL) National Recreation Area. Call 270.924.2020 for reservations.
During January and February, van tours take visitors to the best wildlife viewing hot spots on the 170,000-acre National Recreation Area.
Visitors will most likely see migratory bald eagles, gulls, and other waterfowl, as well as native wildlife species, such as deer and turkey.
Van trips meet and depart from the Golden Pond Visitor Center unless otherwise indicated. Dress appropriately for the weather, wear shoes suitable for moderate walking, and don't forget to bring binoculars and field guides.
Land Between The Lakes partners with Kenlake State Resort Park to host a weekend of brunch/lunch river cruises, January 18th-20th, for up close views of eagles from the water. Despite cold temperatures that usually keep people indoors, bald eagles thrive in winter conditions.
What better way to view bald eagles than by relaxing on a river cruise in the comforts of the spacious and beautifully appointed CQ Princess? The 96-foot luxury yacht offers wonderful views from both outside on deck and indoors where it's toasty warm!
For a full schedule and details, visit www.lbl.org. Reservations and full deposits are required for all trips. Because eagle excursions are very popular, early reservations are encouraged. Gift certificates are available. Call 270.924.2020 to reserve your space.
"LBL is a major wintering spot for bald eagles from northern areas such as Michigan and Canada," stated Carrie Szwed, Nature Station Public Programs Coordinator. "Due to excellent coordination between state and federal agencies in past years to restore eagle habitats and populations, we have seen tremendous increases in eagles wintering and nesting in this area."
Come Outside and Play at Land Between The Lakes National Recreation Area. Managed by the Forest Service, U.S. Department of Agriculture, Land Between The Lakes provides outdoor recreation, lake access, and environmental education for the public to enjoy.
Visitors are encouraged to review the official website at www.lbl.org often for Calendar of Events, updates on programs and policies, safety information, maps, temporary trail and road closures, and more, or call 800.LBL.7077 or 270.924.2000.
Follow LBL on Twitter @LBLScreechOwl or @LandBtwnLakes. USDA is an equal opportunity provider and employer.