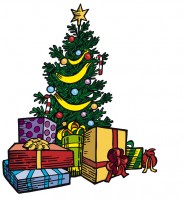 Clarksville, TN – Just for a moment, imagine with me . . .
It's Christmas Day. A light snow is falling. You're aware that, all over Clarksville, people are crowded in their kitchens, or frantically searching for the wrapping paper, or running to their front doors as relatives and friends arrive.
But you're not a part of these scenarios. You're all alone.
This evening, when so many people are collapsing onto their sofas with full bellies or gathering in their living rooms to play a board game, you'll still be alone, because you weren't invited to be part of the festivities.
It's not that your friends and acquaintances are callous; some of them would be mortified if they knew you'd spent the day alone. It's just that they forgot . . . they simply didn't think to take inventory of the people around them: the elderly, divorced, single, or those whose families live far away . . .
In Luke 14, Jesus said, "When you host a dinner or banquet . . . invite the poor, the amputees, the cripples, the blind. Then you'll be blessed because they can never repay you. Your reward will come from God."
As you're fine-tuning your Christmas plans, look around. Run through your list of neighbors, friends, coworkers, and acquaintances. Don't rule out anyone who comes to mind. (You know that homeless guy you see almost every time you go to Kroger? Don't count him out, either.) Set an extra spot at your table for someone (or several someones) who would otherwise spend the day alone, and extend an invitation.
Teach your kids what the holidays are really about. Determine that no one in your corner of the universe will spend this Christmas alone if you can help it. I promise you'll receive far more than you give.