Clarksville, TN – Spend four fun-filled seasons with Arnold Lobel's beloved storybook characters in the Tony-nominated musical "A Year With Frog and Toad", playing December 18th – 21st at the Roxy Regional Theatre.
In Robert and Willie Reale's whimsical show, Frog and Toad wake from hibernation in the Spring, plant gardens, swim, rake leaves, go sledding, and learn life lessons along the way. Part vaudeville, part make-believe and all charm, "A Year With Frog and Toad" incorporates stories from Lobel's four books, including the Caldecott Honor-winning Frog and Toad are Friends and the Newbery Honor-winning Frog and Toad Together.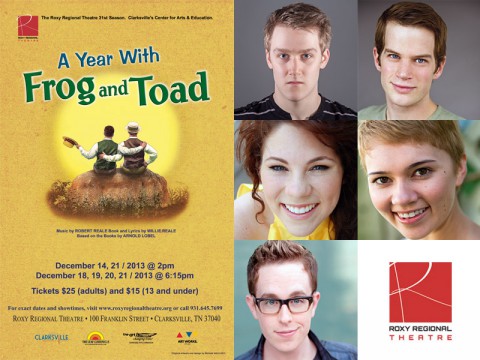 Michael Spaziani and Josh Bernaski star as the cheerful, popular Frog and the rather grumpy Toad, two best friends who celebrate and rejoice in the differences which make each unique and special.
Under the direction of John McDonald, castmates Jacque Clydesdale, Michelle Foletta and RJ Magee portray a host of endearing characters, including mischievous squirrels, chatty birds, a bossy turtle, and a mail-delivering snail.
Tom Thayer delivers the jazzy, upbeat score on piano — featuring such numbers as "Getta Loada Toad," "I'm Coming Out Of My Shell" and "Merry Almost Christmas" — creating an inventive, exuberant, and enchanting musical for the whole family.
"A Year With Frog and Toad" is produced in part by Dr. Ernest and Joan DeWald, Jill Eichhorn and Barry Kitterman, Dr. Gary and Janet Mund, and Melissa A. Schaffner.
Performances are December 18th, 19th, 20th and 21st. Tickets are $25.00 (adults) and $15.00 (ages 13 and under) and may be purchased online at www.roxyregionaltheatre.org, by phone at 931.645.7699, or at the theatre during regular box office hours (9:00am to 2:00pm, Monday through Friday, and one hour prior to curtain).
APSU students, active-duty military and CitySaver coupon holders can receive two tickets for the price of one to Wednesday's and Thursday's 6:15pm performances.
The Roxy Regional Theatre is located at 100 Franklin Street in Downtown Clarksville.
As a bonus this holiday season, the Roxy's gift shop will be open at all performances so that patrons can find the perfect stocking stuffer, including posters, T-shirts, calendars, gift certificates and more.