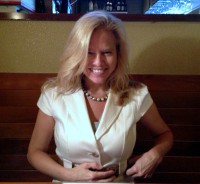 Nashville, TN – I said I'd be hip. I promised writing about culture and clubs; poetry and songwriters, and maybe even turn you on to the latest dive bar I've visited or a hidden-away café full of charm.  But then while I wasn't looking, lights and wreaths went up on Church Street, 2nd Avenue took on an even more twinkly golden glow, and Printers Alley became bejeweled with lights and blown-up Santas.
Since we last met here, we were catapulted headlong into the Christmas season. And we all know Christmas isn't hip.
Christmas is religious. (For many who celebrate – and for me.) It's traditional. It's hearth and home and everything sentimental that a writer should leave better to experience than the pen.
It invokes long drives to Grandma's (I'm taking liberties here as none of my grandmothers lived long enough to know me), snowy lawns and pulling up to large family homes that are lit up and inviting, with the promise of sled riding and hot chocolate.
Generally, Christmas doesn't invoke thoughts of downtown or city living. Downtown is a place where one might travel to see the lights in department stores or have a fun company party in a restaurant, but for most, it's not a place one actually spends Christmas.
Downtown living celebrates "singleness" and the carefree non-chalance of daily living. (Anyone without storage and a basement has to feel carefree.) We urban dwellers have the market on all things cool — nightlife and entertainment — bars and revelry. How in the world can we bring Christmas into the equation, especially when so few of us have fireplaces?
OK, so I'll get real. What I'm really wondering is how can a woman living on her own for the first time in a long time make her first Christmas away from everything familiar special for friends and her two boys who will be spending it with her? For many years, I decorated a nearly 6000 square foot house. (Not a fancy new mini-mansion, but a gracious older family home.) This week, I'm decorating a less than 900 square foot loft apartment.
Don't get me wrong.  I'm not unhappy about it.  In fact, this year — maybe more than most — I felt ready to decorate rather than pushed.  But as far as recreating "tradition" or memories, this is what I am up against: my former house was red and white, 112 years old, and sat at the top of a hill on a generous acre lot.  It also had two fireplaces.  So already, it started off on the right foot to be a "Christmas house." Light it up and decorate it with even Charlie Brown trees and it looked perfect.
I'll never forget my youngest son, Christian, coming home from college after his first semester away and telling me that pulling up to the house and seeing it all lit up, the tree visible in the window, and walking in to the myriad of holiday sights and smells had made his throat catch.  (And if you know him, you know that's not easy to do.)  No one in our family is much for "possessions" or attached to things, but that house nearly 600 miles away in Western Pennsylvania was truly special. It gave every one of us something that is hard to come by and harder to quantify: joy.
Some people want to know what it's like walking into a new life – suddenly and unsuspecting as I did.  I can only explain a subtle sense of wonder as in approaching a revolving door that spins into the unknown, and yet the intensity of the spinning increases until you are thrown out on the other side into foreign territory and hear the sound of a strange new voice telling you; "welcome" as though it knew you were coming.
You look back infrequently, knowing the past is there – on the other side of that portal you just walked through. It must be real because you lived it, you think to yourself, and yet it is distant and unreachable. And eventually it hits you.  You will never, ever, return.
Sometimes it is a thing that is more and less than joyful, more and less than happiness – and sometimes it is all those things at once. And you've made peace with it.  But then, somewhere on a drive, in a car, with an unfortunate turn of the radio dial, Alan Jackson comes on singing "Remember When."  And you think of the red and white house, kids and Christmas, and time marching and passing like a colorful parade you have somehow missed altogether.
This is a time when Nashville's downtown is a more than a worthy "consolation prize."  Because you realize the other side of that revolving door is a pretty magical place and that your life is now something colorful and crystalline you never dreamed possible.  Different, yes.  Better? Seemingly.
And that's when you find yourself at Christmas decorating a a loft you absolutely adore and finding just the perfect fresh-cut tree in a city lot and the kindest young man is cutting off the ends of it for you and centering it in a stand because he somehow knows you have no one that will do this for you. And he ties it on your car and smiles, telling you about his hobbies of kayaking and outdoor ventures. And you smile back.
And you go home happy and put up this just-right size tree (the biggest that will fit in your tiny elevator, and with the help of your strong son) in your apartment in the city where everyone marvels that you took the time to get a live and breathing thing and coax it indoors.
That night I talk to my son on the phone.  What of the house and the lights and the homecoming in the driveway that will not exist?  He says the best possible thing he can say: "Mom, that was a moment in time.  It was what I needed and wanted right then, in that year after living away from home for the first time and having just finished my first finals.  There is nothing you could do to ever recreate a moment exactly in that way, nor would I want you to try.  Christmas is going to be happening exactly as it should, wherever we are.  Together."
And this is when I wonder how and when children become smarter than we are, as I forget to lament all the cherished family ornaments (that haven't made their way to the south yet) I am not placing on the branches of the Frazier fir. I pour a glass of wine and play Lyle Lovett Christmas songs while hanging rustic, handmade stars I picked up at a hip yet cozy 12th Avenue shop called
"Serendipity."  Ten months in Nashville with treasured new friends amidst the magic of a new city have added up to thousands of "moments in time" and I intend to celebrate as many of them as I can while I toast this season of (yes!) joy.