Clarksville, TN – Lipscomb connected on a trio of three pointers in a 1 ½- minute span down the stretch as the Bisons handed Austin Peay State University an 88-83 defeat, Thursday night, in Dave Aaron Arena.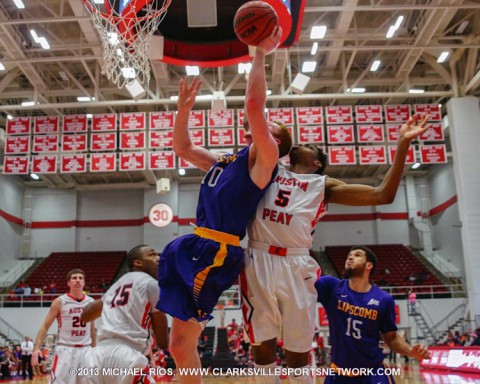 It was the Govs' second home loss this season and dropped APSU to 5-7 on the season. Lipscomb defeated the Governors for a fifth straight time since the series resumed in the 2010-11 season as the Bison improved to 5-6 on the season.
With the score tied at 67 with 2:51 left, Martin Smith knocked down a three pointer from the left wing to give Lipscomb the lead. After a pair of Zavion Williams free throws narrowed the Govs deficit to one, 70-69, J.C. Hampton hit a three pointer from the corner to put Lipscomb up 73-69.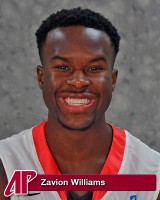 Following a Govs' turnover on the next possession Khion Sankey found Josh Williams for another three to give the Bisons an insurmountable 76-69 lead with 1:20 left. That last three was one of 13 the Bisons (28 attempts) connected on during the night.
If that was the most noticeable statistic for Lipscomb then 22 turnovers was the Govs' most glaring one. The turnovers offset an efficient 28-of-54 (52 percent) shooting night for the Governors and a 20-of-26 (77 percent) effort at the free-throw line. It also negated a Govs 35-28 rebounding advantage.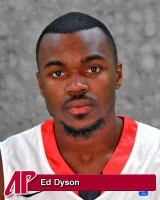 Martin Smith led Lipscomb with 27 points, cashing seven free throws in the final half. Hampton added 19, including six three pointers in 14 attempts. Malcolm Smith tallied 16 points before fouling out.
Five players scored in double figures for the Govs, led by Ed Dyson's 15 points while Chris Horton and Zavion Williams added 14 apiece. Williams made a pair of three pointers in the final minute to make things interesting, but the Govs could never get closer than three points.
The two teams battled to a 40-40 tie at halftime—the 10th tie of the half—as neither team led by more than four points.
APSU led by as much as five points, 49-44, early in the second half but Horton had to sit down with his third foul and that helped change game's momentum as Lipscomb immediately went on an 11-0 run to take 55-49 lead.
However, the Governors scrapped back, using its defense to create turnovers as they tied it, 59-59 on a Dyson layup as a Smith steal and pass led to the bucket. The game would be tied three more times but Lipscomb never allowed the Govs to take the lead before starting its final three-point barrage.
Photo Gallery
Box Score
Lipscomb vs Austin Peay
December 19th, 2013 | 7:00pm CT
Clarksville, TN | Dunn Center
Lipscomb 88
Total
3-point
Rebounds
##
Player
p
fgm-fga
fgm-fga
ftm-fta
off-def
tot
pf
tp
a
to
blk
stl
min

10

DENNY, Talbott

f

1-3

0-0

1-1

1-1

2

4

3

3

1

0

0

37

35

SMITH, Martin

f

7-14

3-7

10-14

0-4

4

2

27

2

1

0

1

35

52

SMITH, Malcolm

f

5-7

0-1

6-8

3-2

5

5

16

2

3

0

0

21

00

SANKEY, Khion

g

2-4

2-2

3-4

0-6

6

3

9

5

3

0

4

31

22

HAMPTON, J.C.

g

6-17

6-14

1-2

0-1

1

4

19

2

2

0

4

30

02

WILLIAMS, Josh

–

3-3

2-2

4-4

0-4

4

4

12

0

4

0

0

13

03

SANDERSON, Carter

–

0-2

0-2

0-0

1-0

1

1

0

3

0

0

1

19

05

BUTLER, J.J.

–

1-2

0-0

0-0

0-1

1

3

2

0

1

0

0

8

15

GREENE, Dylan

–

0-0

0-0

0-0

1-1

2

0

0

0

1

0

0

2

20

JOHNSON, Chad

–

0-0

0-0

0-0

0-1

1

0

0

0

0

0

0

4

TM

TEAM

–

–

–

–

0-1

1

–

–

–

–

–

–

–

Totals…………..

–

25-52

13-28

25-33

6-22

28

26

88

17

16

0

10

200

48.1%

46.4%

75.8%

Team summary:
FG
3FG
FT
1st Half:

13-29

8-16

6-9

44.8%

50.0%

66.7%

2nd Half:

12-23

5-12

19-24

52.2%

41.7%

79.2%
Austin Peay 83
Total
3-point
Rebounds
##
Player
p
fgm-fga
fgm-fga
ftm-fta
off-def
tot
pf
tp
a
to
blk
stl
min

10

TRIGGS, Will

f

4-7

0-0

1-2

1-2

3

2

9

0

3

0

1

31

24

DYSON, Ed

f

5-8

2-5

3-5

0-1

1

3

15

2

3

0

1

28

05

HORTON, Chris

c

5-6

0-0

4-6

1-8

9

3

14

0

2

3

1

32

04

BETRAN, Travis

g

3-11

2-8

3-3

0-2

2

3

11

1

6

0

0

37

22

SMITH, Damarius

g

4-6

1-2

3-4

1-5

6

3

12

8

3

0

1

24

01

GARMON, Fred

–

1-3

0-0

0-0

0-1

1

1

2

0

1

0

1

7

02

WILLIAMS, Zavion

–

3-8

2-4

6-6

1-2

3

2

14

1

1

1

0

16

15

FREEMAN, Chris

–

0-0

0-0

0-0

0-0

0

2

0

0

1

0

0

2

20

ARENTSEN, Cory

–

0-1

0-0

0-0

1-2

3

0

0

2

0

0

0

8

23

MBOUP, Serigne

–

3-4

0-0

0-0

3-1

4

4

6

0

2

0

0

15

TM

TEAM

–

–

–

–

1-2

3

–

–

–

–

–

–

–

Totals…………..

–

28-54

7-19

20-26

9-26

35

23

83

14

22

4

5

200

51.9%

36.8%

76.9%

Team summary:
FG
3FG
FT
1st Half:

13-26

3-5

11-15

50.0%

60.0%

73.3%

2nd Half:

15-28

4-14

9-11

53.6%

28.6%

81.8%
| | | | | |
| --- | --- | --- | --- | --- |
| Score by Periods | 1st | 2nd | Total | |
| Lipscomb | 40 | 48 | 88 | Record: (5-6) |
| Austin Peay | 40 | 43 | 83 | Record: (5-7) |
Officials: Steve Pyatt, John Dillon, Coy GammonTechnical fouls: Lipscomb-None. Austin Peay-None.Attendance: 2307

Austin Peay Player of the Game: Damarius Smith