Clarksville, TN – On January 30th, 2014, at 9:48pm, the Clarksville Police Department responded to a Robbery at 3065 Wilma Rudolph Boulevard.
The first responding Officer spoke with the victim (male) who stated that he met a female (Danielle Vineyard) on a social network called Tagged. Ms Vineyard told the victim to come hang out with her at the EconoLodge in room number 208.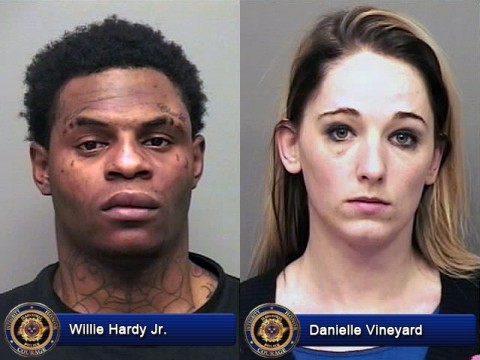 The victim arrived at the EconoLodge and walked into room 208 where he was met at the door by Ms. Vineyard. When the victim stepped inside, he noticed a black male (Willie Hardy Jr) standing behind the door.

Mr. Hardy closed the door and pointed a handgun at the victim. Mr. Hardy struck the victim in the mouth with the gun and Ms. Vineyard grabbed the victim's legs which caused the victim to fall to the ground. Mr. Hardy told the victim to give him his money, phone, and keys. The victim complied.

Then, Mr. Hardy ordered the victim to remove all his clothing. Again, the victim complied. The victim was told to go into the bathroom. When the victim went into the bathroom, he closed the door and locked it until Mr. Hardy and Ms Vineyard left. When the victim felt that they had left the room, he came out of the bathroom and called police.

After a description of the suspects was put out to all three districts, Sgt Matiz from District 2 realized he had seen the suspects somewhere around Riverside Drive.

Sgt Matiz and Sgt Galbraith located the suspects at Kelly's Big Burgers at 405 North Riverside Drive. As Sgt Matiz and Sgt Galbraith approached the entrance of Kelly's Big Burgers, the suspects attempted to leave.

Mr. Hardy ran a short distance on foot before he was apprehended by Sgt Matiz and Sgt Galbraith. He physically resisted the two Sergeants. While Mr. Hardy was physically resisting arrest, the handgun used at the Robbery at the EconoLodge fell from his clothing, which an Officer immediately collected for evidence.

Soon after physically resisting, the suspect Willie Hardy Jr. and the suspect Danielle Vineyard were taken into custody and transported to District 3 CI and then to Montgomery County Jail.
Willie Hardy Jr.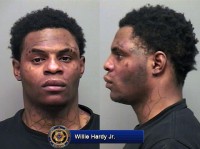 Name: Willie Hardy Jr.
Date of Birth: 1/ 25/ 89
Gender: M
Race: B
Given Address: 1437 North 49th Street, Washington Park, MO
Arresting Officer: Gregory Rosencrants
Charged With: Aggravated Robbery, Firearm used in Commission of Dangerous Felony, Assault, Evading Arrest, Resisting (Stop, Frisk, Arrest, Search)
Booked Into: Montgomery County Jail
Bond: $200,000.00
Danielle Vineyard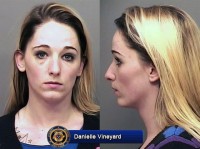 Name: Danielle Vineyard
Date of Birth: 6/ 17/ 92
Gender: F
Race: W
Given Address:  Route 2 Box 241, Mcleansboro, IL
Arresting Officer: Gregory Rosencrants
Charged With: Aggravated Robbery, Unlawful Drug Paraphernalia
Booked Into: Montgomery County Jail
Bond: $100,000.00
Sections
Sports
Topics
Aggravated Robbery, Assault, Bond, Clarksville, Clarksville Police, Clarksville Police Department, Clarksville TN, CPD, Crime, Evading Arrest, Gregory Rosencrants, Montgomery County jail, North Riverside Drive, Resisting Arrest, robbery, Unlawful Drug Paraphernalia, Wilma Rudolph Boulevard