Clarksville, TN – Frank Sinatra made women scream when he walked up to the microphone; and with a twist of a phrase, men wept. His ability to interpret a song defined an American generation. Relive the magic of Ol' Blue Eyes at the Roxy Regional Theatre, February 7th – March 1st, with the must-see musical celebrating the songs he made famous — MY WAY: A Musical Tribute to Frank Sinatra.
Featuring over four dozen hits — including "Strangers in the Night," "I've Got You Under My Skin," "Fly Me to the Moon," "The Lady Is A Tramp," "New York, New York" and, of course, the perennial favorite "My Way" — this musical revue was co-created by David Grapes and Todd Olson.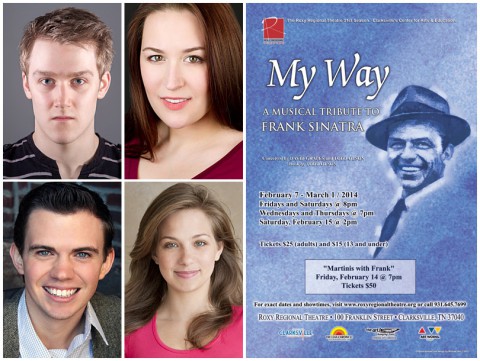 Michael Spaziani, Allie McCaw, Ryan Bowie and Morgan Billings, under the direction of Tom Thayer, take the audience on a trip down memory lane, through the 1940's swing era to the bright lights of Las Vegas with the Rat Pack and beyond.
On Friday, February 14th, treat your valentine to "Martinis with Frank," an unforgettable evening of cocktails, sumptuous hors d'oeuvres and the iconic music of Ol' Blue Eyes.
Martinis will be flowing at 7:00pm, courtesy of Elite Wine & Spirits, complemented by a menu created especially for this event by Fire & Ice Catering, featuring Bangkok Lettuce Wraps, Italian Antipasto, Civiche Shooters, California Crab Cakes and Cappuccino Cupcakes.
MY WAY: A Musical Tribute to Frank Sinatra takes the stage at 8:00pm. Tickets are $50.00. Out-of-town guests can take advantage of a special accommodation rate of $84.00 (including breakfast) at the Riverview Inn, located just down the street from the theatre.
This production is made possible in part through the generous support of Dr. Ernest & Joan DeWald, Dr. Thomas & Donna Ely, and Melissa A. Schaffner.
MY WAY runs February 7th through March 1st, playing Wednesdays and Thursdays at 7:00pm and Fridays and Saturdays at 8:00pm, with a 2:00pm matinee on Saturday, February 15th. (There will be no performance on Wednesday, February 12th).
Tickets are $25.00 (adults) and $15.00 (ages 13 and under) and may be purchased online at www.roxyregionaltheatre.org, by phone at 931.645.7699, or at the theatre during regular box office hours (9:00am to 2:00pm, Monday through Friday, and one hour prior to curtain).
The Roxy Regional Theatre is located at 100 Franklin Street in Downtown Clarksville.