Clarksville, TN – The weekly Clarksville Parks and Recreation Department Recreation Report provides Clarksvillians with a glimpse at the activities and events that are available from the Parks and Recreation Department for them to enjoy together as a family.
This weeks highlights include: Youth Leagues, Boating Safety, Clarksville Downtown Market Applications, Fly Fishing and Arts Program.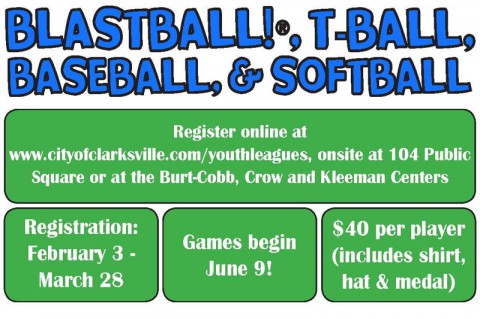 Youth Leagues
Youth league registration is underway!
Blastball!, specifically designed for children ages 3-4 to teach them the basics of the game. T-ball is open to boys and girls ages 5-6 and designed to teach youth how to put the basics to use.
Boys and girls, ages 7-14 can sign up for baseball or softball.
The cost to play is $40.00, which includes team shirt, hat, and a medal. All of the games will be played at Heritage Park Baseball Fields. Registration can be completed online at recpro.citofclarksville.com.
Boating Safety
Clarksville Parks and Recreation is teaming up with the Coast Guard Auxiliary Unit to host a new Boating Safety Class, designed to help improve boating skills, and to help you become a better, and more prepared skipper. This class is good for all types of boats, motorized and non-motorized, and is open to ages 12 and up.
The safety class will be at the Crow Community Center on April 5th, from 9:00am-4:30pm. It will be broken up into two, four hour increments, with a break for lunch and others as needed.
Participants must purchase a Type 600 Boating Safety Exam Permit from any business that sells hunting/fishing licenses. This receipt will be your ticket to take the exam at the end of the class. The cost is $10.00 if you pre-register, or $15.00 at the door.
There are limited spaces available, so be sure to register online at recpro.cityofclarksville.com.
Clarksville Downtown Market Applications
It is almost time to start applying for this year's season of the Clarksville Downtown Market! Beginning February 18th, vendor applications will be available at the main office downtown or online at www.clarksvilledowntownmarket.com
The Clarksville Downtown Market is host to many different types of homemade and homegrown products. The market will take place every Saturday from 8:00am-1:00pm, May 24th-October 18th on Public Square.
For more information contact Matthew Nixon at: matthew.nixon@cityofclarksville.com
Fly Fishing
Clarksville Parks and Recreation is teaming up with the National Fishing in Schools Program to offer a class in the basics of fly fishing to educate participants on fish, insects, aquatic environments, resource stewardship and conservation using fishing, and learn the skill of casting. The participants will be able to practice using the unique technology of the CasTarget system, which uses photorealistic targets.
The class will be at the Crow Community Center on Thursdays from 4:00pm-5:00pm, beginning March 20th-April 10th, and is open to youth in grades 6-12. The cost of the program is $10.00 per person, along with a $5.00 Center ID. Limited spots are available!
Register online at recpro.cityofclarksville.com, come to any of our three community centers, or visit us at the main office downtown.
Arts Program
Youths and teens can express their creativity and explore different types of art projects in this fun after school program offered every Tuesday at the Burt Cobb Community Center. This ongoing program is open to children and teen ages 8-16 and is free with a Community Center ID.