Austin Peay Sports Information

Jacksonville, FL – After a preseason of tumultuous weather, Austin Peay State University women's golf team will open its Spring 2014 season in the UNF Intercollegiate, Monday and Tuesday, at the Jacksonville Country Club.
The two-day 54-hole tournament will be played on the 6,144-yard layout.  Monday will see 54 holes played with the final 18 played Tuesday.
The Lady Govs have had limited outdoor practices in January and February because of extreme cold temperatures during the heart of winter. Then last week's ice and snow added to the practice issues. Luckily, APSU has been able to use the indoor facilities at the new River Club for some practice work.
"After qualifying in some interesting conditions it will be great to get on some good greens and see just where we are this early in the season," APSU coach Sara Robson said. "We are looking to build on our finish in the fall.  We will need to be confident, stay focused and patient in order to play to our potential."
After some early growing pains, the young Lady Govs are coming off a fall that saw them finish third in their season's final tournament, the UAB Beach Blast. Despite the limited practice, the Lady Govs hope they will able to carry that momentum into the initial tourney.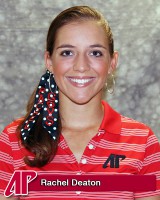 APSU's two seniors, Tala Mumford and Rachel Deaton, will help lead the Lady Govs into the first tourney along with sophomore Jessica Cathey, who earned All-OVC as a freshman. The final two team spots will be junior Meghan Mueller and freshman Morgan Kauffman. The team's other three freshmen, Morgan Gardner, Kelsey Schutt and Amber Bosworth will play as individuals.
The 13-team tourney, hosted by North Florida, will see the Lady Govs competing against a trio of Ohio Valley Conference schools—Belmont, Eastern Kentucky and Morehead State.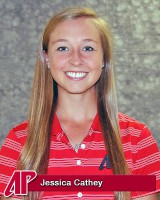 Also competing are Appalachian State, Charleston Southern, Daytona State, James Madison, Jacksonville, McNeese State, Old Dominion and Southern Illinois.
"We have had a couple great days of practice and are excited to get our season started in warm weather," Robson said. "The girls are excited to play well and looking forward to a great finish.
"We are looking to our seniors to lead us as Rachel Deaton and Tala Mumford have been playing well."