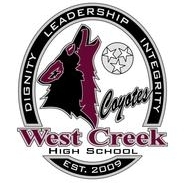 Clarksville, TN – West Creek High School's softball team tried to rally from five runs down, March 21st, but couldn't push across a tying run in a 5-4 non-district loss to Stewart County High School.
The Lady Coyotes (4-3) gave up all five of the runs to the Lady Rebels in the first two innings, as Stewart County took advantage of five West Creek errors – to go with five hits – in scoring three runs in the first inning and two more in the second.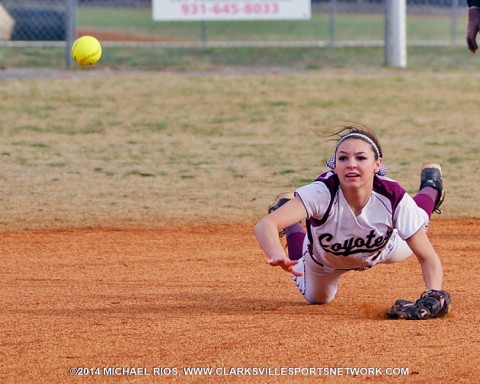 Jesse Vinson would open the game up for Stewart County (3-7) by reaching on an error by Auna Cozine and after a bunt single by Sarah Anne Page, score on a throwing error by Cozine to make it 1-0.
Page would score the second run of the inning on a wild pitch, while the final run of the inning would score on an RBI single by Emily Swift.
"We're still tried to fill in a couple of holes with a couple of infield positions with people that have never played there before," West Creek coach Lyndsay VanLaningham said. "They're still learning the positions and we've only had six games and about 10 days out on the field to practice because of the weather, so it's still a learning faze on what combinations will work best for us."
Errors would again play a part of the Lady Rebels scoring their final two runs, as Vinson opened the inning with a single, but the ball got through center fielder Lynsie Cook – rolling all the way to fence – allowing Vinson to come all the way around to score to make it 4-0.
The final Stewart County run would score an out later, with Alexis Saunders reaching on an infield single, but a throw by third baseman Tia Childs trying to get Saunders at first was wide, allowing Saunders to move around to third.
But the throw to third got through the Lady Coyotes infield allowing Saunders to come all the way around to score and give Stewart County a 5-0 lead.
West Creek would start its rally in the bottom of the second, with Kayla Deeds leading off the inning with a single, and after moving to second base on a passed ball, scored on a single by Cozine.
The Lady Coyotes would continue to cut into the Stewart County lead in the third inning, as they scored two more times, making it 5-3.
The first run would come on an RBI double by Deeds – driving in Nadeya Usumbura, who had walked to open the inning – with Deeds scoring the second run on a fielder's choice by Jasmine Jordan.
The final run for West Creek came in the fourth inning, as Usumbura blasted a home run off the left-field foul pole to make it a one-run game, 5-4.
But that would be as close as the Lady Coyotes would get, as they left possible tying runs on base in both the fifth and seventh innings.
Shayna McPherson picked up the win for Stewart County — going the first four innings — giving up four runs on six hits, while striking out four and walking one.
Page would record the save, pitching three shutout innings – giving up three hits and striking out four.
Kayla Rolan took the complete-game loss for West Creek.
West Creek returns to action March 24th, as they host Northeast High School for a 5:30pm District 10-AAA contest.
Photo Gallery