Clarksville, TN –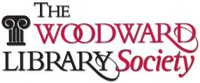 On the first day of spring, the Woodward Library Society held their much delayed Winter Program featuring author Sue Culverhouse, the author of Tennessee Literary Luminaries at the Woodward Library on the campus of Austin Peay State University. The program was originally scheduled to be held in February 2014, but was delayed due to inclement weather.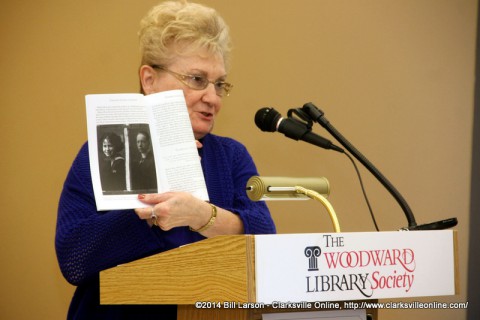 Culverhouse's book Tennessee Literary Luminaries encompasses the biographies of 11 Tennessee authors: Robert Penn Warren, Alex Haley, Cormac McCarthy, William Gay, Peter Taylor, Eleanor Ross Taylor, Alice Randall, A. Scott Pearson, Bud Willis, Amy Greene and Marshall Chapman.
"I'm extremely tired of people outside Tennessee thinking all of us In this state wear overalls with no shirt, go barefooted, have a six-shooter strapped on, and live on road kill!" Culverhouse adamantly insists. "The authors I have written about are only a few of the Tennessee writers who have made great contributions to literature and can inspire the young people of our state to greater literary heights."
She opened by quoting author William Gay who grew up in poverty as the son of a sharecropper in Hohenwald, Tennessee. When he visited the library as a child he asked the librarian, "What do you have to pay these people to be able to work with all these books?" The audience laughed at this, but Gay was serious, he loved books that much.
Culverhouse's talk is included in full below:
Photo Gallery
About Tennessee Literary Luminaries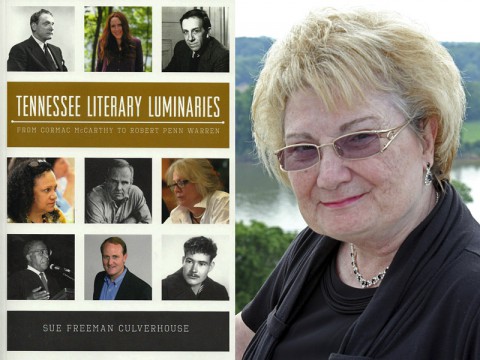 The Volunteer State has been a pioneer in southern literature for generations, giving us such literary stars as Robert Penn Warren and Cormac McCarthy. But Tennessee's literary legacy also involves authors such as Peter Matthew Hillsman Taylor, who delayed writing his first novel but won the Pulitzer Prize upon completing it. Join author Sue Freeman Culverhouse as she explores the rich literary heritage of Tennessee through engaging profiles of its most revered citizens of letters.
Tennessee Literary Luminaries: From Cormac McCarthy to Robert Penn Warren details the lives of the following authors.
Robert Penn Warren, winner of three Pulitzer Prizes (one for All the King's Men and the other two for poetry), the only person to have won three!
Peter Hillsman Taylor, Pulitzer Prize winner for A Summons to Memphis
Eleanor Ross Taylor, poet and wife of Peter Taylor, winner of a $100,000 prize for poetry
Cormac McCarthy, Pulitzer Prize for The Road
Alex Haley, winner of a special Pulitzer Prize for Roots
William Gay, named Number One for Twilight by Stephen King in 2007 on his list of most memorable books of the year
Bud Willis, awarded the 2012 Distinguished Arts and Humanities Medal for Literary Arts, author of Bluestocking and Marble Mountain
Amy Greene, whose novel Bloodroot was awarded publication within one week of its offering to publishers and this was her first publication ever
Alice Randall, who is the author not only of four award-winning (from such diverse groups as ASCAP (Silver Circle), Billboard Hot Country Singles Chart, Memphis Black Writers' Conference, Southern Film Festival, NAACP (Image Award) and the First Annual Mixed Media Watch Image Awards) novels, but is also the first African-American woman to write a Number One country song and a video of the year
A. Scott Pearson, whose second book, Public Anatomy, 2won the 2012 Benjamin Franklin Award in the Mystery/Suspense category from the Independent Book Publishers Association
Marshall Chapman, an author, singer-songwriter writer, magazine columnist, and actress, who can give an intimate glance at the inside world of the lives of rock'n'roll and country music stars
All these people and the stories of their lives are the sum and substance of Tennessee Literary Luminaries: From Cormac McCarthy to Robert Penn Warren by Sue Freeman Culverhouse. From those who grew up in poverty to those who became wealthy through their writing, this is a book that should be read by every Tennessean.
The book can be purchased from the publisher The History Press, or on Amazon.com, Barnes & Noble, or from iTunes for $19.99.