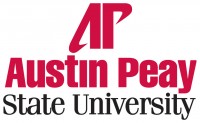 Clarksville, TN – David Zhang's age seemed problematic. The 16-year-old Kenwood High School student was taking advantage of Austin Peay State University's dual enrollment program, but instead of signing up for a couple of introductory college courses, he asked to enroll in the most advanced undergraduate mathematics classes offered by the University – differential equations and complex analysis.
"Complex analysis is the highest undergraduate course in the math department," Dr. Ben Ntatin, APSU associate professor of mathematics, said. "I was scared to give him a waiver at first. But he's easily the best student."
Zhang has excelled in his upper division college classes this semester, and earlier this month, he helped lead the APSU Math Jeopardy Team to a second place finish at the Mathematics Association of Mathematics south-east sectional annual meeting in Cookeville. The three-person team, which included APSU students Dodji Kuwonu and Benjamin D. Firth, beat 26 other teams from universities across Alabama, Georgia, North Carolina and South Carolina.
"I was feeling pretty confident that even if we couldn't win, we could do pretty well," Zhang said.
His humble tone caused Ntatin, the team's coach and sponsor, to smile.
"David was the lead team-member," he said. "I really don't know how he does it. He was amazing."
Eligible juniors and seniors in the Clarksville-Montgomery County School System's STEM Academy and Middle College are able to take free classes at APSU for college credit this year, thanks to a couple of new grants awarded to the CMCSS.
A Tennessee Dual Enrollment Grant covers a portion of the tuition. The CMCSS is paying the remainder of the tuition for Middle College students, and the STEM Academy students are using both the dual enrollment grant and a Tennessee College Access and Success Network grant to pay for classes at APSU. Zhang is enrolled at Kenwood's STEM Academy.
"I would be stuck in pre-calculus right now if I didn't have dual enrollment," he said.
In addition to Zhang and the APSU Math Jeopardy Team's success, several APSU students and a faculty member also presented at the MAM conference.
Dr. Ramanjit Sahi, associate professor of mathematics, presented, "Are the not crossings really there?"
APSU student Michael McAllister presented, "A numerical method with non-polynomial basis for solving singular initial value problems."
APSU student Bruce E. Cain presented, "Solving the Telegraph equation by a hybrid Nystrom method."
APSU student Dodji Kuwonu presented, "Solving elliptic PDE using polynomial basis functions via collocation."
Dr. Samuel Jator, professor of mathematics, mentored the three students. APSU student Elisha Golliher also attended.