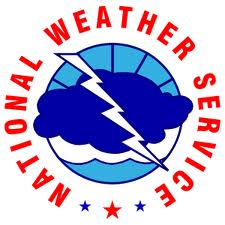 Clarksville, TN – The National Weather Service (NWS) reports that multiple periods of server weather possible and heavy rains expected over the next few days.
An intense and slow moving storm system will bring the potential for severe weather to the mid state three days in a row, starting this afternoon.
A warm front was producing strong to severe thunderstorms from Arkansas into Mississippi this morning. This front will move quickly across Middle Tennessee this afternoon bringing a good chance for thunderstorms.
Much more humid and unstable air will arrive this afternoon and this will contribute to the potential for some isolated severe storms. Main concerns for this afternoon are damaging winds, large hail, frequent lightning and very heavy downpours.
Although the threat is low, an isolated tornado cannot be ruled out. The main areas impacted this afternoon will be along and west of interstate 65.
For tonight, additional thunderstorms will move in from the west with the threat of severe storms continuing. These thunderstorms are expected to move into the mid state toward midnight and may continue into early Monday morning.
All types of sever weather are possible, but the main concerns for tonight will be damaging wind gusts and localized heavy rainfall. By monday afternoon, very warm, humid and unstable conditions will be in place as more thunderstorms erupt again across the region.
Confidence is increasing for a major outbreak of severe weather across all of Middle Tennessee including tornadoes. Damaging wind gusts and large hail. These thunderstorms are expected to increase in coverage Monday evening and continue into the late night hours.
On Tuesday, the same weather system may bring more severe weather. For Tuesday, the greatest threat will be over the far southern counties and the Cumberland Plateau. Damaging straight line winds and hail appear to be the main threats at this time.
In addition to the severe weather threat, flash flooding is also a distinct possibility. Estimated storm total precipitation amounts are expected to range from 3 to 5 inches across all of Middle Tennessee with locally higher amounts possible.
Deep tropical moisture will surge north over the mid-state today as southerly winds increase ahead of a strong storm system. The moisture, along with a series of upper level disturbances, will cause rounds of showers and thunderstorms to affect the area through Tuesday.
The rainfall is expected to be heavy at times with a total of 3 to 5 inches forecast through Tuesday. There could be locally higher amounts where storms persist over a given area. Runoff from these heavy rains could lead to flash flooding along area creeks and streams. Some river flooding is also possible on some of the smaller tributaries across Middle Tennessee.
The heaviest rainfall rates and thus the greatest flash flood potential will likely be Monday afternoon into Monday night. Please pay attention to later forecast updates as flash flood watches and warnings may be issued.
As always, if flooding is observed or a warning is issued get to higher ground immediately. Never attempt to cross a flooded roadway, turn around – don`t drown!
Counties Affected
Bedford County, Benton County, Cannon County, Cheatham County, Clay County, Coffee County, Cumberland County, Davidson County, De Kalb County, Dickson County, Fentress County, Giles County, Grundy County, Hickman County, Houston County, Humphreys County, Jackson County, Lawrence County, Lewis County, Macon County, Marshall County, Maury County, Montgomery County, Overton County, Perry County, Pickett County, Putnam County, Robertson County, Rutherford County, Smith County, Stewart County, Sumner County, Trousdale County, Van Buren County, Warren County, Wayne County, White County, Williamson County, and Wilson County.