Clarksville, TN – This month the Orgain Gallery of the Customs House Museum features the collage art of award-winning artist Anne Bagby in the exhibit Layered Expressions.
Combining layers of glaze over layers of patterns and images, Anne creates quilt-like visions, stitching together patterns of bold colors that often feature the human face and words. There is a nostalgic feel to the modern pieces of art. The end result is a lyrical piece of textures that leaves the viewer with a sense of familiarity.
Anne says of her work "The paintings play with the boundaries between design and texture. My work is deliberately formal and beautiful. The quilt tradition, oriental rugs, and the kaleidoscope inspire the fabric-like look, the lack of volume and deep space and the use of multiple images. In these paintings the edges are firm and significant, but the surface is my primary concern. My paintings are concerned with the relationships we have with the world and with ourselves and with who we want the world to think we are."
A resident of Tennessee, Anne studied at the University of North Carolina and Queens College in Charlotte. Her work has been published in New American Painting, Watercolor Magazine, Artist Magazine, and Somerset Studio Magazine. Bagby's work can be found in private and corporate collections throughout the U.S. including Cheekwood Botanical Gardens, Nashville, and The U.S. State Department's Art in Embassies. She has been teaching workshops since 2004; and has produced an instructional DVD of her process. Layered Expressions will be on view at the Customs House May 7th through July 6th.
Located at the corner of Second and Commerce Streets, the Customs House Museum is the second largest general museum in Tennessee. For more information on above events contact Terri Jordan, Exhibits Curator, at 931.648.5780 or .
About the Customs House Museum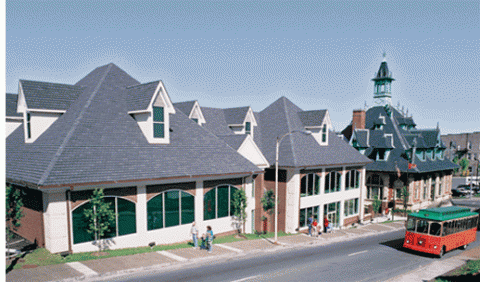 Located in the heart of historic downtown Clarksville, Tennessee, the Customs House Museum and Cultural Center is the State's second largest general museum.
With over 35,000 square feet of the region's best hands-on activities and special events…people of all ages agree – the Customs House Museum is well worth the stop!
The Explorer's Gallery is packed with fun, learning and fantasy in Aunt Alice's Attic, McGregor's Market and kitchen, and of course – the Bubble Cave! Finally, get "all aboard" to see our fantastic model trains. Our volunteer engineers "ride the rails" every Sunday afternoon from 1:00pm to 4:00pm.
Regular museum hours are 10:00am to 5:00pm Tuesday through Saturday, and 1:00pm to 5:00pm on Sundays. Adult admission is $7.00, Senior Citizens and College ID $5.00, Ages 6 to 18 $3.00, and under six years and Museum members are free.
The Customs House Museum is located at 200 South Second Street. For more information, call 931.648.5780 or visit their website at www.customshousemuseum.org
Map
Sections
Arts and Leisure
Topics
Ann Bagby, Art Exhibit, Artist Magzine, Cheekwood Botanical Gardens, Customs House Museum, Layered Expressions, New American Painting, paintings, Somerset Studio Magazine, U.S. State Department, Watercolor Magazine