From APSU Sports Informaion

Clarksville, Tn –  Austin Peay State University head volleyball coach Taylor Mott has announced that Jami Thomas will join her staff next season as a volunteer assistant coach.
Thomas, a Paola, Kansas native, brings 14 years of coaching experience to the Lady Govs staff. Most recently, she was the head varsity coach at Clarksville High School where she led the Wildcats to an 11-5 record and the District 10-AAA semifinals during the 2013 season.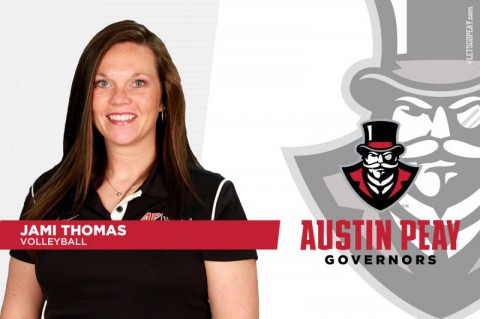 Thomas also coached Sycamore High School during its 2012 campaign.
"Adding Jami to our staff is something I have been working on for some time now and I feel extremely fortunate that she has decided to come on board," said Mott. "Our student-athletes will benefit greatly from her knowledge, experience, positive outlook and passion for the game. Jami is a tremendous role model in Clarksville and I am excited to have her guidance in getting our volleyball program involved in the Clarksville community."
"I am elated to join the Austin Peay volleyball program," said Thomas. "I feel blessed to be involved with a coaching staff that loves the sport of volleyball as much as I do. I look forward to working with a talented group of volleyball players."
In addition to her high school coaching, Thomas serves as the director for the New South Volleyball club in Clarksville. In just three seasons, she has helped build a team that finished second at the regional level. She has extensive coaching experience in the club volleyball community after spending eight years as a club coach in the Kansas City area. While in Kansas City, she coached the MAVA 15s to a fifth-place national finish.
Prior to starting her coaching career, Thomas played volleyball at Rockhurst University where she graduated in 2000 with a bachelor's degree. She was a member of the 1998 and 2000 teams (missing 1999 due to injury) that compiled a combined 80-4 record as the program transitioned from NAIA to NCAA Division II status. She began her collegiate career at Barton County Community College where she was a Distinguished Academic All-America pick and a member of teams that finished third (1997) and fourth (1996) in the junior college national tournament.
The Thomas File –
Hometown – Paola, Kansas
High School – Paola High School
College –
Barton County CC (A.S., Science, 1998)
Rockhurst (B.A., Psychology, 2000)
Cameron (M.A., Teaching in Special Education, 2007)
Coaching Experience –
Paola High School (Kan.), 2002-04
Sycamore High School (Tenn.), 2011
Clarksville High School (Tenn.), 2013