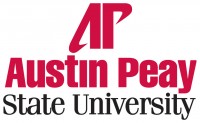 Clarksville, TN – A few years ago, three tall, flowering cherry trees grew on the western side of Austin Peay State University's Sundquist Science Complex. They provided a nice, welcoming entry into the building, but in 2007, Tennessee suffered from a record-setting drought.
Temperatures reached 113 degrees Fahrenheit that summer, and by the fall, the 20-foot tall trees were dead.
"The University cut them down, and for six months, that area stayed empty," said Dr. L. Dwayne Estes, APSU associate professor of biology, principal investigator for the APSU Center of Excellence in Field Biology and Biodiversity Explorer for the Botanical Research Institute of Texas. His botany classroom overlooked the barren landscape, and by the next summer, Estes had an idea.
"I thought it would be nice if we just had a big native wildflower garden, where instead of always teaching in a classroom, I could take my students outside and we could look at plants right outside the classroom," he said. "Students could use it for class exercises, plus it'd be a beautiful back entrance to the building."
Estes pitched his idea, and after receiving reluctant approval, he and his students went to work prepping the area for planting. He sought donations from local companies to help develop the garden. A local limestone quarry, Winn Materials Inc., donated six tons of limestone gravel for what would become a rock garden.
Estes additionally donated a few tons of native limestone flagstone acquired from his family's property in Maury County. Home Depot and Lowes donated pine needle mulch. The CO-OP provided herbicide, potting soil and plant labels. Local tree trimming companies provided free wood chips for additional mulch, and the APSU Physical Plant purchased a wooden arbor.
Estes and several graduate and undergraduate students then spent countless hours hauling away rocks, weeding and planting. During the past five years, he and his students also acquired living specimens from research project sites across the southeast. Today, that once empty space outside the Sundquist Science Complex is now home to a unique botanical garden filled with dozens of rare and endangered plants.
"There are things in here that no garden anywhere else in the world has," Estes said. "Anymore, it's hard to take a field trip with 30 students, but now we can show them these plants with this living lab."
The space has a large rock garden, a prairie and the beginnings of a woodland prairie. It features several groups of related species, including five specimens of coneflower growing side-by-side, allowing APSU students to look at the subtle differences between similar plants.
"We would have to travel nearly 500 miles if we wanted to train students to identify these coneflower species in their natural habitats," Estes said.
Botany students are now able to step outside and see an American Smoke Tree, often heralded as one of the rarest trees in North America. Estes came across it while exploring rare woodlands west of Chattanooga, near a construction site for a new bridge.
"I knew they were about to go in and blast out a section of hill, but there was this one little American Smoke Tree growing on the cliff," he said. "I rescued it because it was just going to get blasted, and I transported it back here."
The tree is thriving on campus because, like all the 320 species growing in the APSU Botanical Garden, it is native to the mid-south. Because these plants have evolved for thousands or millions of years in the southeast, they have adapted to the local climate, insects and diseases.
That means they don't require as much care as exotic plants, like those from Asia and Europe that are often sold in nurseries. The garden now serves as an outside lab for APSU students, but Estes hopes the community will also notice these beautiful, local plants and start using them in their gardens.
"One of the greatest threats right now to ecosystems worldwide is invasive species," he said.
"Horticulturalists like the exoticness of foreign plants, like Chinese Wisteria, but they can completely change and destroy the natural integrity of our natural plant communities. Such invasive species outcompete native species of plants. When you change the food structure, which ultimately is based on plants, the animals that were here will disappear, and it's a whole sort of cascade effect. I'd like us to use more native plants in our landscape, including here on APSU's campus."
The garden is open to the public, with walking paths, lampposts and two benches installed by the APSU Physical Plant. Estes said the next step is to create a database of all the plants growing in the garden.
"We know where everything came from, but the idea now is to label it so the public can use it, and people on campus can come by and appreciate it," he said. "There are a few things we need to make this garden a really special place. We need plant identification labels like those you would see in a botanical garden so that students and visitors can really use the garden. Those labels cost a lot of money, and everything we've done so far has been acquired through donations or volunteer efforts, and we simply don't have funds to purchase them."
Estes is seeking donations to help acquire plant labels and to cover other garden needs. He also needs volunteers to help with garden maintenance, weeding, databasing, pruning and labeling.
For more information on the APSU Botanical Garden or if you are interested in donating or volunteering, contact Estes at .