Written by Sgt. Justin Moeller
5th Special Forces Group (Airborne) Public Affairs Office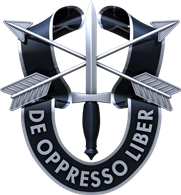 Fort Campbell, KY  – Soldiers, families and friends with the 2nd Battalion, 5th Special Forces Group (Airborne), also known as "Legion," welcomed their new commander July 24th, 2014.
During a ceremony held here at Gabriel Field, Lt. Col. John R. Dyke III relinquished command of the 2nd Bn., 5th SFG (A), to Lt. Col. Solomon Woods, a native of Chicago.
Prior to the relinquishment of command, Dyke had the honor of attaching a Valorous Unit Award to the 2nd Bn. colors.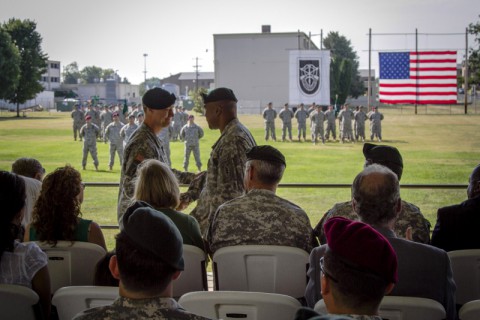 "These documented acts of bravery from the 2nd Battalion – executed by this great battalion – speaks volumes, not only of their selfless service but there bravery," said Col. John W. Brennan, commander of the 5th SFG (A). "It was codified here today with the presentation of the Valorous Unit Award."
The battalion received the award for extraordinary heroism in action against an armed enemy during the period of May 1st, 2013, through November 1st, 2013, in support of Operation Enduring Freedom while serving as the Special Operations Task Force West.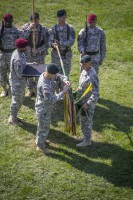 "The fruits of his (Dyke's) labor were on display during 2nd Battalion's combat rotation to Afghanistan," explained Brennan, "where 2nd Battalion's mission and operations were lauded by Maj. Gen. Scott Miller, the SOJTF (Special Operations Joint Task Force) commander, as well as Col. Patrick B. Roberson, the CJSOTF-A (Combined Joint Special Operations Task Force-Afghanistan) commander."
The acclaimed 2nd battalion green berets esteemed reputation was refined even more by the outstanding leadership of Dyke.
"Innovators, warriors, and above all always ready to fight, the men of 2nd Battalion were made even more effective by the leadership of Dyke," said Brennan. "Himself (Dyke), the son of a Legionnaire who served with the 5th SFG (A) from 1966 to 1968, Dyke has employed a no nonsense leadership style coupled with a constant unblinking eye on preparedness for combat throughout his entire tenure."
Keeping his Soldiers always prepared for what may come makes it easy for Wood's transition to command.
Although this is Wood's first position in the 5th SFG (A), he is no stranger to the Special Forces community, and was welcomed warmly to the Legion.
"Though we have to say 'so long' to the Dyke family, we are very fortunate to welcome the Woods family to the Legion," expressed Brennan. "Woods comes to the Legion with a great deal of combat experience in Afghanistan."
After graduating from the Special Forces Qualification Course in 2002, he was assigned to 2nd Battalion, 7th Special Forces Group (Airborne), out of Fort Bragg, NC. He served as the Commander of an Operational Detachment Alpha team with multiple deployments. After his team command, he assumed command of the Headquarters Support Company (HSC) with an additional duty as the Battle Captain for CJSOTF-A.
Woods assumed command of the General Support Company of the 7th SFG (A) with duty as the Chief, Joint Operations Center, CJSOTF-Afghanistan. He later commanded Company A, 2nd Bn., 7th SFG (A), and assumed Command of Area Operating Base Uruzgan in Khandahar Province, Afghanistan. He then served as the Battalion S3 and served as the Director of the Operations Center for Special Operations Task Force-South.
"We are very proud to have Woods assigned here to the Legion and look forward to working with him," said Brennan.
Photo Gallery