Clarksville, TN – Downtown Clarksville's 9th Annual "Frolic on Franklin: A Celebration of the Arts" will take place Saturday, September 13th from 8:30am-3:30pm.
The free event will showcase the works of more than 30 artists, staged entertainment, art demonstrations, and a doggie fashion show – all along the 100 block of historic Franklin Street.
A variety of original fine art, as well as handmade crafts, will be on display including paintings and photography, jewelry, clay garden items, wood work, purses and fabric accessories, pottery, candles, jewelry, woven and knitted items, and seasonal gifts. Items will be for sale with prices ranging from $2.00 – $500.00.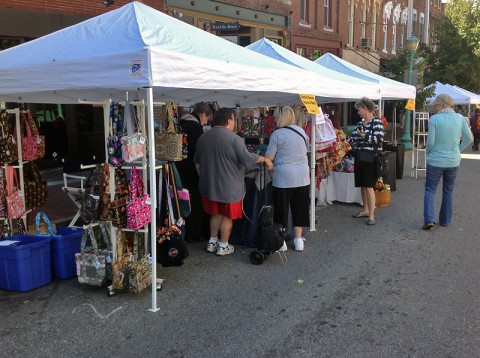 "Our aim is to highlight local artists, but we've begun to attract the attention of regional artists as well," said Artist Coordinator Michelle Dickerson. "We have vendors from Dyersburg and Franklin, TN and Allensville, KY. So, there's a great variety of items for all ages and tastes."
A crowd favorite is seeing, and often participating in, artists' demonstrations. Several booths will offer the opportunity to learn techniques directly from the artists throughout the day.
Some of these include watercolor demonstrations, wood-turning on a lathe, beaded jewelry making, collage activities, portrait drawings, scroll saw cutting, knitting, and weaving.
Participating artists and their works include:
2 Old Biddies – crochet toys and household items, painted bird house gourds
A Stich or Two – scarves, coasters, dishtowel dresses, baby quilts
Amber Wallace Artwork – recycled and repurposed mixed-media paintings
Carolyn Rogers – embroidery and fabric items
Clarksville-Montgomery Co. Arts & Heritage Development Council – prints, postcards, coloring books, wooden models of local buildings
Curious Cases & Photography – photography, coasters, magnets, succulents, vintage renewed suitcases
David Magers Photography– bird and nature photography
Downtown Artists Cooperative – watercolor and oil paintings, photography, mixed media, jewelry, textiles, sculpture, and books
Friends of Photography – photographs
LNM Creations – clay garden ornaments, photo notecards
Made With Love – jewelry
Nanotime Photography – photographic prints, photo greeting cards
Pocket Charm Purses & Bags – fabric handbags and totes
Portraits by James Davis – chalk pastel and prisma color pencil drawings or people, designs, and landscapes
The Cut Above – woodwork, scroll saw ornaments and puzzles
Thornton Pottery – pottery
Tuckessee Wood Turners – various wood-turned items
Twisted Creations – bottle cap jewelry and hair bows
Twisted Sister Designs – beaded and wire jewelry
Two Branches – prints, paintings and knit products
Wooden Things – wooden items and utensils
In addition to artist booths, two areas will feature live entertainment.
The Lower Franklin Stage will showcase:
9:00am-9:15am — Kenwood High School Hi-Steppers
9:30am-10:30am — Cumberland Winds Jazz Project
10:45am-11:45am — Northeast High School Exit One Show Choir
Noon-1:00pm — Red River Breeze
1:15pm-2:15pm — Cindy McElroy
2:30pm-3:30pm — Loose Hinges
The Upper Franklin Stage will showcase:
8:00am-10:00am — WJZM Live Broadcast
1:00pm-2:00pm — Brio String Ensemble
2:00pm-3:00pm — Doggie Couture: A Dog Fashion Show
A new festival highlight this year is the Doggie Couture Fashion Show from 2:00pm-3:00pm. Bring your dog, dressed to the nines, and enter our Doggie Couture fashion show. Registration will begin at 1:45pm at Tent #7 with the fashion show following at 2:30pm.
Sponsors of the event are Clarksville/Montgomery County Arts & Heritage Development Council, F&M Bank, Leaf Media Group, Ledbetter Signs, Legends Bank, MediaWorks, Planters Bank, Richview Dental Center, and Two Rivers Company.
Shops and restaurants throughout the downtown district will be open their regular Saturday hours. Downtown Market is also open around Public Square until 1:00pm.
The evening will conclude with Gala 32, a ticketed auction, dinner and opening of the Roxy's 32nd season, featuring selections from the upcoming Leonard Bernstein musical "On the Town."
For more information about Frolic on Franklin or to purchase Roxy Gala tickets, please contact the Roxy Regional Theatre at 931.645.7699 or visit www.roxyregionaltheatre.org