APSU Sports Information Office

Clarksville, TN – Austin Peay State University's volleyball team will face its sternest test of the 2014 campaign, Friday-Saturday, at the Holiday Inn University Plaza Invitational hosted by Western Kentucky in Bowling Green, KY.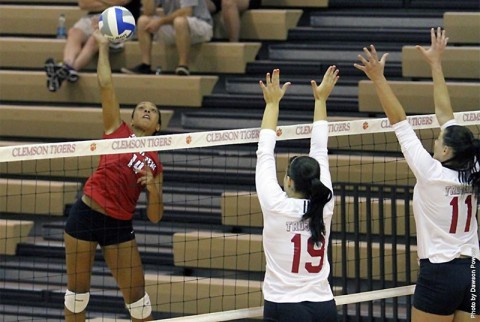 Austin Peay (3-5) will face nationally-ranked and unbeaten Purdue to start the tournament, 1:00pm, Friday.
The Lady Govs second match will pit them against Western Michigan, 5:00pm, Friday. Austin Peay concludes its trip with an 11:00am, Saturday matchup with host Western Kentucky.
The Lady Govs return to action after posting a 3-2 record in last week's action. Austin Peay picked up an impressive win at Evansville before splitting four matches at last weekend's Akron Invitational.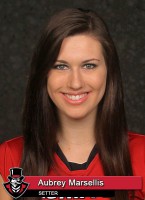 APSU recorded wins against Binghamton and Bryant and suffered losses to a Drake squad that won the tournament and host Akron.
"We are battling consistency on our side of the net," said Lady Govs head coach Taylor Mott. "On the positive side, we can control those things that have lost us matches. I believe we are pressing right now and when we settle in and play volleyball good things happen."
Junior setter Aubrey Marsellis nabbed all-tournament honors at Akron, leading Austin Peay in assists (7.64 per set) and service aces (0.50 per set) during the tournament while also recording eight blocks.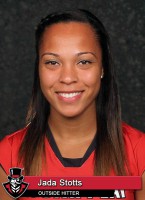 Senior outside hitter Jada Stotts recorded a team-best 52 kills while freshman Christina White had 40 kills and a team-best .274 attack percentage.
"Aubrey and Christina really stepped up last weekend," said Mott. "Aubrey was consistent throughout the tournament and really stabilized our play. Christina came up big in our two victories and gave us a glimpse at what her capabilities. Jada continues to slowly settle into the season, improving each time out."
APSU Lady Govs Keys
Redshirt sophomore outside hitter Sammie Ebright showed signs of coming to life twice in last week's action. She recorded 13 kills, her first double-digit kill outing, in APSU's win at Evansville. Ebright then muddled through the Akron Invitational, but did have an 8-kill outing against Bryant that saw her post a season-best .350 attack percentage.
The Lady Govs service game has been part of its battle with inconsistency through two weeks. Austin Peay has 33 service aces (1.22 per set), but has committed 65 service errors (2.41 per set) this season. Marsellis has proven to be the most consistent of APSU's servers, recording a team-best 10 aces while committing just three errors.
Scouting the Opposition
Purdue (6-0) enters the tournament ranked No. 8 in the American Volleyball Coaches Association poll. The Boilermakers have not dropped a set this season, including a white-washing of then No. 14 San Diego in the season's opening weekend. Redshirt sophomore middle blocker Faye Adelaja is ranked eighth nationally in attack percentage, hitting an impressive 0.486 with 44 kills.
Western Michigan
(4-2) has posted a 2-1 record in each of its first two tournaments. Last weekend, the Broncos defeated IUPUI and swept host Notre Dame. Western Michigan boasts a strong defensive combo, ranking 10th nationally in digs (17.83 per set) and 88th nationally in blocks (2.33 per set). Senior setter Lexie Pawlik marshals the WMU offense, her 11.04 assists per set ranking 32nd nationally.
Western Kentucky (7-2) brings a six-match win streak into its own tournament, including a sweep at Lipscomb, Tuesday. The Hilltoppers won all four matches at the Missouri State tournament last weekend, dropping just two sets. WKU's strength lies in its front-row defense, where it ranks 35th nationally with 2.65 blocks per set. Senior middle hitter Heather Boyan leads that effort with 1.07 blocks per set, ranking among the nation's leaders while also ranking second among WKU hitters with 70 kills (2.41 per set).
Team Comparison
| | | | | |
| --- | --- | --- | --- | --- |
| TEAM | APSU | PUR | WMU | WKU |
| RECORD | 3-5 | 6-0 | 4-2 | 7-2 |
| KILLS* | 12.48 | 14.33 | 13.70 | 13.31 |
| PCT. | .178 | .288 | .229 | .257 |
| ACES* | 1.22 | 1.83 | 0.58 | 1.17 |
| DIGS* | 13.78 | 13.67 | 17.83 | 15.03 |
| BLOCKS* | 1.19 | 2.33 | 2.33 | 2.52 |
*-per set