APSU Sports Information Office

Macon, GA – Austin Peay State University's football team could not overcome a 28-0 first-quarter deficit and fell to Mercer, 49-21, Saturday, in a non-conference football game played at Mercer University Stadium.
The loss dropped APSU to 0-6 on the season while Mercer improved to 5-2. The Governors losing streak now stands at 18 games.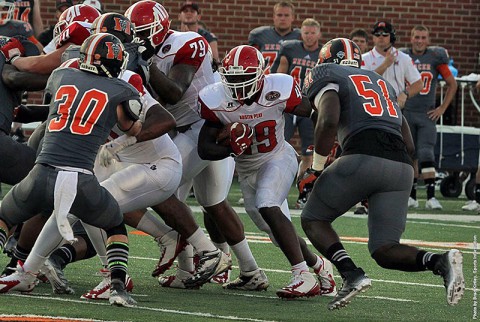 Mercer scored the first four times it touched the football, including a 61-yard punt return by Chandler Curtis and an 80-yard John Russ to Tee Mitchell toss, and the shell-shocked Governors could not respond.
APSU finally scored with 9:25 left in the second quarter on a Mickey Macius seven-yard TD pass to Malik Boynton. But any momentum was short-lived when quarterback Russ, who completed 10-of-13 passes for 179 yards, threw a TD strike to JT Palmer.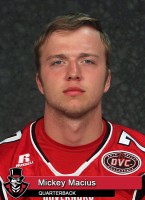 The freshman Macius, who came off the bench for an injured Darrien Boone in the second quarter, threw his second TD pass with a little help from the defense. Macius' pass was a little short but it was tipped to Jared Beard, who caught his first career TD pass, this one from 32 yards out to open the second half and cut the deficit to 35-13.
But the Govs could not maintain that momentum. APSU other score came late when freshman Otis Gerron, maintaining his balance after seemingly being stopped at the line, broke free for an 89-yard run with 4:16 left. It was the APSU's longest TD runs since Jay Bailey scampered 99 yards against Valparaiso, September 23rd, 2000.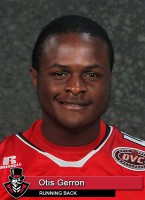 Gerron finished the night with 196 yards rushing on 15 carries–it was the most rushing yards by a Gov since Ryan White had 228 against Southeast Missouri, October 10th, 2009.
APSU finished the night with a season-high 362 yards total, including 245 on the ground—thanks to Gerron.
Macius ended 6-of-11 for 86 yards, with Rashaan Coleman leading the way with three catches for 40 yards.
Defensively, sophomore linebacker Antonio Turner led the way with eight tackles, including 1.5 for loss.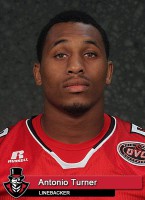 Freshman defensive end Tyler Schneider had the Govs only sack and finished with 1.5 tackles for loss.
Lakes finished with 99 yards rushing for Mercer.
The Governors were hampered by penalties much of the night, especially in the first half. The Governors were charged with 13 penalties, nine in the first half, for 116 yards.
Mercer was charged with just three penalties the entire game by the Southern Conference officiating crew.
Box Score
Mercer (5-2) vs. Austin Peay (0-6)
| Score by Quarters | 1st | 2nd | 3rd | 4th | Total |
| --- | --- | --- | --- | --- | --- |
| Austin Peay | 0 | 6 | 7 | 8 | 21 |
| Mercer | 28 | 7 | 0 | 14 | 49 |
| Qtr | Time | Scoring Play | APSU | MER |
| --- | --- | --- | --- | --- |
| 1st | 13:12 | MER – Alex Lakes 12 yd run (Jagger Lieb kick ), 5 plays, 75 yards, TOP 1:48 | 0 | 7 |
| 1st | 09:33 | MER – Chandler Curtis 61 yd punt return (Jagger Lieb kick ) | 0 | 14 |
| 1st | 05:38 | MER – Tee Mitchell 80 yd pass from John Russ (Jagger Lieb kick ) 1 plays, 80 yards, TOP 0:11 | 0 | 21 |
| 1st | 02:07 | MER – Avery Ward 11 yd pass from John Russ (Jagger Lieb kick ) 5 plays, 38 yards, TOP 1:31 | 0 | 28 |
| 2nd | 09:25 | APSU – BOYNTON, Malik 7 yd pass from MACIUS, Mickey (VINCIL, Dakota kick ) 7 plays, 60 yards, TOP 3:50 | 6 | 28 |
| 2nd | 06:27 | MER – JT Palmer 12 yd pass from John Russ (Jagger Lieb kick ) 6 plays, 65 yards, TOP 2:56 | 6 | 35 |
| 3rd | 12:24 | APSU – BEARD, Jared 32 yd pass from MACIUS, Mickey (VINCIL, Dakota kick ) 5 plays, 65 yards, TOP 2:24 | 13 | 35 |
| 4th | 12:47 | MER – Alex Lakes 17 yd run (Jagger Lieb kick ), 3 plays, 47 yards, TOP 1:03 | 13 | 42 |
| 4th | 04:36 | MER – Derek Owings 5 yd pass from Michael Haynes (Jagger Lieb kick ) 14 plays, 70 yards, TOP 6:05 | 13 | 49 |
| 4th | 04:16 | APSU – GERRON, Otis 89 yd run (COLEMAN, Rashaa pass ), 1 plays, 89 yards, TOP 0:15 | 21 | 49 |
| | APSU | MER |
| --- | --- | --- |
| FIRST DOWNS | 10 | 21 |
| Rushing | 5 | 11 |
| Passing | 5 | 8 |
| Penalty | 0 | 2 |
| NET YARDS RUSHING | 245 | 242 |
| Rushing Attempts | 41 | 40 |
| Average Per Rush | 6.0 | 6.1 |
| Rushing Touchdowns | 1 | 2 |
| Yards Gained Rushing | 270 | 265 |
| Yards Lost Rushing | 25 | 23 |
| NET YARDS PASSING | 117 | 209 |
| Completions-Attempts-Int | 10-17-1 | 14-20-0 |
| Average Per Attempt | 6.9 | 10.5 |
| Average Per Completion | 11.7 | 14.9 |
| Passing Touchdowns | 2 | 4 |
| TOTAL OFFENSE YARDS | 362 | 451 |
| Total offense plays | 58 | 60 |
| Average Gain Per Play | 6.2 | 7.5 |
| Fumbles: Number-Lost | 0-0 | 1-0 |
| Penalties: Number-Yards | 13-116 | 3-22 |
| PUNTS-YARDS | 8-332 | 6-244 |
| Average Yards Per Punt | 41.5 | 40.7 |
| Inside 20 | 1 | 3 |
| 50+ Yards | 1 | 1 |
| Touchbacks | 0 | 0 |
| Fair catch | 2 | 2 |
| KICKOFFS-YARDS | 3 – 152 | 8 – 498 |
| Average Yards Per Kickoff | 50.7 | 62.3 |
| Touchbacks | 1 | 2 |
| Punt returns: Number-Yards-TD | 1-5-0 | 3-60-1 |
| Average Per Return | 5.0 | 20.0 |
| Kickoff returns: Number-Yds-TD | 6-114-0 | 1-7-0 |
| Average Per Return | 19.0 | 7.0 |
| Interceptions: Number-Yds-TD | 0-0-0 | 1-20-0 |
| Fumble Returns: Number-Yds-TD | 0-0-0 | 0-0-0 |
| Miscellaneous Yards | 0 | 0 |
| Possession Time | 31:12 | 28:48 |
| Third-Down Conversions | 7 of 16 | 4 of 12 |
| Fourth-Down Conversions | 0 of 1 | 2 of 2 |
| Red-Zone Scores-Chances | 1-1 | 5-5 |
| Sacks By: Number-Yards | 1 – 3 | 0 – 0 |
| PAT Kicks | 1-2 | 7-7 |
| Field Goals | 0-0 | 0-0 |