APSU Sports Information

Clarksville, TN – After months of anticipation, Austin Peay State University men's basketball team finally got the opportunity to step on the hardwood in front of its supporters.
Behind a pair of 17-point performances from guards Khalil Davis and Zavion Williams, the Governors defeated Webster, 82-48, from the Dunn Center on Saturday.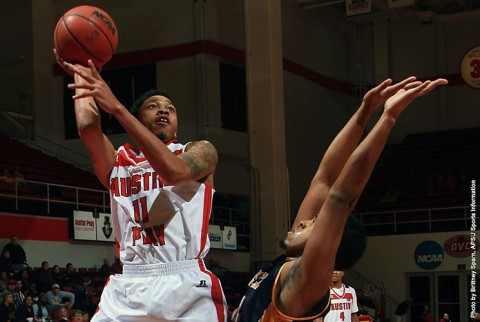 Austin Peay shot just over 55 percent from the field, and held a size advantage inside which allowed them to outrebound their opponent, 41-25.
While there were several flashes of pressure defense leading to fast break scores, lapses occurred which gave Webster chances to dribble-drive in the paint.
"It was kind of a roller coaster, to be honest," Austin Peay head coach Dave Loos said.  "I thought we played hard enough for most of the game, but playing well enough was kind of up and down. In the first half, our denial defense was outstanding. But with our on-ball defense, we couldn't keep them in front of us."
Scenes of Chris Horton blocking shots and Ed Dyson catching alley-oops were on display, but the focal point was on a group of newcomers being integrated in the Governors rotation. Against the Gorlocks, it was the junior transfer Davis who caught everyone's attention.
"If I'm a fan watching this game," Loos said, "I think people would notice that Khalil Davis is a pretty good basketball player. He really has a good feel of how to play."
The Govs came out hot shooting the ball, going on a 17-5 run by the first media timeout. With a 45-20 lead at halftime, Austin Peay hit 55 percent of their attempts, while also using the size of Horton and Chris Freeman to dominate in the low post. Davis led the way in scoring with 12 points in the opening half, while Williams chipped in with 10.
Williams stepped into the starting point guard role due to an injury to Jeremy Purvis, and did his job of being the vocal leader on the court.
"Zavion played well," Loos said. "He had good leadership qualities, and was verbal and communicated well."
Austin Peay carried a 17-0 run from the first half into the second behind good passing leading to open shots. Loos was able to get everyone who suited up into the game, showing several different looks of veterans mixed with new faces. While Loos thought the play was "okay" in the later stages, the early separation gave the Govs more than enough room to win.
Freeman finished with 14 points on the evening, while Horton racked up 10 points, eight rebounds, and five blocks.
CJ Moore and Kenan Haywood paced the Gorlocks down the stretch with nine points each.
The Govs will return to action for a second exhibition contest on Wednesday, November 5th, playing host to Bryan College at 7:00pm.
Box Score
Austin Peay 82 vs Webster 48
| | 1 | 2 | Total |
| --- | --- | --- | --- |
| Webster | 20 | 28 | 48 |
| Austin Peay | 45 | 37 | 82 |
Webster 48
| ## | Player | GS | FGM- FGA | 3FGM- 3FGA | FTM- FTA | OFF- DEF | TOT | PF | TP | A | TO | BLK | MIN |
| --- | --- | --- | --- | --- | --- | --- | --- | --- | --- | --- | --- | --- | --- |
| 32 | Haywood, Kenan | * | 3-5 | 0-0 | 3-6 | 1-2 | 3 | 3 | 9 | 0 | 3 | 0 | 21 |
| 12 | Moore, CJ | * | 3-5 | 0-0 | 1-2 | 0-1 | 1 | 2 | 7 | 0 | 2 | 0 | 31 |
| 24 | Henry, Joseph | * | 3-7 | 0-1 | 0-0 | 1-2 | 3 | 1 | 6 | 1 | 2 | 0 | 19 |
| 22 | Ward, Hunter | * | 1-9 | 0-4 | 1-2 | 1-4 | 5 | 2 | 3 | 0 | 3 | 1 | 29 |
| 3 | Etter, Adam | * | 1-1 | 0-0 | 0-0 | 0-2 | 2 | 2 | 2 | 2 | 4 | 0 | 18 |
| 25 | Hawkins, Hank | | 3-5 | 0-0 | 2-3 | 1-1 | 2 | 4 | 8 | 0 | 0 | 0 | 15 |
| 34 | Walton, Taylor | | 2-5 | 0-1 | 0-0 | 0-1 | 1 | 1 | 4 | 0 | 0 | 0 | 13 |
| 44 | Crenshaw, Tehvynn | | 1-1 | 0-0 | 1-2 | 0-2 | 2 | 1 | 3 | 0 | 0 | 0 | 7 |
| 10 | Odjo, Jonathan | | 0-5 | 0-2 | 2-2 | 0-0 | 0 | 2 | 2 | 0 | 1 | 0 | 21 |
| 33 | Evans, Tevin | | 1-7 | 0-2 | 0-0 | 0-1 | 1 | 0 | 2 | 0 | 0 | 0 | 9 |
| 42 | Smith, Leonard | | 0-0 | 0-0 | 2-4 | 0-1 | 1 | 3 | 2 | 1 | 1 | 1 | 15 |
| 20 | Thorman, Tyler | | 0-0 | 0-0 | 0-0 | 0-0 | 0 | 0 | 0 | 0 | 1 | 0 | 2 |
| 0 | TEAM | | 0-0 | 0-0 | 0-0 | 1-3 | 4 | 0 | 0 | 0 | 1 | 0 | 0 |
| | Totals | – | 18-50 | 0-10 | 12-21 | 5-20 | 25 | 21 | 48 | 4 | 18 | 2 | 200 |
Austin Peay 82
| ## | Player | GS | FGM -FGA | FGM3 -FGA3 | FTM -FTA | OFF- DEF | TOT | PF | TP | A | TO | BLK | MIN |
| --- | --- | --- | --- | --- | --- | --- | --- | --- | --- | --- | --- | --- | --- |
| 02 | WILLIAMS, Zavion | * | 5-6 | 3-3 | 4-5 | 0-2 | 2 | 1 | 17 | 6 | 0 | 0 | 21 |
| 11 | DAVIS, Khalil | * | 6-8 | 2-4 | 3-6 | 2-4 | 6 | 1 | 17 | 3 | 1 | 0 | 29 |
| 15 | FREEMAN, Chris | * | 6-8 | 0-0 | 2-2 | 1-0 | 1 | 1 | 14 | 0 | 2 | 1 | 16 |
| 05 | HORTON, Chris | * | 5-7 | 0-0 | 0-2 | 3-5 | 8 | 2 | 10 | 4 | 2 | 5 | 27 |
| 24 | DYSON, Ed | * | 2-6 | 0-2 | 0-0 | 0-4 | 4 | 1 | 4 | 1 | 0 | 0 | 24 |
| 01 | DIOP, Assane | | 3-10 | 0-2 | 3-6 | 1-8 | 9 | 3 | 9 | 1 | 1 | 0 | 25 |
| 10 | IVORY, Tre | | 2-5 | 0-0 | 1-4 | 2-1 | 3 | 3 | 5 | 4 | 3 | 0 | 21 |
| 04 | ROBINSON, Josh | | 1-3 | 1-3 | 0-0 | 0-2 | 2 | 2 | 3 | 3 | 4 | 0 | 17 |
| 20 | BUDRYS, Domas | | 1-3 | 1-3 | 0-0 | 0-1 | 1 | 1 | 3 | 0 | 0 | 0 | 11 |
| 23 | MBOUP, Serigne | | 0-0 | 0-0 | 0-0 | 1-2 | 3 | 4 | 0 | 0 | 2 | 0 | 9 |
| TM | TEAM | | 0-0 | 0-0 | 0-0 | 0-2 | 2 | 0 | 0 | 0 | 0 | 0 | 0 |
| | Totals | – | 31-56 | 7-17 | 13-25 | 10-31 | 41 | 19 | 82 | 22 | 15 | 6 | 200 |