Austin Peay Sports Information

Clarksville, TN – When the Governors take the field for Saturday's 4:00pm, Homecoming game against Tennessee State, they will be representing more than themselves.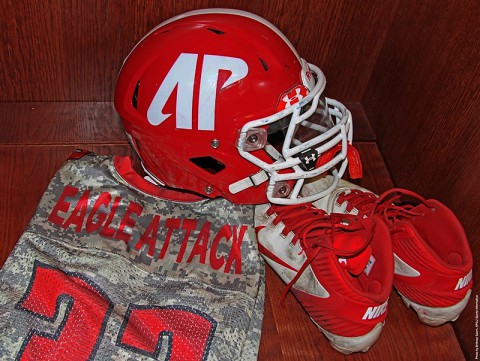 As part of Military Appreciation Day at Governors Stadium, Austin Peay will suit up in camouflage jerseys which honor the men and women serving at Fort Campbell.
On the back of each jersey will be one of 66 nicknames of units at the military base in Fort Campbell.
The process that led to the Governors wearing the camouflaged jerseys is a lot more personal than one might believe," said APSU Marketing and Promotions Director Alaric Klinghard, whose dad and brother both have served in the Army. "We live in a community where camouflage is an everyday sighting so we often become numb to its significance."
"Our team is going to be representing more than just Austin Peay on Saturday – they are representing our commitment to the relationship this community has with Fort Campbell and how important that is. Our individual affiliations are insignificant when we juxtapose them to the sacrifices made by our neighbors at Fort Campbell. Each player will represent a brigade or unit, which in turn represents a soldier which represents a family that makes up our Clarksville community. It's more than just a jersey with a number on it. It's a symbol of Clarksville. It's a symbol of who we are."
In addition, Fort Campbell will have a static display in Tailgate Plaza where all military personnel are invited into the Governors Club Hospitality area located between Cheryl Holt Softball Field and the Governors Tennis Center.
Prior to the 4:00pm kickoff, the 101st Airborne Division Demonstration Team will deliver the game ball, which will then be passed on to honorary speaker, Brigadier General Mark Stammer, at the coin toss.
Each unit listed below will be recognized throughout the game and later be presented with a custom-named replica jersey.
Fort Campbell Unit Descriptions
101st Airborne Division – Air Assault (Screaming Eagles)
US Army Garrison (Guardian)
101st Headquarters and Headquarters Battalion (Gladiators)
101st Airborne Division Artillery (Glory)
86th Combat Support Hospital (Eagle Medics)
Blanchfield Army Community Hospital (Pulse of the Eagle)
Warrior Transition Battalion (Eagle Warriors)
Dental Activity at Fort Campbell (Professional Pride)
19th Air Support Operations Squadron (Antidote)
Army Field Support Battalion (Steadfast Support)
NonCommissioned Officer Academy (Train to Lead)
502nd Military Police Battalion, Criminal Investigation Command (Honor for Soldiers)
52nd Ordnance Group, Explosive Ordnance Disposal (Danger)
184th Ordnance Battalion, Explosive Ordnance Disposal (Eliminator)
1st Brigade Combat Team (Bastogne)
1st Battalion, 327th Infantry Battalion (Bulldog)
2nd Battalion, 327th Infantry Battalion (No Slack)
1st Battalion, 506th Infantry Battalion (Red Currahee)
1st Squadron, 32nd Calvary Regiment (Bandits)
2nd Battalion, 32nd Field Artillery Regiment (Balls)
326th Brigade Engineer Battalion (Sapper Eagle)
426th Brigade Support Battalion (Taskmaster)
2nd Brigade Combat Team (Strike)
1st Battalion, 502nd Infantry Battalion (Talon)
2nd Battalion, 502nd Infantry Battalion (Falcon)
1st Squadron, 75th Calvary Regiment (Widowmaker)
1st Battalion, 320th Field Artillery Regiment (Top Guns)
526th Brigade Support Battalion (Performance)
3rd Brigade Combat Team (Rakkasan)
1st Battalion, 187th Infantry Regiment (Leader Rakkasan)
3rd Battalion, 187th Infantry Regiment (Iron Rakkasan)
2nd Battalion, 506th Infantry Battalion (White Currahee)
1st Squadron, 33rd Calvary Regiment (War Rakkasan)
3rd Battalion, 320th Field Artillery Regiment (Red Knights)
21st Brigade Engineer Battalion (Rak Solid)
626th Brigade Support Battalion (Assurgum)
101st Sustainment Brigade (Lifeliner)
101st Special Troops Battalion (Sustainer)
129th Combat Sustainment Support Battalion (Wedge)
716th Military Police Battalion (Peace Keeper)
2nd Battalion, 44th Air Defense Artillery Regiment (Strike Fear)
922nd Mission and Installation Contracting Command (Cobra)
101st Combat Aviation Brigade (Destiny)
1st Battalion, 101st Aviation Regiment (No Mercy)
2nd Squadron, 17th Calvary Regiment (Sabre)
5th Battalion, 101st Aviation Regiment (Eagle Assault)
6th Battalion, 101st Aviation Regiment (Shadow)
96th Aviation Support Battalion (Troubleshooter)
159th Combat Aviation Brigade (Thunder)
3rd Battalion, 101st Aviation Regiment (Eagle Attack)
7th Squadron, 17th Calvary Regiment (Palehorse)
4th Battalion, 101st Aviation Regiment (Wings of the Eagle)
7th Battalion, 101st Aviation Regiment (Eagle Lift)
563rd Aviation Support Battalion (Keep them Fighting)
5th Special Forces Group (The Legion 5)
1st Battalion, 5th Special Forces Group (Blacksmith 51)
2nd Battalion, 5th Special Forces Group (Blacksmith)
3rd Battalion, 5th Special Forces Group (The Professionals)
4th Battalion, 5th Special Forces Group (Praetorian Guard)
5th Special Forces Group Support Battalion (Loki)
160th Special Operations Aviation Regiment (Nightstalker 160)
Special Operations Aviation Training Battalion (Nightstalker 00)
1st Battalion, 160th Special Operations Aviation Regiment (Nightstalker 01)
2nd Battalion, 160th Special Operations Aviation Regiment (Nightstalker 02)
3rd Battalion, 160th Special Operations Aviation Regiment (Nightstalker 03)
4th Battalion, 160th Special Operations Aviation Regiment (Nightstalker 04)