APSU Sports Information

Cape Girardeau, MO – Senior middle blocker Hillary Plybon had 11 kills and four blocks as Austin Peay State University's volleyball team swept Southeast Missouri (25-20, 25-21, 30-28) in Ohio Valley Conference contest, Friday night at Houck Field House.
Austin Peay (14-15, 8-5 OVC) won its third-straight match and moved into sole possession of fourth place in the league standings.
The Lady Govs won in Cape Girardeau for only the sixth time in 25 matches and for the first time since 2010.
The Lady Govs set the tone early in the first set, opening with a 6-2 run. Southeast Missouri spurred the run with three straight attack errors, one coming courtesy an Austin Peay block.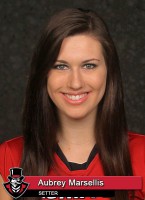 Austin Peay maintained the lead the rest of the way, closing the set with a pair of points on junior setter Aubrey Marsellis' service.
Austin Peay attempted to break away early in the second set, charging out to a 6-3 lead.
However, Southeast Missouri reeled the Lady Govs back in and tied the set, 13-13.
Austin Peay saw its seniors respond as Plybon recorded a kill and outside hitter Jada Stotts' block to build a 15-13 lead. The Lady Govs maintained that advantage and closed the set with a 5-2 run to clinch a 25-21 victory.
The third set was all about big runs early and a battle late with nine lead changes and 17 ties. After running out to a 7-3 lead, the Lady Govs found themselves trailing 21-16 when Mott inserted sophomore outside hitter Sammie Ebright, who left APSU's last match due to an injury, for the first time.
Ebright posted a kill on her first attempt and had three kills in Austin Peay's  7-2 run that tied the set, 23-23.
From there, Austin Peay got to match point first after freshman Kelly Ferguson and Marsellis combined on a block. Southeast Missouri battled back with consecutive kills to earn a set point chance. The Lady Govs fended off that point and another before scoring back-to-back points to gain another match point opportunity.
The Lady Govs would have to fight through two more match points before Ebright ended the match with her fourth kill.
"We were persistent," said Lady Govs head coach Taylor Mott. "We gave effort throughout and had relentless pursuit. We let Southeast Missouri get momentum in the third set but we battled for every point and it paid off. Sammie really turned the tide in the third set and had a tremendous outing."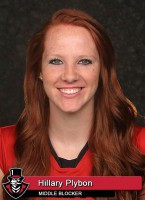 Plybon's 11-kill outing was her fourth straight double-digit kill outing and she led APSU with four blocks. Marsellis and Stotts had 10 kills each. The Lady Govs finished with 49 kills and a .211 attack percentage in the match.
Andrea Baylin and Taylor Masterson each had 10 kills to pace the Southeast Missouri offense. The Redhawks recorded just 36 kills in the loss and were held to a .123 attack percentage.
Austin Peay will seek to clinch a spot in the OVC tournament with a victory in its 2:00pm, Saturday contest at UT Martin.
Box Score
Austin Peay 3 vs Southeast Missouri 0
| | | 1 | 2 | 3 | Team Records |
| --- | --- | --- | --- | --- | --- |
| Southeast Missouri | (0) | 20 | 21 | 28 | 10-17, 6-7 OVC |
| Austin Peay | (3) | 25 | 25 | 30 | 14-15, 8-5 OVC |
Austin Peay (14-15, 8-5 OVC)
| ## | Player | SP | K | E | TA | PCT | A | E | SA | SE | RE | DIG | BS | BA | Points |
| --- | --- | --- | --- | --- | --- | --- | --- | --- | --- | --- | --- | --- | --- | --- | --- |
| 1 | FIELDS, Cami | 3 | 0 | 0 | 1 | .000 | 24 | 0 | 0 | 0 | 0 | 11 | 0 | 0 | 0.0 |
| 3 | ADAMS, April | 3 | 0 | 0 | 0 | .000 | 0 | 0 | 1 | 1 | 0 | 5 | 0 | 0 | 1.0 |
| 6 | SLAY, Ashley | 3 | 1 | 3 | 7 | -.286 | 1 | 0 | 0 | 0 | 0 | 3 | 0 | 1 | 1.5 |
| 7 | MARSELLIS, Aubrey | 3 | 10 | 5 | 19 | .263 | 18 | 0 | 1 | 2 | 0 | 9 | 0 | 3 | 12.5 |
| 14 | STOTTS, Jada | 3 | 10 | 2 | 27 | .296 | 0 | 0 | 3 | 1 | 0 | 15 | 1 | 0 | 14.0 |
| 15 | PLYBON, Hillary | 3 | 11 | 2 | 26 | .346 | 0 | 0 | 1 | 0 | 0 | 0 | 0 | 4 | 14.0 |
| 4 | EBRIGHT, Sammie | 1 | 4 | 0 | 7 | .571 | 0 | 0 | 0 | 0 | 0 | 0 | 0 | 0 | 4.0 |
| 5 | BALES, Lizzy | 3 | 0 | 0 | 0 | .000 | 0 | 0 | 0 | 1 | 0 | 8 | 0 | 0 | 0.0 |
| 8 | LANDON, Liz | 3 | 1 | 4 | 12 | -.250 | 0 | 0 | 0 | 0 | 0 | 1 | 0 | 2 | 2.0 |
| 10 | STROTHER, Samantha | 3 | 8 | 3 | 24 | .208 | 0 | 0 | 0 | 0 | 1 | 1 | 0 | 1 | 8.5 |
| 17 | FERGUSON, Kelly | 1 | 0 | 0 | 0 | .000 | 0 | 0 | 0 | 0 | 0 | 0 | 0 | 1 | 0.5 |
| TM | TEAM | 1 | 0 | 0 | 0 | .000 | 0 | 0 | 0 | 0 | 1 | 0 | 0 | 0 | 0.0 |
| | Totals | 30 | 45 | 19 | 123 | .211 | 43 | 0 | 6 | 5 | 2 | 53 | 1 | 12 | 58.0 |
Team Attack By Set
Set
K
E
TA
Pct
1
16
7
37
.243
2
13
5
34
.235
3
16
7
52
.173
Total Team Blocks: 7.0
LEADERS:
Kills-Aces-Blocks:PLYBON, Hillary (11-1-4); MARSELLIS, Aubrey (10-1-3); STOTTS, Jada (10-3-1); STROTHER, Samantha (8-0-1); EBRIGHT, Sammie (4-0-0); SLAY, Ashley (1-0-1); LANDON, Liz (1-0-2)Assists:FIELDS, Cami (24); MARSELLIS, Aubrey (18); SLAY, Ashley (1)
Digs: STOTTS, Jada (15); FIELDS, Cami (11); MARSELLIS, Aubrey (9); BALES, Lizzy (8); ADAMS, April (5); SLAY, Ashley (3); LANDON, Liz (1); STROTHER, Samantha (1)
Southeast Missouri (10-17, 6-7 OVC)
| ## | Player | SP | K | E | TA | PCT | A | E | SA | SE | RE | DIG | BS | BA | Points |
| --- | --- | --- | --- | --- | --- | --- | --- | --- | --- | --- | --- | --- | --- | --- | --- |
| 2 | BAYLIN, Andrea | 3 | 10 | 6 | 39 | .103 | 1 | 0 | 0 | 0 | 4 | 4 | 1 | 3 | 12.5 |
| 3 | ROTTA, Katarina | 3 | 1 | 1 | 7 | .000 | 28 | 0 | 2 | 0 | 0 | 14 | 0 | 0 | 3.0 |
| 5 | GEARRING, Krissa | 3 | 5 | 1 | 10 | .400 | 1 | 0 | 0 | 2 | 2 | 7 | 0 | 0 | 5.0 |
| 9 | MASTERSON, Taylor | 3 | 10 | 3 | 23 | .304 | 0 | 0 | 0 | 1 | 0 | 2 | 0 | 2 | 11.0 |
| 13 | KEEVE, Kelsey | 3 | 1 | 1 | 6 | .000 | 0 | 0 | 0 | 2 | 0 | 5 | 0 | 2 | 2.0 |
| 16 | CLARKE, Nzingha | 3 | 1 | 1 | 11 | .000 | 0 | 0 | 0 | 0 | 0 | 1 | 0 | 3 | 2.5 |
| 1 | ROHLFING, Alex | 2 | 3 | 6 | 14 | -.214 | 0 | 0 | 0 | 0 | 0 | 2 | 0 | 0 | 3.0 |
| 4 | ROBERTS, Haley | 1 | 0 | 0 | 0 | .000 | 4 | 0 | 0 | 0 | 0 | 6 | 0 | 0 | 0.0 |
| 8 | STRANGES, Meredith | 2 | 0 | 0 | 0 | .000 | 0 | 0 | 0 | 0 | 0 | 0 | 0 | 0 | 0.0 |
| 14 | WERTHS, Madalyn | 1 | 5 | 2 | 12 | .250 | 0 | 0 | 0 | 0 | 0 | 1 | 0 | 0 | 5.0 |
| 15 | MORTIMER, Jade | 2 | 0 | 0 | 0 | .000 | 0 | 0 | 0 | 0 | 0 | 7 | 0 | 0 | 0.0 |
| | Totals | 26 | 36 | 21 | 122 | .123 | 34 | 0 | 2 | 5 | 6 | 49 | 1 | 10 | 44.0 |
Team Attack By Set
Set
K
E
TA
Pct
1
8
7
36
.028
2
10
8
37
.054
3
18
6
49
.245
Total Team Blocks: 6.0
LEADERS:
Kills-Aces-Blocks:BAYLIN, Andrea (10-0-4); MASTERSON, Taylor (10-0-2); GEARRING, Krissa (5-0-0); WERTHS, Madalyn (5-0-0); ROHLFING, Alex (3-0-0); ROTTA, Katarina (1-2-0); KEEVE, Kelsey (1-0-2); CLARKE, Nzingha (1-0-3)Assists:ROTTA, Katarina (28); ROBERTS, Haley (4); BAYLIN, Andrea (1); GEARRING, Krissa (1)
Digs: ROTTA, Katarina (14); GEARRING, Krissa (7); MORTIMER, Jade (7); ROBERTS, Haley (6); KEEVE, Kelsey (5); BAYLIN, Andrea (4); MASTERSON, Taylor (2); ROHLFING, Alex (2); CLARKE, Nzingha (1); WERTHS, Madalyn (1)