Austin Peay Sports Information

Clarksville, TN – Austin Peay State University's football team will play Tennessee State for homecoming, 4:00pm, Saturday with just two timeouts.
The camouflaged jerseys Austin Peay chose to wear Saturday with the respective Fort Campbell unit nicknames across the upper back are in violation of NCAA Rule 1, Article 5 regarding proper numerals and lettering. For every quarter Austin Peay wears those jerseys, the Govs will be assessed a timeout.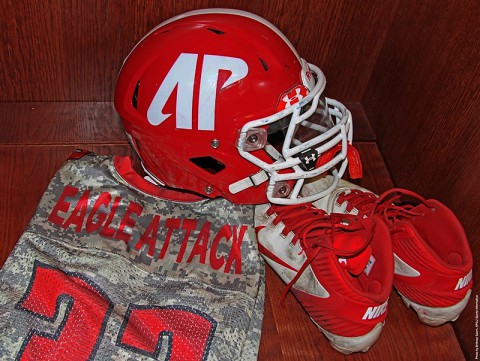 However, out of great respect and admiration of the Fort Campbell military community, Austin Peay football and head coach
Kirby Cannon
have elected to wear those jerseys all four quarters and accept those four charged timeouts.
"We found out in time to make a decision or not," APSU coach Kirby Cannon said. "Our decision is to wear them. The intent of that rule is correct. I don't think the unit names and the things we have on our jerseys are in real violation of that rule. Our feeling is the respect we have for the military and the desire of our kids to wear these jerseys outweighs four timeouts we may or may not have used anyway."
It was a relatively easy decision for Cannon and his Governors to embrace the penalty. Assistant offensive line coach Bobby Brockley recently retired from the Army after earning five Bronze Stars while doing five tours of duty in Iraq and one in Afghanistan as a member of the Special Forces.
One of the football Govs, linebacker and special teams performer Ray Mulitalo, is an Army mechanic who transferred his military commitment to Tennessee late last year so he could play football for APSU.
Saturday serves as Military Appreciation Day in addition to homecoming. Earlier in the day, the annual Veterans Day Parade will be held in conjunction with APSU's Homecoming Parade. Brigadier General Mark Stammer, deputy commander of the 101st Airborne Division (Air Assault) will be the parade's Grand Marshal but APSU's own Harold "Red" Roberts, a former football star (1967-70) and College Football Hall of Fame nominee who earned a Bronze Star after being called to active duty in Operation Enduring Freedom IV, will be the honorary Grand Marshal in APSU's 70th homecoming game.
"The sacrifices we are making as far as timeouts are concerned certainly pales in comparison to those our friends at Fort Campbell have made." Cannon said. "The kids would wear those 100 times over having extra timeouts. It is a strong indication of our support of Fort Campbell and the support we get from them in everyday life."