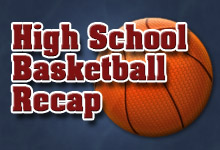 Clarksville, TN – Week two of the high school basketball season is done and all the local teams have had a chance to get several games under their belts both on the road and at home. Everyone's court has seen action this season, both good and bad.
As the temperature continues to plummet, teams are hoping to keep their courts warm with winning momentum as the holiday break approaches.
Girls Basketball
The reigning regular season and tournament champions, Rossview Lady Hawks, improved to 3-0 last week. They defeated Station Camp and Hendersonville to remain undefeated so far.
The Kenwood Lady Knights split back-to-back games to improve to 2-1. They trampled Whites Creek, 59-26 Monday, November 17th, but fell to the Ensworth Tigers on Tuesday, 60-43.
The Northwest Lady Vikings defeated Maplewood, 70-54, for their first win Thursday. The win improved them to 1-4.
The West Creek Lady Coyotes, Montgomery Central Lady Indians and Clarksville Academy Lady Cougars all lost games last week and have yet to get a win. The Lady Coyotes lost to Dickson County, 68-31, Tuesday. The Lady Indians lost to Houston County, 54-19 and the Lady Cougars were put down by Davidson Academy, 43-28.
The Lady Wildcats extended their losing streak to five games last week. After losing by just one point, 55-56, Monday, they went on to lose against Hendersonville and Station Camp later.
Top Scorers
Taylor Senseney 19 against Cheatham County Central Monday, Nov. 17th
Ta'Tayana Outlaw 15 against Cane Ridge Monday, Nov. 17th
Mickey Head 15 against Station Camp Tuesday, Nov. 18th
Jashia Huey 23 against Maplewood Thursday, Nov. 20th
Boys Basketball
The Rossview Hawks continued a strong start to the season by improving to 3-1 last week. After losing to Station Camp, 64-39, Tuesday, November 18th, they crushed the Hendersonville Commandos Friday, 42-29.

The Kenwood Knights lost 2 of 3 games last week to fall to 3-2. They played back-to-back nights on the road against Whites Creek and Ensworth, losing both. However, they broke the two-game losing streak Friday with a 54-47 win over the Cheatham County Central Cubs.

Like the Knights, the Clarksville Wildcats had a tough week, playing back-to-back games and losing 2-of-3. The Wildcats started the week with a loss to Cane Ridge, Monday, November 17th. On Tuesday, they defeated Hendersonville at home, 59-41. Then they hit the road again on Friday and lost to the Station Camp Bison, 64-39. The Wildcats fell to 2-3.

The Northeast Eagles picked up their second straight win to improve to 2-1. They defeated Centennial 52-44. The Montgomery Central Indians also earned a win last week, defeating Houston County 53-44.

Both the Northwest Vikings and the West Creek Coyotes continued to struggle in week two. The Vikings are 1-4. Their only win came Thursday, November 20 against Maplewood, 69-67. The Coyotes lost their third game in a row Friday. The East Nashville Magnet Eagles raked the Coyotes, 71-40.

The Davidson Academy Bears mauled the Clarksville Academy Cougars Saturday, 77-55.

Top Scorers

Austin Foster 32 against Davidson Academy Saturday, Nov. 22nd
Javelle Gillespie 21 against Northwest Thursday, Nov. 20th
KJ Lesure 26 against Northeast Tuesday, Nov. 18th
Matthew Norl 17 against Whites Creek Monday, Nov. 17th



About Marlon Scott
Marlon Scott is a freelance journalist and writer. He graduated from Austin Peay State University in 2011 with a B.S. in Communications, majoring in Communication Arts with a concentration in print and web journalism.

His writing career began as a sports writer for The All State, the APSU student newspaper, in 2006. He continued working for the paper until his graduation, serving in various positions including Sports Editor and Editor-in-Chief.

In 2010, Scott contributed stories and photographs as well as designed and served as Editor-in-Chief for the monograph, Civic Art of Clarksville: The stories behind the pieces.

Scott has also produced 60 stories for The Leaf Chronicle.

You can find him on twitter @theMarlonScott and on Facebook
Sections
News
Topics
Clarksville Academy, Clarksville Academy Cougars, Clarksville Academy Cougars Basketball, Clarksville Academy Lady Cougars, Clarksville Academy Lady Cougars Basketball Record, Clarksville High, Clarksville High Lady Wildcats, Clarksville High Lady Wildcats basketball, Clarksville High School, Clarksville High Wildcats, Clarksville High Wildcats Basketball, Clarksville Lady Wildcats Basketball Record, Clarksville Northeast High, Clarksville Northeast High School, Clarksville Northwest, Clarksville Northwest High School, Clarksville TN, Clarksville Wildcats Basketball Record, Jashia Huey, Kenwood High, Kenwood High School, Kenwood Knights, Kenwood Knights Basketball, Kenwood Knights Basketball record, Kenwood Lady Knights, Kenwood Lady Knights Basketball, Kenwood Lady Knights Basketball record, Matthew Norl, Mickey Head, Montgomery Central High, Montgomery Central High Indians, Montgomery Central High School, Montgomery Central Indians, Montgomery Central Indians Basketball, Montgomery Central Indians Basketball Record, Montgomery Central Lady Indians, Montgomery Central Lady Indians Basketball, Montgomery Central Lady Indians Basketball Record, Northeast Eagles Basketball record, Northeast High, Northeast High Eagles, Northeast High Eagles Basketball, Northeast High Lady Eagles, Northeast High Lady Eagles Basketball, Northeast High School, Northeast Lady Eagles Basketball record, Northwest High, Northwest High Lady Vikings, Northwest High Lady Vikings basketball, Northwest High School, Northwest High Vikings, Northwest High Vikings Basketball, Northwest Lady Vikings Basketball Record, Northwest Vikings Basketball Record, Rossview Hawks Basketball, Rossview Hawks Basketball record, Rossview High, Rossview High Hawks, Rossview High Lady Hawks, Rossview High School, Rossview Lady hawks basketball, Rossview Lady Hawks basketball record, Ta'Tayana Outlaw, Taylor Senseney, West Creek High, West Creek High Coyotes, West Creek High Coyotes Basketball, West Creek high Lady Coyotes, West Creek High School, West Creek Lady Coyotes basketball