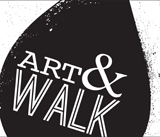 Clarksville, TN – Produced by The Downtown Clarksville Association, First Thursday Art Walk is a free, self-guided tour spanning a 5-block radius that combines visual art, live music, engaging events and more in the heart of Downtown Clarksville.
With 10+ venues, bars and businesses participating each month, the First Thursday Art Walk in Clarksville is the ultimate opportunity to savor and support local creative talent.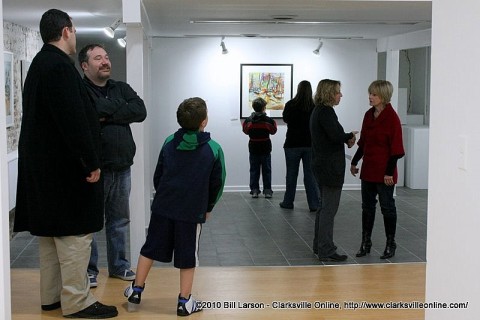 The January Art Walk will be held January 8th from 5:00 to 8:00 pm at the shops and galleries on Public Square, Franklin Street, and Strawberry Alley.
The participating businesses are listed below as well as a description of the work they will be exhibiting and services they will be offering during the event.
The Downtown Artists Co-op (96 Franklin Street)
The DAC is an association of talented local artists and interested patrons dedicated to promoting the visual arts in the Clarksville/Montgomery County area. Our objectives are to sponsor art exhibitions of work by Co-op members and regional artists, to provide continuing support for the Co-op and its membership through the sale of art work, to encourage arts education with outreach programs and scholarship fundraisers, and to develop membership services which directly support the arts community.
Artist Information:
Downtown Artists Co-op (DAC) is proud to announce an exhibit of fine art paintings, "Nuances of Nature" by Lynne Waters Griffey. The opening reception for the Nuances of Nature will be on January 8th from 5:00pm till 8:00pm.
The DAC will be serving up delicious appetizers, punch and wine for the opening.
Also this month, DAC is featuring new member Larry Richardson in the DAC Window gallery.
Lynne and Larry' exhibit is generously sponsored by Neal-Tarpley- Parchman Funeral Home, McReynolds-Nave-Larson Funeral Home and Hudson Construction Company. DAC regular sponsors include F&M Bank, Glenn Edgin and The Framemaker, and Sango Fine Wines and Spirits.
Please join them at the DAC Gallery, 95 Franklin Street for the opening reception on Thursday, December 4th, 5:00pm-8:00pm. As always, the opening reception is a center point of Clarksville's First Thursday Art Walk.
Edward's Steakhouse (107 Franklin Street)
Edward's Steakhouse is proud to host local photographer, David Smith, during the January First Thursday ArtWalk.
David Smith is a retired U.S. Army Still Photographer, who came to the Clarksville area in 1976 as a member of the 101st Airborne Division. He returned to Clarksville with his family after his retirement from the military. Most of the photographs are of Landscapes and scenery but he also tries to photography the City of Clarksville. "I feel that it's important for a photographer to help preserve the history through photographs."
He is a member of The Friends of Photography here in Clarksville. His photographs have been displayed in Edward's Steakhouse, Tennessee State Museum, Customs House Museum and F&M Bank in Clarksville and Springfield and has been featured on local program, Tennessee Crossroads.
Stop in and see the art and take in their Thursday night special, 1/2 priced $7.00 appetizers and 2 for 1 draft drink specials. Enjoy Live music during ArtWalk with Denise Fuller on the piano.
The Roxy Regional Theatre
Peg Harvill Gallery (100 Franklin Street)
For those who enjoy the visual arts, the Peg Harvill Gallery, located just beyond the lobby, hosts twelve shows annually featuring locally and nationally known artisans. Shows generally open the first Thursday of each month for our First Thursday Art Walk.
Artist Information:
The Peg Harvill Gallery at the Roxy Regional Theatre is pleased to host local artist, Bob Privett, during the January First Thursday Art Walk.
Gallery hours during Art Walk will be 5:00pm – 8:00pm. Additional gallery hours are Monday through Friday, 9:00am – 2:00pm.
For tickets to and information about our current productions of "Flopsy, Mopsy & Cottontail" please visit www.roxyregionaltheatre.org or call the box office at 931.645.7699.
The Gilroy Neighborhood Pub (140 University Avenue)
Continue your evening of Art Walk down Franklin Street and stop in The Gilroy for a refreshing beverage and a great meal.
After Walk Party at The Gilroy…
2-4-1 Drafts til midnight, 2-4-1 Cocktails til 10:00pm
Customs House Museum (200 S. 2nd Street)
The Customs House Museum and Cultural Center is Tennessee's second largest general interest museum. It features fine art, history, and children's exhibits.
Artist Information:
The Customs House Museum will be closed during the January First Thursday Art Walk for a special event. Please visit the Museum during their normal business hours to check out all of the current exhibits in the month of January.
Exhibits:
Right Before My Eyes: A Still Life Invitational  1/6 – 3/1
Dreamer: The Art of Thomas Dodd  1/6 – 3/8
Miranda Herrick: New Work  1/6 – 2/1
This Exhibit Sponsored by Nashville Arts Magazine
The Emancipation Proclamation  1/8 – 2/25
Divided Loyalties: Works by The Nashville Artist Guild  1/8 – 2/22
The Battle of the Bulge  1/6 – 2/15
The Framemaker (705 North Second Street)
Artist Information:
The Existence of Emptiness: Photographs by Karla Tucker
The Framemaker proudly presents "The Existence of Emptiness" a photography exhibit by artist Karla Tucker. The exhibit is part of Clarksville's First Thursday Art Walk on January 8th, 2015. An opening reception will be held from 5:00pm to 8:00pm. The artwork will remain on display at the Framemaker throughout the month of January during normal business hours (Mon. through Friday 10:00am – 5:00pm).
Karla writes; This series originally started with the fear of what Alzheimer's disease was capable of. Over the last year it eventually evolved into an intertwined relation between the pain my fear caused and the realization of that fear due to the appearance of an empty home.
These photographs document the remains of my grandmother's house and how the existence of emptiness filled the space she once called home.
Rogate's Boutique (115 Franklin Street)
Artist Information:
Rogate's Boutique will stay open late during the January First Thursday Art Walk. Stop in a find the perfect gift for every lady on your list this New Year!!
Mildred & Mables (109 Franklin Street)
Mildred & Mable's is a unique and fun gift boutique offering something special for every occasion. Custom monogramming and gift baskets available for babies, birthdays, weddings and more.
Artist Information:
Mildred and Mable's will be open late during the January First Thursday Art Walk. Stop in and see great ways to transition your wardrobe and home this holiday season.
Couture Crush (101 Franklin Street)
Artist Information:
Couture Crush will stay open late for the January First Thursday Art Walk. Stop in and see all the great offerings to help transfer your wardrobe and home this New Year!