Johnson also unanimously reelected as House Speaker Pro Tempore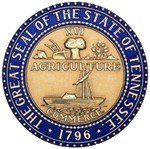 Nashville, TN – The House of Representatives officially gaveled into session this week, marking the beginning of the 109th General Assembly in Tennessee. As part of the opening day ceremonies, State Representative Curtis Johnson (R–Clarksville) and State Representative Jay Reedy (R–Erin) took the oath of office and were officially sworn into the Tennessee House of Representatives.
In addition, Representative Johnson was unanimously reelected by his peers to serve as Speaker Pro Tempore of the House. The Speaker Pro Tempore serves as the presiding officer in the absence of the Speaker of the House.
This year, legislators are looking to build upon the success of the previous session that saw wasteful government spending cut from the budget, taxes cut for all Tennesseans, measures passed to encourage job growth, and numerous government reforms.
"It is a tremendous honor for us to serve the people of the great State of Tennessee," said Representative Johnson. "We are all humbled to have the opportunity to continue the legacy of setting our state apart from others as being the absolute best in the nation."
Reedy continued, "We are all focused on working as hard as we can to make our state the best place in the nation to live, work, and raise a family. I truly believe this will be a very productive year. Unlike our peers in Washington, we get the job done here in Tennessee."
House Speaker Beth Harwell (R–Nashville) added, "It is a pleasure guiding the House of Representatives and working alongside talented and dedicated individuals like Representative Johnson and Representative Reedy. I am confident we are going to accomplish a great deal this session for all Tennesseans."