Clarksville, TN – It was my first visit to Chocolate Affair sponsored by Planters Bank and the Clarksville Parks and Recreation Department. At a cost of a mere $15.00, it was the bargain of the year. Seventeen vendors gave every attendee at least one piece of superb chocolate—and what a variety of treats!
Magician Russ Nowack startled chocolate eaters with appearing and disappearing coins and other mind-boggling feats. D J Folley of Big Fish Entertainment kept the music lively as kids in the audience showed off their moves.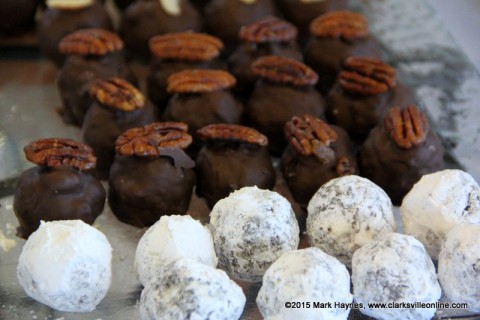 Astounding one and all was the four-feet tall chocolate horse designed by the Fort Campbell Culinary Team. Formed over a paper-mache base, the chocolate horse looked so good that one little boy tried to take a bite out of his leg!
The variety of foods offered ranged from cakes to cookies to truffles to doughnut holes to fried pies to cheesecakes to chocolate-covered strawberries to cupcakes to tacos to chocolate drinks.
Each paying guest received a purple tote bag filled with treats and a bottle of water to cleanse the palate between treats. Round tables were covered with black tablecloths, bowls of purple carnations and scatterings of chocolate candy.
Two Hispanic vendors—La Casa Taqueria, 916 Providence Boulevard (www.lacasaclarksville.com) and Gallardo's Cakes and Bakery, 215 Dover Road (see them on Facebook!)–featured unexpected treats. Gallardo's most popular cake is TresLeches; their variety includes cakes for parties and weddings plus all types of sweet treats. La Casa Taquieria (one of the award winners at Chocolate Affair) showed off their taco treats but also feature a full service restaurant.
B's Cheesecakes showed off three types of cheesecakes that featured chocolate in varieties like Snickers, etc. Kids were especially fond of returning to this table for unauthorized seconds. (All attendees were advised to take only one sample at each table.)
Unexpected chocolatiers were Freeze Pleeze (700 Riverside Drive—and Facebook), an ice cream vendor; Juice Plus (www.healthierlives.us) whose owner JoAnne Ross is a wellness educator who served a chocolate drink filled with good things for you; and My Oh My Fried Pies (2184 Ribert Road, myohmyfriedpies@yahoo.com, Downtown Market, Lucille's) where chocolate fried pies were featured.
Great American Cookies (Governor's Square Mall, www.GreatAmericanCookies.com) showed off their small and large varieties of more than 30 types of cookies they make.
The Hops Road Cafe (101 Strawberry Alley) gave out delicious chocolate-covered espresso beans and chocolate pretzels plus a card with 10 punches for coffee, one free. They are now open for breakfast of pastries and coffee at 7:00am.
Caterers included Relish Eatery, Bakery & Catering (149 Kender Rhea Court, Suite B, 222.RelishEatery.com) where a chocolate fountain enticed every passer-by, and The Mixing Bowl Bakery (cbfunk06@hotmail.com, 618.570.8018 and Facebook) whose Caroline B. Funk gave out delicious chocolate-covered espresso beans and chocolate pretzels and featured an amazing sculpture surrounded by chocolate treats like white and dark chocolate bark, cakes, and truffles.
The Tree of Life Center (30 Crossland Avenue, treeloflifeclarksville.com, and Facebook) gave out 10 percent off cards as event-goers ate chocolate bark with almonds. This market provides food from local venders and includes organic, gluten free and non-GMO products.
Lindt Truffles were generous with their melt-in-your-mouth globes of chocolate. It's highly likely that of the 600,000 tons of chocolate consumed in the world every year, a large percentage of it is made by Lindt!
Not to be outdone by the smaller vendors were Kroger (youronlineorder.com), Publix and Krispy Kreme Doughnuts (krispykreme.com/fundraising). Catering options from the first two stores are almost endless and go well beyond chocolate offerings. Kroger gave chocolate ganache cake and turtle chocolate cookies with chocolate bark. Publix featured a strawberry chocolate fountain and their four-layer chocolate ganache cake with whipped icing and chocolate curls. Krispy Kreme lavished visitors with chocolate-covered doughnuts holes dotted with chocolate chips and also doughnut holes with strawberry glaze.
The largest display was from the Austin Peay State University Culinary Students and the Fort Campbell Culinary Team. Some of the chocolate treats including items like Jack Daniels truffles, spiced rum truffles, coconut rum truffles, bourbon brownies, caramel and bacon truffles, mocha toffee petit fours, Caribbean chocolate delight, caramel bacon chocolate, spiced orange mocha, chocolate eclair hot dog, and ancho chili chocolate soup.
The Fort Campbell Culinary Team will be traveling to a national competition next month. (Look for further information on www.clarksvilleonline.com)
Chocolate Affair is one of the premiere events of the Valentine season in Clarksville. If you missed it this year, get in line immediately when it's announced next year because it sells out fast—and for a good reason!
Photo Gallery