Written by Sgt. Jacob Mahaffey
5th Special Forces Group (Airborne) Public Affairs Office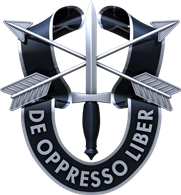 Fort Campbell, KY – A Vietnam War veteran and former prisoner of war spoke to Soldiers from the 5th Special Forces Group (Airborne) on Fort Campbell, KY January 23rd.
Retired Air Force Lt. Col. Barry Bridger, from Bladenboro, North Carolina, spoke to the Special Forces Soldiers about life as a POW and how important survival training can be.
Bridger was conducting combat operations during his second tour in Vietnam on January 23rd, 1967, when his plane was shot down over hostile territory. The next six years of his life were spent in Vietnam's infamous "Hanoi Hilton" prison camp.
The first part of the presentation was a formal class in which Bridger explained the goals of the POW camps from the point of view of his captors.
"If you can force an American, to do that which he does not want to do, the American will not have the heart to bounce back," said Bridger. He explained how the Vietcong would break down the prisoners, to try and get military information to help in their war effort.
"They had three main facets; to re-educate us, to break our will to resist and to find the weak Americans," he said.
"They would take us into interrogation rooms, and question us for hours; if we gave them no information, they would torture us," he said. The torture could last for hours, to the point you wished to be killed, according to Bridger. The torture did not have the affect they had hoped for said Bridger. "The more pressure they put American POWs under the better we responded."
"The greatest physical pressure was torture," he said. "Solitaire confinement was bad but we had so many clever communication techniques it was just like having your own room."
He added the living conditions were also part of the physical stress they were forced to deal with. "But the most challenging aspect was psychological; the constant threat of being tortured," according to Bridger.
Bridger remembered one American, who was so brutally tortured, he lost touch with reality. "We had to hold this young man down, on a concrete bed, twice a day, cut off the air flow through his nose, force him to breathe from his mouth, then we could force feed him to keep him alive," he said. "But one day they came, they took him, and he never came back."
But even through events like this, the POWs remained strong. "We had conversations about everything, from basic construction to thermal dynamics," said Bridger.
To add to the already grueling living conditions, physical and mental pressures and tortures, the POWs began to receive letters of divorce which were read over the camps speakers.
Disease was also an enormous problem in the prison camp. POWs were dying or becoming crippled without proper care or medicine.
But amongst all the death, the torture and the abandonment, Bridger said the men stuck together and overcame their hardships.
Six years later, Bridger would leave the POW camp, and return to life in America. "I was very ill when we finally left, and had to ride on a stretcher on the plane ride home." The plane was deathly silent while leaving Vietnam airspace, said Bridger. It wasn't until they all felt no fear of being shot down, did the American POWs cheer and celebrate on that long flight home.
To conclude the presentation, Bridger took multiple questions from the Soldiers. A Green Beret asked him how his survival, evasion, resistance and escape training, or SERE, helped him through his time as a captive. "It helped, but I wish training would have been more focused on living in the prison camp, most of our training was based on living in the jungle," he said.
One question seemed to mean more than the others to the Vietnam vet. He was asked, if any of the prisoners thought if they could get out of the torture or go home early, would they have given up information to their enemy. Bridger, with a smile on his face, looked at the Soldier and said, "Do not underestimate the spirit of man."