Austin Peay Sports Information

Clarksville, TN – Sophomore starting pitcher Caleb Powell and an opportunistic Austin Peay State University baseball offense combined for a 6-1 victory against Western Michigan in foggy, misty conditions, Sunday, at Raymond C. Hand Park.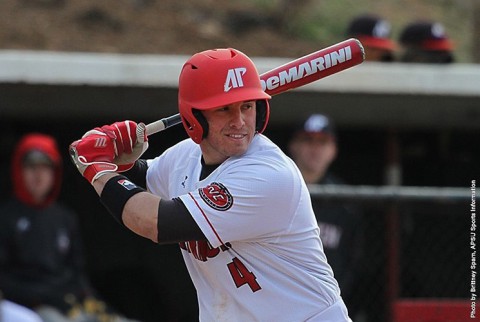 After four scoreless innings, Austin Peay (5-4) took advantage of a leadoff walk to third baseman
Logan Gray
's double to put two runners in scoring position with two outs in the fifth.
A passed ball allowed left fielder Cayce Bredlau to scamper home with the game's first run. Austin Peay then executed a delayed double steal to perfection, Gray touching home plate to give APSU a 2-0 lead.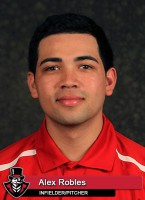 Powell (2-0) allowed just three baserunners in his first five scoreless innings. He was touched for a run in the sixth as Western Michigan posted back-to-back hits for the only time in the contest. Powell responded by allowing just one more base runner before departing after the seventh inning.
Powell held the Broncos to one run on six hits while striking out five in seven innings to become the first Govs pitcher to record two wins in 2015. Robles followed with two scoreless innings for his season's second save.
Austin Peay added two more runs in both the seventh and eighth innings to help pad its lead. A balk and designated hitter Alex Robles' RBI single provided the seventh inning's tallies. Second baseman Garrett Copeland added to the lead with his two-run single in the eighth.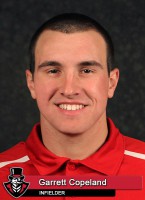 Copeland finished the game 2-for-4 with two RBI and Robles was 2-for-3 with a RBI to lead the Govs nine-hit attack.
Western Michigan (5-4) was held to six hits by the Govs pitching staff. Catcher Brett Sunde went 2-for-4 with the RBI single to pace the Broncos offense.
WMU starter Tanner Allison suffered the loss after allowing two runs on two hits and five walks, but struck out seven batters in 4.2 innings.
Austin Peay is scheduled to return to action with a 3:00pm, Wednesday contest at Western Kentucky. The Govs then open Ohio Valley Conference play against Eastern Illinois next weekend.
Box Score
Western Michigan 1 (5-4) vs Austin Peay 6 (5-4)
| | 1 | 2 | 3 | 4 | 5 | 6 | 7 | 8 | 9 | | | R | H | E |
| --- | --- | --- | --- | --- | --- | --- | --- | --- | --- | --- | --- | --- | --- |
| Western Michigan | 0 | 0 | 0 | 0 | 0 | 1 | 0 | 0 | 0 | | 1 | 6 | 0 |
| Austin Peay | 0 | 0 | 0 | 0 | 2 | 0 | 2 | 2 | X | | 6 | 9 | 0 |
W: POWELL, Caleb (2-0) L: ALLISON, Tanner (1-2)
S: ROBLES, Alex (2)
Western Michigan (5-4)
| Player | AB | R | H | RBI | BB | SO | PO | A |
| --- | --- | --- | --- | --- | --- | --- | --- | --- |
| MILLER, Grant 3b | 3 | 0 | 1 | 0 | 1 | 1 | 1 | 4 |
| VOGELMEIER, Nick 2b | 3 | 0 | 0 | 0 | 0 | 2 | 1 | 2 |
| HOEKSTRA, Kurt ss | 4 | 1 | 1 | 0 | 0 | 0 | 1 | 0 |
| SUNDE, Brett c | 4 | 0 | 2 | 1 | 0 | 0 | 10 | 1 |
| KUJAWA, Jared rf | 4 | 0 | 0 | 0 | 0 | 1 | 0 | 0 |
| PRINCE, Hunter 1b | 2 | 0 | 0 | 0 | 1 | 0 | 9 | 1 |
| NELSON, Evan dh | 4 | 0 | 1 | 0 | 0 | 1 | 0 | 0 |
| CATON, Caleb lf | 3 | 0 | 1 | 0 | 0 | 0 | 0 | 0 |
| FILKINS, Beau lf | 0 | 0 | 0 | 0 | 0 | 0 | 0 | 0 |
| TILLMAN, Jordan ph | 1 | 0 | 0 | 0 | 0 | 1 | 0 | 0 |
| FRANK, Tyler cf | 2 | 0 | 0 | 0 | 0 | 1 | 1 | 0 |
| FARMER, Drew ph/cf | 1 | 0 | 0 | 0 | 0 | 0 | 0 | 0 |
| ALLISON, Tanner p | 0 | 0 | 0 | 0 | 0 | 0 | 1 | 0 |
| BERMAN, Gabe p | 0 | 0 | 0 | 0 | 0 | 0 | 0 | 1 |
| HAYNES, Pat p | 0 | 0 | 0 | 0 | 0 | 0 | 0 | 1 |
| Totals | 31 | 1 | 6 | 1 | 2 | 7 | 24 | 10 |
BATTING:
2B: HOEKSTRA, Kurt 1; SUNDE, Brett 1
SH: VOGELMEIER, Nick 1
BASERUNNING:
HBP: PRINCE, Hunter 1
Austin Peay (5-4)
| Player | AB | R | H | RBI | BB | SO | PO | A |
| --- | --- | --- | --- | --- | --- | --- | --- | --- |
| SMITHSON, Clayton ss | 5 | 1 | 1 | 0 | 0 | 3 | 1 | 1 |
| BREDLAU, Cayce lf | 2 | 1 | 0 | 0 | 2 | 0 | 4 | 0 |
| GRAY, Logan 3b | 3 | 2 | 1 | 0 | 2 | 1 | 1 | 2 |
| SMITH, Ridge c | 3 | 0 | 1 | 0 | 2 | 1 | 6 | 2 |
| COPELAND, Garrett 2b | 4 | 1 | 2 | 2 | 1 | 1 | 2 | 2 |
| WILSON, Josh 1b | 3 | 0 | 0 | 0 | 0 | 0 | 5 | 0 |
| GLEASON, Dre 1b | 2 | 1 | 1 | 0 | 0 | 1 | 5 | 0 |
| ROBLES, Alex dh/p | 3 | 0 | 2 | 1 | 1 | 0 | 0 | 0 |
| HAMILTON, Chase cf | 4 | 0 | 1 | 0 | 0 | 2 | 2 | 0 |
| MASSONI, Patrick rf | 2 | 0 | 0 | 0 | 1 | 2 | 1 | 0 |
| POWELL, Caleb p | 0 | 0 | 0 | 0 | 0 | 0 | 0 | 2 |
| Totals | 31 | 6 | 9 | 3 | 9 | 11 | 27 | 9 |