Austin Peay Sports Information

Nashville, TN – Austin Peay State University's softball team closed out its Music City swing with a pair of Ohio Valley Conference losses to Belmont, Sunday, at E.S. Rose Park, dropping the opener, 8-4, before being edged in the nightcap, 3-2.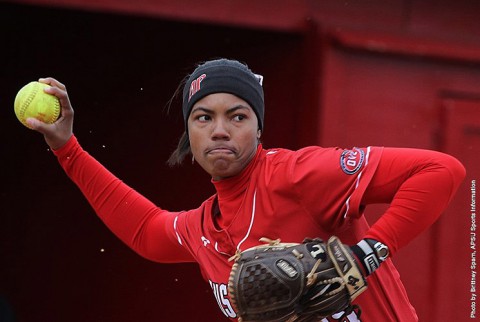 In Game 1, the Lady Govs (2-17, 2-5 OVC) were down 2-0 heading into the top of the fourth inning, when they got on the scoreboard on a sacrifice fly by
Allie Blackwood
, driving in
Christiana Gable
, who led off the inning with a walk and moved to third base on a double by
Niya Sparks
.
Sparks led the Lady Govs with three hits while Gable drove in three runs.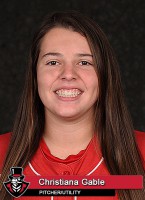 Belmont (8-17, 3-3 OVC) responded with its biggest scoring inning of the game, three runs, in the bottom of the inning to push its lead out to four runs, 5-1.
Austin Peay got a two-run double from Gable in the fifth inning, driving in Chandler Groves and Laurel Burroughs, to make it 5-3, but the Bruins answered with two runs of its own in the bottom of the inning and a solo run in the sixth to push its advantage to 8-3.
Groves had two hits and scored two runs for APSU while Blackwood and Courtney Brower had the other two Lady Govs hits.
The Lady Govs attempted to rally in the top of the seventh inning, scoring a run on an infield out by Gable – to make it a four-run game — and then loading the bases to bring the possible tying run to the plate, but Belmont was able to get out of the inning to come away with the victory.
In Game 2, Austin Peay took a 2-0 lead in the top of the second inning with Mel Pavel and Brower driving in runs with singles. Pavel and Brower had two hits each in the nightcap, while Groves, Gable and Hooper also recorded hits.
Austin Peay starter Sidney Hooper (0-4) kept the Bruins scoreless until the bottom of the fourth inning when they took the lead 3-2 on back-to-back doubles.
The Lady Govs had chances to tie the game in the sixth and seventh innings, getting runners into scoring position in both innings, but couldn't come up with a game-tying hit in the one-run loss.
Box Score – Game 1
Austin Peay (3-16 / 2-4) -vs- Belmont (7-17 / 2-3)
| | 1 | 2 | 3 | 4 | 5 | 6 | 7 | R | H | E |
| --- | --- | --- | --- | --- | --- | --- | --- | --- | --- | --- |
| Austin Peay | 0 | 0 | 0 | 1 | 2 | 0 | 1 | 4 | 8 | 2 |
| Belmont | 0 | 1 | 1 | 3 | 2 | 1 | X | 8 | 13 | 1 |
W: SNODGRESS, Carolyn (3-3)    L: BLACKWOOD, Allie (1-3)
Austin Peay 4
| | Player | AB | R | H | RBI | BB | SO | LOB |
| --- | --- | --- | --- | --- | --- | --- | --- | --- |
| lf | GROVES, Chandler | 4 | 2 | 2 | 0 | 0 | 0 | 0 |
| 2b | BURROUGHS, Laurel | 4 | 1 | 0 | 0 | 0 | 0 | 0 |
| 1b | GABLE, Christiana | 2 | 1 | 1 | 3 | 2 | 0 | 0 |
| 3b | SPARKS, Niya | 4 | 0 | 3 | 0 | 0 | 0 | 1 |
| p | BLACKWOOD, Allie | 2 | 0 | 1 | 1 | 1 | 0 | 0 |
| ss | HOEG, Morgan | 3 | 0 | 0 | 0 | 1 | 1 | 2 |
| c | PAVEL, Mel | 3 | 0 | 0 | 0 | 1 | 0 | 3 |
| rf | ARKANSAS, Rikki | 2 | 0 | 0 | 0 | 0 | 1 | 3 |
| ph | OLIVER, Savanna | 1 | 0 | 0 | 0 | 0 | 1 | 0 |
| cf | BROWER, Courtney | 3 | 0 | 1 | 0 | 0 | 1 | 0 |
| | Totals | 28 | 4 | 8 | 4 | 5 | 4 | 9 |
Batting
2B:GROVES, Chandler (1); GABLE, Christiana (1); SPARKS, Niya (1)
SF:BLACKWOOD, Allie (1)
Baserunning
SB:BURROUGHS, Laurel (1)
Fielding
E:SPARKS, Niya (1); PAVEL, Mel (1)
Belmont 8
| | Player | AB | R | H | RBI | BB | SO | LOB |
| --- | --- | --- | --- | --- | --- | --- | --- | --- |
| dp | FERRELL, Kirbie | 4 | 1 | 2 | 1 | 0 | 0 | 1 |
| lf | WELLS, Kayla | 4 | 0 | 1 | 0 | 0 | 0 | 1 |
| 3b | WILSON, Jessica | 4 | 0 | 1 | 0 | 0 | 2 | 0 |
| pr | CRISCIONE, Amanda | 0 | 1 | 0 | 0 | 0 | 0 | 0 |
| cf | HOLLINGSWORTH, Kat | 4 | 1 | 1 | 1 | 0 | 0 | 0 |
| 1b | DALY, Jordan | 4 | 0 | 1 | 1 | 0 | 0 | 4 |
| c | DELONEY, Chelsey | 4 | 1 | 3 | 1 | 0 | 0 | 1 |
| pr | BLACK, Kate | 0 | 1 | 0 | 0 | 0 | 0 | 0 |
| rf | ZERONIAN, Amy | 1 | 2 | 0 | 0 | 2 | 0 | 1 |
| ss | ANDREE, Jess | 2 | 1 | 2 | 1 | 0 | 0 | 0 |
| 2b | BESSETTE, Ally | 2 | 0 | 2 | 2 | 0 | 0 | 0 |
| p | SNODGRESS, Carolyn | 0 | 0 | 0 | 0 | 0 | 0 | 0 |
| | Totals | 29 | 8 | 13 | 7 | 2 | 2 | 8 |
Batting
2B:HOLLINGSWORTH, Kat (1); ANDREE, Jess (1); BESSETTE, Ally (1)
SH:ZERONIAN, Amy (1); ANDREE, Jess (1); BESSETTE, Ally (1)
Baserunning
SB:WELLS, Kayla (1); HOLLINGSWORTH, Kat (1)
Fielding
E:ANDREE, Jess (1)
Box Score – Game 2
Austin Peay (3-17 / 2-5) -vs- Belmont (8-17 / 3-3)
| | 1 | 2 | 3 | 4 | 5 | 6 | 7 | R | H | E |
| --- | --- | --- | --- | --- | --- | --- | --- | --- | --- | --- |
| Austin Peay | 0 | 2 | 0 | 0 | 0 | 0 | 0 | 2 | 7 | 1 |
| Belmont | 0 | 0 | 0 | 3 | 0 | 0 | X | 3 | 5 | 2 |
W: MOON, Taylor (3-11)    L :HOOPER, Sidney (0-4)
Austin Peay 2
| | Player | AB | R | H | RBI | BB | SO | LOB |
| --- | --- | --- | --- | --- | --- | --- | --- | --- |
| lf | GROVES, Chandler | 3 | 0 | 1 | 0 | 1 | 0 | 0 |
| 2b | BURROUGHS, Laurel | 4 | 0 | 0 | 0 | 0 | 1 | 2 |
| 1b | GABLE, Christiana | 4 | 0 | 1 | 0 | 0 | 1 | 3 |
| pr | INAGAKI, Erica | 0 | 0 | 0 | 0 | 0 | 0 | 0 |
| 3b | SPARKS, Niya | 3 | 0 | 0 | 0 | 0 | 2 | 1 |
| p | HOOPER, Sidney | 3 | 1 | 1 | 0 | 1 | 1 | 0 |
| ss | HOEG, Morgan | 2 | 1 | 0 | 0 | 1 | 0 | 1 |
| c | PAVEL, Mel | 2 | 0 | 2 | 1 | 1 | 0 | 0 |
| pr | HILL, Alexis | 0 | 0 | 0 | 0 | 0 | 0 | 0 |
| rf | ARKANSAS, Rikki | 1 | 0 | 0 | 0 | 0 | 1 | 0 |
| ph | DiBENEDETTO, Vinchen | 1 | 0 | 0 | 0 | 0 | 0 | 0 |
| cf | BROWER, Courtney | 3 | 0 | 2 | 1 | 0 | 0 | 3 |
| | Totals | 26 | 2 | 7 | 2 | 4 | 6 | 10 |
Batting
2B:HOOPER, Sidney (1)
SH:SPARKS, Niya (1); HOEG, Morgan (1); ARKANSAS, Rikki (1)
Fielding
E:BURROUGHS, Laurel (1)
Belmont 3
| | Player | AB | R | H | RBI | BB | SO | LOB |
| --- | --- | --- | --- | --- | --- | --- | --- | --- |
| dp | FERRELL, Kirbie | 2 | 0 | 0 | 0 | 0 | 2 | 0 |
| ph | HODGE, Taylor | 1 | 0 | 0 | 0 | 0 | 0 | 1 |
| lf | WELLS, Kayla | 3 | 0 | 1 | 0 | 0 | 0 | 0 |
| 3b | WILSON, Jessica | 3 | 0 | 0 | 0 | 0 | 0 | 0 |
| cf | HOLLINGSWORTH, Kat | 3 | 0 | 2 | 0 | 0 | 0 | 0 |
| 1b | DALY, Jordan | 3 | 0 | 0 | 0 | 0 | 0 | 2 |
| c | DELONEY, Chelsey | 2 | 1 | 0 | 0 | 1 | 0 | 0 |
| pr | BLACK, Kate | 0 | 0 | 0 | 0 | 0 | 0 | 0 |
| rf | ZERONIAN, Amy | 0 | 1 | 0 | 0 | 2 | 0 | 0 |
| ss | ANDREE, Jess | 3 | 1 | 1 | 2 | 0 | 0 | 1 |
| 2b | BESSETTE, Ally | 2 | 0 | 1 | 1 | 0 | 0 | 1 |
| p | CLANCY, Katie | 0 | 0 | 0 | 0 | 0 | 0 | 0 |
| p | MOON, Taylor | 0 | 0 | 0 | 0 | 0 | 0 | 0 |
| | Totals | 22 | 3 | 5 | 3 | 3 | 2 | 5 |
Batting
2B: HOLLINGSWORTH, Kat (1); ANDREE, Jess (1); BESSETTE, Ally (1)
SH: ZERONIAN, Amy (1)
Fielding
E: WILSON, Jessica (1); DELONEY, Chelsey (1)