Nashville, TN – Girl Scouts of Middle Tennessee donated more than 24,000 packages of Girl Scout Cookies to Fort Campbell soldiers through their Gift of Caring program on March 23rd.
Through this program, Girl Scouts are able to show their appreciation for men and women in uniform or support those in need by giving them Girl Scout Cookies.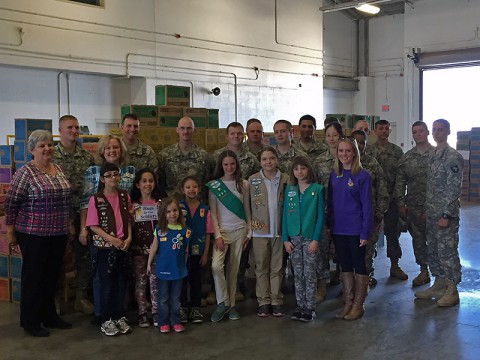 Girls choose an organization they want to benefit and give customers the opportunity to purchase cookies as a donation.
For the past five years, Girl Scouts of Middle Tennessee has been partnering with Hugs for Our Soldiers to donate cookies to the soldiers at Fort Campbell.
"We are extremely fortunate to be the organization that the Girl Scouts choose to support," said Kathy Orcutt, founder of Hugs for Our Soldiers. "Twenty-four thousand boxes of cookies is lot! It takes a team of soldiers, HUGS volunteers, Girl Scouts and military spouses working together to distribute these cookies across Fort Campbell in a day's time. Of course, our first priority is our deployed troops. We place labels on each box that goes overseas thanking that soldier for his or her sacrifice.
It's all worth it when you hear a soldier say, 'We all look forward to that once-a-year sale of Girl Scout cookies. To be so far away from home and then open up a care package with Girl Scout cookies in it does so much for our morale. Thank you for this taste of home!''"
The delivery of these cookies would not have been possible without the generosity of M&W Logistics Group.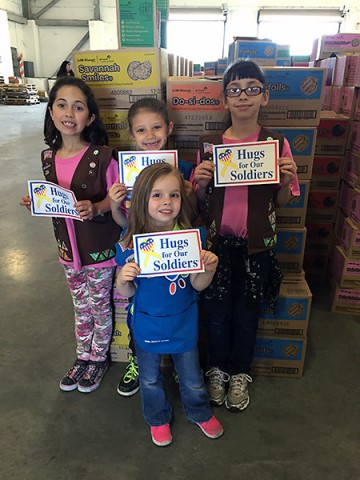 "M&W is thrilled to have the opportunity to donate a driver, trailer and tractor to deliver Girl Scout Cookies to Fort Campbell," said Zack Pugh III, director of communications and marketing, The M&W Logistics Group. "Just knowing that we are delivering cookies that will go all over the world to soldiers serving and defending our freedom brings out a sense of pride for all of us at M&W.
In addition to the Girl Scout Cookies donated to Fort Campbell, local troops also donated over 15,000 packages of cookies to various organizations across Middle Tennessee.
"Our Gift of Caring program is one of my favorite components of the Girl Scout Cookie program," said Cathy Ratliff, director of product programs, Girl Scouts of Middle Tennessee. "Not only are we able to donate thousands of Girl Scout Cookie packages to our local soldiers and local organizations, it also teaches Girl Scouts about giving back to the community."
About Girl Scouts of Middle Tennessee
Girl Scouts of Middle Tennessee serves more than 13,000 girls and 6,000 adult volunteers in 39 counties. It is a part of Girl Scouts of the USA (GSUSA), the world's preeminent organization for girls, with a membership of more than 2.8 million girls and adults nationwide. GSUSA continues to strive to build girls of courage, confidence, and character, who make the world a better place. For more information on how you can be involved in Girl Scouts visit www.gsmidtn.org.
About Hugs for our Soldiers
Hugs for our Soldiers mission is to support our deployed troops through the sending of care packages, letters and cards. Since 2003, we have touched the lives of over 500,000 Soldiers, Marines, Airmen and Sailors through the many programs we have offered.  HUGS is a 501(c)(3) organization that is 100% volunteer based.
Visit www.hugsforoursoldiers.org
About the M&W Logistics Group
The M&W Logistics Group, Inc. is a transportation and 3PL Company headquartered in Nashville, TN. M&W operates terminals out of Nashville, Memphis, and Indianapolis. M&W began in 1973 and remains family-owned and operated with a simple operating philosophy: Listening to their customers and providing the best possible solution to meet their needs in a cost-effective manner, while valuing safety and professionalism. M&W takes the time to make sure all employees are equipped to meet the demanding needs of today's supply chain market. More information about M&W can be found at www.mwlginc.com.
To learn more about the M&W professional drivers and why M&W is an industry leader in retaining their drivers go to www.drivemw.com . Moving America Forward Since 1973!