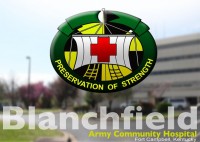 Fort Campbell, KY – Blanchfield Army Community Hospital (BACH) personnel will participate in a day of Continuing Medical Education Friday, April 3rd which will require medical personnel to reduce hospital services offered to patients.
This day of training will maximize the opportunity for clinicians and non-clinicians to obtain required educational credits and complete required trainings at Fort Campbell.
Patient and Soldier-Centered Medical Homes will be addressing acute illnesses only and will operate on a walk-in appointment basis.
PCMHs including Air Assault, Byrd, Screaming Eagle and Young Eagle Medical Homes, will consolidate to the Comanche Patient Centered Medical Home inside the Air Assault Family Medical Home within the main hospital.
Soldier Centered Medical Homes will consolidate to LaPointe Health Clinic. Specialty services will be closed to patients, except for emergency X-ray, Laboratory and other ancillary services that are considered an emergency.
The hospital remains open 24 hours a day, seven days a week. Therefore, the Emergency Room and inpatient services including the inpatient ward, labor and delivery and mother/baby units and the intensive care unit will remain open.
On Friday, April 3rd, the Town Center Pharmacy will be operating under Day of No Scheduled Activities hours from 8:00am to 5:00pm while the Main Hospital Pharmacy will be open normal hours from 8:00am to 4:00pm. LaPointe, Byrd and Screaming Eagle pharmacies will be closed Friday, April 3rd to allow the pharmacy team to participate in the CME training.
"An education day offered locally enables provider teams to reduce the number of days out of the office, giving them more opportunity to manage the care of their patient population," said BACH commander Col. George N. Appenzeller. "In addition, training locally helps save government funding by significantly reducing travel expenses to send medical personnel to other training sites."
Appointments may be scheduled or canceled 24 hours a day, seven days a week at www.TRICAREonline.com. Some medical concerns may be resolved through a telephone consultation by sending a secure message through Relay Health, calling the Nurse Advise Line at 1.800.874.2273, Option 1, or contacting the Call Center at 270.798.4677 or 931.431.4677.