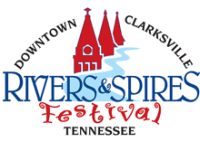 Clarksville, TN – The 13th annual Rivers and Spires Festival continued Friday evening, April 18th with thousands of people descending on downtown Clarksville. Again, the weather was perfect with temperatures in the mid 60's.
Everyone was had a good time. There were plenty of things to do like the laser tag area, face painting, the sports zone and the family fun zone. As for entertainment, the stages were jammed packed with talented artist performing.
There was plenty to munch on as well from kettle corn, funnel cakes, polish sausage, corn dogs, brats, fresh squeezed lemonade and more.
Clarksville favorite, the Tina Brown Band was on the Main and Third Stage delivering a high energy performance of rhythm and blues that really had the crowd rocking.
Back this year was the Gig City Gaming Area presented by CDE Lightband. All you had to do was sign in, get your controller and you were off to get your game on. There were over 50 titles to choose from including, Call of Duty, HALO, Dance Central and Super Street Fighter 4 to name a few. Gig City Gaming is located on Franklin Street in the underground parking garage.
"I always look forward to coming to Rivers and Spires. My favorite thing today was the game room thing they had. It was fun and it was free," said Taylor Woodall. "The game I liked best was Dance Central."
The headliner Friday night was ACM/CMA/CMT-nominated country duo, Love and Theft comprised of Stephen Barker Liles and Eric Gunderson. From the first song they sang, Love and Theft energized the audience and delivered a high caliber performance.
Some of the songs they sang included their top 10 hit "Runaway", their first #1 single "Angle Eyes", "If You Ever Get Lonely", "Wrong Baby Wrong" (Originally recorded by Martina McBride in 2009) and from their newest album "Whiskey On My Breath".
"I have been looking forward to seeing them ever since I heard they were going to play at Rivers and Spires," stated Elizabeth Hamilton. "I think their just great and Eric is really hot!"
Rivers and Spires continues Saturday, April 18th. The festival starts at 10:00am and continues until 8:00pm.
Photo Gallery
About the Rivers and Spires Festival
The 13th annual Rivers and Spires Festival will be held April 16th-18th, 2015 in Historic Downtown Clarksville. This event has five stages of entertainment with over 100 entertainers performing all three days. From children's activities, arts & crafts, car shows, military exhibits, shopping and so much more, this is truly an event for the whole family. Admission to the Festival is free including all concerts and many games and activities.
Become a fan on Facebook, follow us on Twitter and visit us at riversandspires.com