Austin Peay Sports Information

Clarksville, TN – Austin Peay State University's softball team almost gave its seniors a sendoff to remember, Sunday at Cheryl Holt Field, but came up a run short in its season ending Ohio Valley Conference contest versus Southeast Missouri, 11-10.

Despite honoring seniors Ashley Eisenbraun and Laurel Burroughs before the game on Senior Day, the Lady Govs (9-37, 5-22 OVC) entered the final inning of Senior Day down trailing the Redhawks 11-5.

But Burroughs wouldn't let APSU go down without a fight, picking up her third hit of the game, with a one-out single.

Burroughs would then add to her OVC-leading stolen base total of 22, by stealing second base, followed by Erica Inagaki drawing a walk.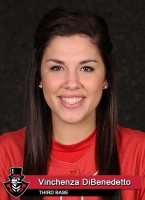 Both runners would advance on a passed ball, followed by Burroughs scoring on a steal of home on the front side of a double steal with Inagaki.
Vinchenza DiBenedetto kept the rally going with a single; with Inagaki scoring a batter later on Mel Pavel's second double of the game, making it 11-7.
Pavel had three hits in the game.
Pinch-hitter Christiana Gable would groundout to first, but DiBenedetto scored, cutting the deficit to three.
Natalie Ayala then made it a one-run game with a two-run homer to center field, her first of the season and the third by the Lady Govs on the day.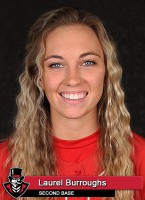 Rikki Arkansas would reach on a bunt single, to put the tying run on base and the potential winning run to the plate, but pinch hitter Heather Norris popped up into short right field to end the game – coming up a run short.
Madeline Krumrey (13-10) got the win, despite giving up 10 runs, with Keaira Schilling getting the final out of the game to pick up her second save of the season.
APSU's Sidney Hooper (2-12) took the loss.
Southeast Missouri (19-25, 12-12 OVC) would jump out to an early 4-0 lead in the top of the first inning – highlighted by a three-run homer from Riley Hayes – had added to that lead with a single run in the second inning on a single by Claire Wernig.
Austin Peay would score its first run of the game in the bottom of the second inning on a double by Pavel, while making it a 5-4 game in the third inning on a three-run homer by Burroughs.
The Redhawks would answer with three runs of its own in the fourth, with two coming in on a single by Kayla Fortner and the other on a single by Wernig.
Burroughs would hit her second home run of the game in the fifth inning – tying a school single-game record – to make it 8-5.
SEMO would score its final three runs in the top of the sixth inning – aided by an Austin Peay error – to make it 11-5.
Box Score
Southeast Missouri (19-25 / 12-12) -vs- Austin Peay (9-37 / 5-22)
| | 1 | 2 | 3 | 4 | 5 | 6 | 7 | R | H | E |
| --- | --- | --- | --- | --- | --- | --- | --- | --- | --- | --- |
| Southeast Missouri | 4 | 1 | 0 | 3 | 0 | 3 | 0 | 11 | 12 | 0 |
| Austin Peay | 0 | 1 | 3 | 0 | 1 | 0 | 5 | 10 | 13 | 4 |
W: KRUMREY, Madeline (13-10)   L: HOOPER, Sidney (2-12)   S: SCHILLING, Keaira (2)
Southeast Missouri 11
| | Player | AB | R | H | RBI | BB | SO | LOB |
| --- | --- | --- | --- | --- | --- | --- | --- | --- |
| lf | WERNIG, Claire | 5 | 2 | 2 | 2 | 0 | 0 | 1 |
| 3b | CARPENTER, Savannah | 4 | 1 | 3 | 1 | 0 | 0 | 0 |
| ph | WOODWORTH, Jamie | 1 | 0 | 0 | 0 | 0 | 0 | 0 |
| cf | FORTNER, Kayla | 3 | 0 | 1 | 2 | 0 | 0 | 0 |
| cf | ANDERSON, Alexis | 1 | 1 | 0 | 0 | 0 | 0 | 0 |
| 1b | PATTERSON, Lindsey | 2 | 2 | 1 | 0 | 2 | 0 | 0 |
| c | HAYES, Riley | 3 | 1 | 1 | 3 | 0 | 0 | 0 |
| c | SMITH, Chelsea | 1 | 0 | 1 | 0 | 0 | 0 | 0 |
| ss | MCDANNOLD, Taylor | 4 | 1 | 1 | 1 | 0 | 0 | 2 |
| dp | PRUETT, Darby | 4 | 0 | 0 | 0 | 0 | 0 | 1 |
| 2b | TOUCHETTE, Meaghan | 2 | 1 | 0 | 0 | 0 | 0 | 1 |
| ph/2b | DAVIS, India | 2 | 0 | 0 | 0 | 0 | 0 | 1 |
| rf | DEERING, Nicole | 3 | 2 | 2 | 0 | 1 | 0 | 0 |
| p | KRUMREY, Madeline | 0 | 0 | 0 | 0 | 0 | 0 | 0 |
| p | SCHILLING, Keaira | 0 | 0 | 0 | 0 | 0 | 0 | 0 |
| | Totals | 35 | 11 | 12 | 9 | 3 | 0 | 6 |
Batting
2B:CARPENTER, Savannah (1)
HR:HAYES, Riley (1)
Baserunning
SB:MCDANNOLD, Taylor (1); TOUCHETTE, Meaghan (1); DEERING, Nicole (1)
Austin Peay 10
| | Player | AB | R | H | RBI | BB | SO | LOB |
| --- | --- | --- | --- | --- | --- | --- | --- | --- |
| lf | GROVES, Chandler | 4 | 1 | 1 | 0 | 0 | 1 | 0 |
| 2b | BURROUGHS, Laurel | 4 | 3 | 3 | 4 | 0 | 0 | 0 |
| ss | HOEG, Morgan | 2 | 0 | 0 | 0 | 0 | 2 | 0 |
| ph | LAKE, Marissa | 1 | 0 | 0 | 0 | 0 | 0 | 0 |
| ss | INAGAKI, Erica | 0 | 1 | 0 | 0 | 1 | 0 | 0 |
| 3b | DiBENEDETTO, Vinchen | 4 | 2 | 2 | 0 | 0 | 0 | 0 |
| c | PAVEL, Mel | 4 | 1 | 3 | 2 | 0 | 0 | 0 |
| pr | HILL, Alexis | 0 | 0 | 0 | 0 | 0 | 0 | 0 |
| 1b | EISENBRAUN, Ashley | 2 | 0 | 0 | 0 | 1 | 2 | 0 |
| ph | GABLE, Christiana | 1 | 0 | 0 | 1 | 0 | 0 | 0 |
| p | HOOPER, Sidney | 0 | 0 | 0 | 0 | 0 | 0 | 0 |
| p | AYALA, Natalie | 4 | 1 | 1 | 2 | 0 | 1 | 0 |
| cf | ARKANSAS, Rikki | 4 | 0 | 2 | 0 | 0 | 0 | 1 |
| rf | BROWER, Courtney | 3 | 1 | 1 | 0 | 0 | 0 | 3 |
| ph | NORRIS, Heather | 1 | 0 | 0 | 0 | 0 | 0 | 1 |
| | Totals | 34 | 10 | 13 | 9 | 2 | 6 | 5 |
Batting
2B:GROVES, Chandler (1); DiBENEDETTO, Vinchen (1); PAVEL, Mel (2)
HR:BURROUGHS, Laurel (2); AYALA, Natalie (1)
Baserunning
SB:BURROUGHS, Laurel (2); INAGAKI, Erica (1)
Fielding
E:HOEG, Morgan (3); DiBENEDETTO, Vinchen (1)
Sections
Sports
Topics
APSU, APSU Athletics, APSU Softball, APSU Sports, APSU Women's Softball, Ashley Eisenbraun, Austin Peay State University, Cheryl Holt Field, Christiana Gable, Claire Wernig, Clarksville TN, Erica Inagaki, Heather Norris, Kayla Fortner, Keaira Schilling, Lady Govs, Laurel Burroughs, Madeline Krumrey, Mel Pavel, Natalie Ayala, Ohio Valley Conference, OVC, Redhawks, Rikki Arkansas, Riley Hayes, SEMO, Senior Day, Sidney Hooper, Southeast Missouri, Vinchenza DiBenedetto