Two Other Men Face Charges Related to that Homicide Investigation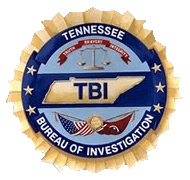 Nashville, TN – A joint investigation by Special Agents with the Tennessee Bureau of Investigation and investigators with the Dickson Police Department has resulted in the indictment of a Dickson man who is charged in a double homicide. Additionally, two other Dickson men have been indicted on charges of fabricating evidence related to that crime.
At the request of 23rd District Attorney General Ray Crouch, TBI Special Agents, working with officers with the Dickson Police Department, began investigating the death of two individuals whose bodies were found in a duplex fire on April 14th on McFarland Lane in Dickson.

Firefighters responding to a call made by the resident in the adjoining unit discovered the bodies of 27-year-old John "Chris" Goldtrap and 23-year-old Lisa Wade Mackenzie McDonald.

Preliminary results from the forensic autopsy indicated that both victims were shot in the head. An investigation of the fire determined that accelerants were used and it was not accidental.

During the course of the investigation, Agents learned that 37-year-old Kenneth Ray Niles, a cousin of Mr. Goldtrap's by marriage, admitted to being at the victims' residence the night of April 13th. Neither victim was heard from or seen after that. Agents also developed information that Niles and Mr. Goldtrap had been involved in an argument in the time frame leading up to the deaths of the victims.

The investigation further determined that after the victims were killed, Niles stole several items from the home, and returned to the home early April 14th to set a fire in the residence in an apparent attempt to destroy evidence.

During the course of the investigation into the homicides of Mr. Goldtrap and Ms. McDonald, Agents learned that Jamey Earl Donegan contacted the father of one of the victims to offer himself for hire to murder their child's killer in exchange for money. Joshua Michael Pickering, 30, worked with Donegan in portraying himself to be the killer and provided a false confession to that father.

Tuesday, the Dickson County Grand Jury returned indictments charging Kenneth Niles with two counts of First Degree Murder, two counts of Felony Murder, one count of Aggravated Arson, one count of Especially Aggravated Robbery, one count of Especially Aggravated Burglary and one count of Theft of Property of more than $1,000. Niles, who was already being held in the Dickson County Jail on an unrelated charge, was served on the new charges yesterday.

No bond was set for Niles. The Dickson County Grand Jury also returned indictments charging Donegan and Pickering with one count each of Fabricating Evidence. Donegan is currently being held in the Dickson County Jail after pleading guilty to Attempted Theft last month related to this scheme.  Pickering was arrested Tuesday afternoon and was booked into to the Dickson County Jail. Bond for both Donegan and Pickering was set at $100,000.



Sections
News
Topics
23rd District Attorney General, Aggravated Arson, Bond, Dickson County, Dickson County Grand Jury, Dickson County Jail, Dickson Police Department, Especially Aggravated Burglary, Especially Aggravated Robbery, Felony Murder, Fire, First Degree Murder, Homicide, Nashville TN, Ray Crouch, TBI, TBI Special Agents, Tennessee Bureau of Investigation, Theft of Property