They took the quilt off my bed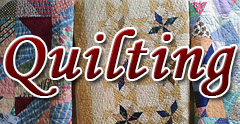 Trenton, KY – On Saturday. June 27th, a quilting tradition was continued in Trenton, Kentucky. Quilts both old and new were offered for viewing during the huge annual yard sale and heritage day festivities.

Viewers were amazed to find quilts that were over 100 years old and ultra modern quilts in the same show. Samples of projects from this year's Color Class, which was offered at Quilt and Sew at Golden threads, were proudly displayed, as well as beautiful traditional quilts which were loaned to the show by local residents.

Each year a quilt is made by local residents and volunteers , and tickets to win the quilt may be purchased to benefit the old renovated schoolhouse activities center.

When Mr. Davis, a long time Trenton resident, viewed the show, he proudly showed me an autumn hued beauty and he laughingly explained, "I was cold last night. They took that quilt right off my bed". Of course, he was referring to his daughter Denise and wife Margie, both of whom were instrumental in organizing the quilt displays, along with the many volunteers and quilt shop employees.

Some of the more interesting quilts included a 103 year old example of redwork embroidery on "penny squares". Two of the squares were said to have floss dyed with turkey blood, giving the threads a slightly pinkish tinge. Most of the Amish viewers were delighted to see "Good Morning" spelled out in German on the redwork embroidered masterpiece.

Also loaned to the show was a 150 year old indigo flying geese beauty, which looked as if it could have been made in the last 5 years. The owner of both quilts should be congratulated for taking such good care of these treasures.

Patterns such as Diamond log cabin, appliquéd butterflies, and seven sisters were on display this year, as well as a candle-wicked example and a whole-cloth white-on-white that just invited a nap on a summer afternoon. This year 's show also contained a knitted coverlet which must have been made with tiny knitting needles (the owner stated she had found one size 0 needle) so small that the blocks appeared to be crocheted.

Visitors to the show included all ages from a 93 years young lady to babes in arms. Both men and women seemed to enjoy the show equally and many stories were shared about "my grandma made me a quilt, and I still have it."

Many questions were asked and hopefully answered concerning quilt conservation and quilting methods and materials. Photographers were welcomed and were very knowledgeable about their subjects, and the quilting arts.

It is hoped that the quilt show will continue to be a tradition and learning experience for many years to come, and if you missed it this year, maybe you can see it next year when Trenton has another festival and yard sale.
Photo Gallery
About Jerry Church
Jerry Church is a native Clarksvillian. She graduated from Clarksville High School, and attended Austin Peay State University where she received Bachelor degrees in Arts and Crafts, and Speech Communication and Theatre; and a Masters degree in Psychology. Jerry retired from the State of Tennessee serving the people of Tennessee as a Vocational Rehabilitation Counselor. She is married to Clyde Church and they reside in Clarksville, TN. Her hobbies include quilting, embroidery, basketry, gardening, and reading. Together Jerry and Clyde also enjoy fishing and photography.
Sections
Arts and Leisure
Topics
Quilt and Sew at Golden Threads, quilting, Quilts, Trenton KY