Clarksville, TN – Beat the heat and the summer doldrums with Meredith Willson's great American musical classic "The Music Man", opening at the Roxy Regional Theatre Friday, July 17th, at 8:00pm for our traditional pay-what-you-can preview. All tickets not pre-sold at the regular ticket price will go on sale at 7:30pm on Friday for whatever price you are able to pay ($5.00 minimum, please).
Closing our 32nd season with a nostalgic bang, this family-friendly story has been entertaining audiences since 1957 with such memorable numbers as the high-stepping "Seventy-Six Trombones," the romantic "'Til There Was You" and the humorous "Trouble in River City."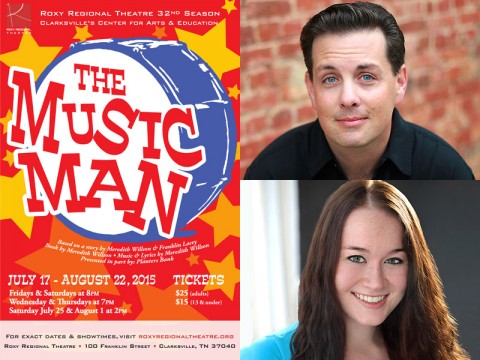 Reprising his role from the 2011 national tour of "The Music Man", John Adkison stars as fast-talking traveling salesman Harold Hill, who cons the people of River City, Iowa, into buying instruments and uniforms for a boys' band he vows to organize … despite the fact he doesn't know a trombone from a treble clef! However, his plans to skip town with the cash are foiled when he falls head over heels for town librarian Marian Paroo, played by Mary Malaney.
Filled with good old-fashioned fun, "The Music Man" features over two dozen professional actors and community performers, including Ryan Bowie as Marcellus Washburn, Tommy Winters and Leslie Greene as Mayor & Mrs. George Shinn, Madeline O'Connor as Gracie Shinn, Jackie Ostick as Mrs. Paroo and Tanner Sigears as Winthrop Paroo. Joshua Christensen, Matt Miazgowicz, James Hansen and Brian Graziani comprise the barbershop quartet, while the Pick-a-Little Ladies are played by Jewel Stewart, Debra Stewart, Elizabeth Worley and Jesse Boyle.
Rounding out the cast are Truman Jepson and Allison Ferebee as Tommy Djilas and Zaneeta Shinn, Lawrence Lesher as anvil salesman Charlie Cowell, Chip Perretta as Constable Locke and Arianna Grey as Amaryllis, along with Landen Daniel, Ava DoVanne, Grace Hurt, Jacob Johnson, Sidney McCarty, James McNiel, Emma Petrie and Austin Stewart.
Join us next Saturday, July 25th, for a pre-show cookout and box social under the marquee, beginning at 6:30pm. Hamburgers and hot dogs, courtesy of Edward's Steakhouse, will be on the grill, accompanied by sides from Whitt's BBQ. At the box social, Mayor Shinn will be auctioning off desserts prepared by Harold, Marian and the rest of the cast. Admission to the cookout, which includes the 8:00pm performance of "The Music Man", is $40.00 (adults) and $25.00 (ages 13 and under).
"The Music Man" runs July 17th through August 22nd, playing Wednesdays and Thursdays at 7:00pm and Fridays and Saturdays at 8:00pm, with 2:00pm matinees on Saturday, July 25th and August 8th.
Tickets are $25.00 (adults) and $15.00 (ages 13 and under) and may be purchased online via the below button, by phone at 931.645.7699, or at the theatre during regular box office hours (9:00am to 2:00pm, Monday through Friday, and one hour prior to curtain).
And remember … active-duty military, APSU students and CitySaver coupon holders can receive two tickets for the price of one to Wednesday and Thursday performances.
This production is made possible in part through the generous support of Planters Bank. Additional funding support has been provided by Dr. Joseph & Nancye Britton, Jill T. Crow, Dr. Ernest & Joan DeWald, James & Christa Holleman, Garnett & Nancy Ladd, John & Cathy Stanton, and Starlene Sykes.
The Roxy Regional Theatre is located at 100 Franklin Street in Clarksville, TN.